Pfiz­er's PhI­II kid­ney can­cer study for In­ly­ta flops as in­ves­ti­ga­tors flag a dead end on out­comes
Pfiz­er has lost out on a Phase III bid to re­vive flag­ging sales of its VEGF in­hibitor In­ly­ta (ax­i­tinib).
Re­searchers say their drug, ini­tial­ly ap­proved as a sec­ond-line kid­ney can­cer drug 6 years ago, failed to make a fa­vor­able im­pact on pa­tients at high risk of re­cur­ring kid­ney can­cer, un­able to beat out a place­bo for main­tain­ing dis­ease-free rates. The tri­al was stopped af­ter in­de­pen­dent mon­i­tors called it on clear ev­i­dence of fu­til­i­ty.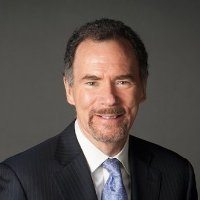 Mace Rothen­berg, Pfiz­er
That's not what Pfiz­er want­ed to hear as it looked for new ways to back stop a suf­fer­ing Su­tent fran­chise, and it was par­tic­u­lar­ly un­wel­come af­ter In­ly­ta rev­enue slipped in Q4. Late last year Pfiz­er won an ap­proval to mar­ket Su­tent for this high-risk cat­e­go­ry in kid­ney can­cer, even though the ex­pert pan­el they called on to re­view the ap­pli­ca­tion split their vote, with sev­er­al mem­bers un­hap­py with the drug's risk pro­file.
The phar­ma gi­ant, though, is push­ing ahead with high­er hopes for its clin­i­cal work on a com­bi­na­tion of In­ly­ta with its PD-L1 check­point avelum­ab — de­vel­oped by Mer­ck KGaA — though avelum­ab has had a cou­ple of oth­er set­backs as well. And Su­tent will like­ly be over­whelmed fair­ly soon by the wave of I/O drugs seek­ing ex­pand­ed ap­proval.
The FDA grant­ed Pfiz­er's check­point com­bo a break­through des­ig­na­tion for re­nal cell car­ci­no­ma last De­cem­ber.
Pfiz­er, though, hedged its bets on this gam­ble, so it won't have to eat the costs. SFJ Phar­ma­ceu­ti­cals su­per­vised the work and pro­vid­ed the fund­ing, with this pro­gram one of a slate of stud­ies in which it gam­bles in­vestor cash for phar­ma part­ners look­ing for some cre­ative ways to ex­pand their pipeline work while keep­ing a lid on R&D costs. SFJ al­so con­duct­ed a tri­al for Pfiz­er's da­comi­tinib in Asia. That drug is now un­der FDA re­view.
"We are dis­ap­point­ed by the out­come of this study as we had hoped the ef­fi­ca­cy that IN­LY­TA has demon­strat­ed as a sec­ond-line treat­ment in pa­tients with ad­vanced re­nal cell car­ci­no­ma would car­ry over to pa­tients with ear­li­er stage dis­ease, where it would de­lay or pre­vent dis­ease re­lapse. That goal was not achieved. We will con­duct ad­di­tion­al analy­ses on the da­ta that may pro­vide in­sight in­to this re­sult. Stud­ies eval­u­at­ing IN­LY­TA in com­bi­na­tion with im­mune check­point in­hibitors for pa­tients with a va­ri­ety of ad­vanced stage can­cers, in­clud­ing RCC, will con­tin­ue," said can­cer R&D chief Mace Rothen­berg.