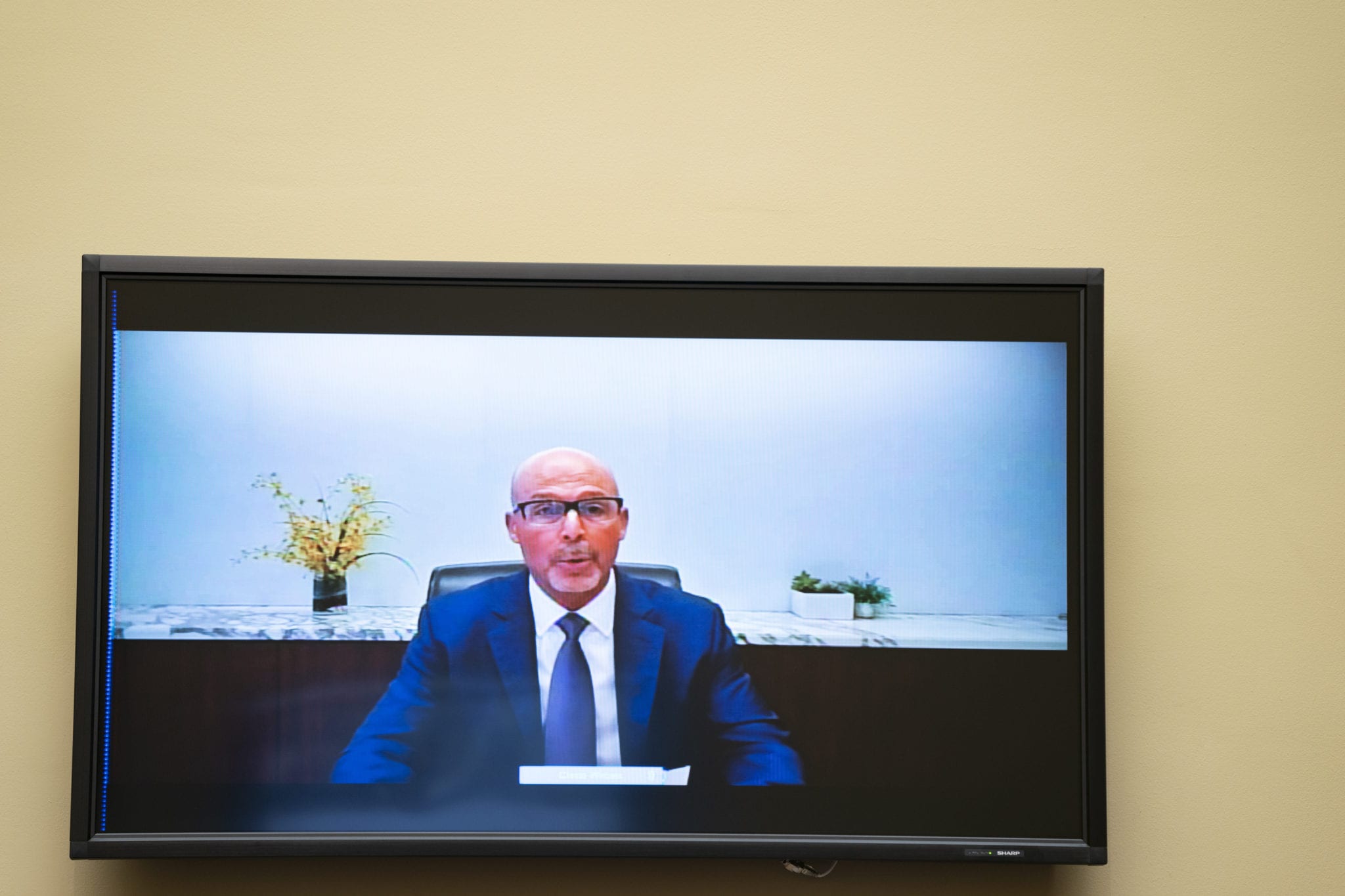 Mark Alles, former CEO of Celgene, testifies by video conference before the House Committee on Oversight and Reform on Wednesday (Pool via AP)
Dems slam drug pric­ing strate­gies as 18-month probe comes to an end
The House Over­sight Com­mit­tee held a pair of hear­ings this week on drug prices. And the De­moc­rats on the pan­el did not hold back.
Ex­ec­u­tives from Bris­tol My­ers Squibb (and Cel­gene), Te­va, Am­gen, No­var­tis and Mallinck­rodt tes­ti­fied be­fore Con­gress in the cul­mi­na­tion of an 18-month in­ves­ti­ga­tion in­to ris­ing drug prices. The pro­ceed­ings, built on work from the late Eli­jah Cum­mings, pro­duced more than one mil­lion doc­u­ments from the com­pa­nies and large­ly con­clud­ed that prof­it was the main dri­ving force be­hind the in­creas­es.
"The drug com­pa­nies are bring­ing in tens of bil­lions of dol­lars in rev­enues, mak­ing as­tro­nom­i­cal prof­its, and re­ward­ing their ex­ec­u­tives with lav­ish com­pen­sa­tion pack­ages—all with­out any ap­par­ent lim­it on what they can charge," com­mit­tee chair Car­olyn Mal­oney (D-NY) wrote.
The hear­ings were split up over two days, with Cel­gene, BMS and Te­va ex­ecs ap­pear­ing Wednes­day and Am­gen, No­var­tis and Mallinck­rodt tes­ti­fy­ing Thurs­day. Cel­gene was ac­quired by BMS last year, and though BMS CEO Gio­van­ni Caforio tes­ti­fied, most of the ques­tion­ing dealt with Cel­gene's busi­ness prac­tices be­fore the ac­qui­si­tion.
Be­fore Wednes­day's meet­ing, the com­mit­tee re­leased two re­ports that out­lined how Cel­gene and Te­va me­thod­i­cal­ly raised prices of the block­busters revlim­id and co­pax­one, re­spec­tive­ly, in or­der to meet sales tar­gets. The re­port cites one in­stance from March 2014, when Cel­gene ex­ec Mark Alles — who lat­er be­came CEO — ex­pressed dis­ap­point­ment in Revlim­id's sales that quar­ter and di­rect­ed a 4% price in­crease in re­sponse.
"Mr. Alles emailed his team to en­sure that the price in­crease would go in­to ef­fect as quick­ly as pos­si­ble to have the max­i­mum im­pact on sales," the re­port wrote. Alles lat­er said in an email, "Can we take the in­crease tonight so that it im­pacts sales be­gin­ning to­mor­row?"
Af­ter Cel­gene ap­proved that change, it im­ple­ment­ed the in­crease the same evening.
Te­va, mean­while, con­tract­ed with mid­dle­men to try to block low­er-cost gener­ics from reach­ing the mar­ket and en­gaged in high-dol­lar lob­by­ing ef­forts to con­vince doc­tors to keep us­ing their more ex­pen­sive drugs, ac­cord­ing to the re­ports. About 55% of Te­va's 2019 rev­enue came from the gener­ics mar­ket.
On Thurs­day, the oth­er three com­pa­nies en­tered the ring and saw re­ports on their own busi­ness­es prac­tices re­leased. No­var­tis, like Te­va, was sin­gled out for its ap­par­ent open­ness to dis­cussing mid­dle­man con­tracts as a way to keep gener­ic com­pe­ti­tion at bay for Gleevec. The com­mit­tee al­so found that No­var­tis in­creased Gleevec's price at a faster rate to­ward the end of their mar­ket ex­clu­siv­i­ty win­dow.
Am­gen was not found to have en­gaged in such mid­dle­men strate­gies when pric­ing En­brel. Rather, the com­mit­tee said Am­gen con­duct­ed "shad­ow pric­ing" plans by at­tach­ing their En­brel in­creas­es to those of its ma­jor com­peti­tor, Ab­b­Vie's Hu­mi­ra. The com­mit­tee chid­ed Am­gen for not set­ting their prices low­er than Hu­mi­ra to gain mar­ket share as would be nor­mal­ly ex­pect­ed in a com­pet­i­tive mar­ket, it said.
"Short­ly af­ter Ab­b­Vie in­creased the price of Hu­mi­ra by 9.7% in Jan­u­ary 2018, Am­gen ex­e­cut­ed an iden­ti­cal 9.7% price in­crease, more than dou­ble what it had orig­i­nal­ly planned," one of the re­ports said.
Mallinck­rodt faced ques­tions about the pric­ing tac­tics of its HP Ac­thar Gel and ac­qui­si­tion of Quest­cor, which owned the rights to the drug.
Quest­cor raised the price of Ac­thar to $31,000 per vial, up from $40 in 2001. Mallinck­rodt then in­creased the price by an­oth­er $8,200.