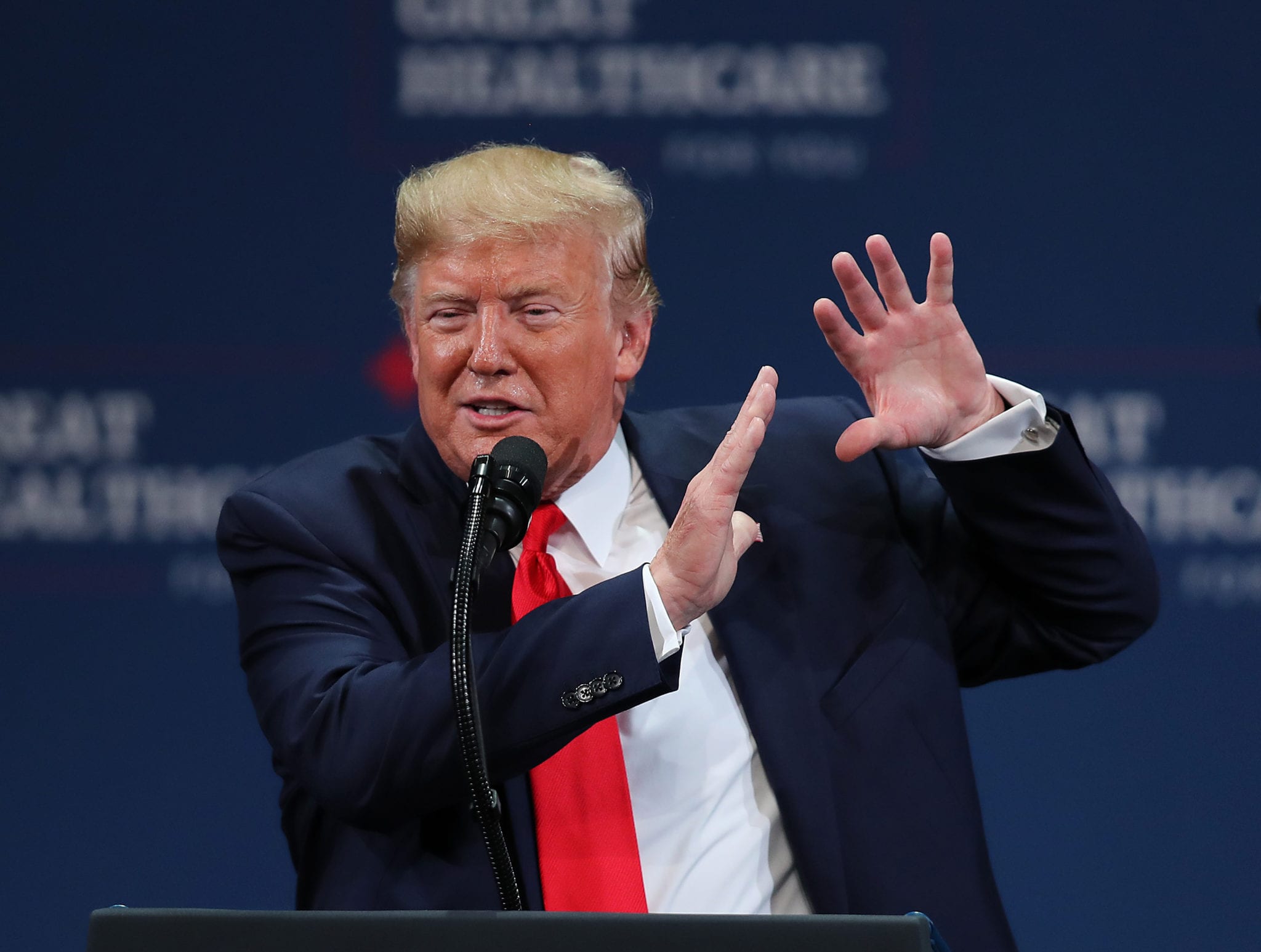 THE VILLAGES, FLORIDA — President Donald Trump speaks during an event today in central Florida, where he signed an executive order calling for further privatizing of Medicare. (Photo — Joe Raedle/Getty)
Phar­ma to blame for im­peach­ment woes? Yep, Pres­i­dent Trump just sug­gest­ed that about Amer­i­ca's least fa­vorite in­dus­try
Pres­i­dent Don­ald Trump sug­gest­ed to­day with­out ev­i­dence that the phar­ma­ceu­ti­cal in­dus­try is be­hind the new im­peach­ment in­quiry from House De­moc­rats.
"I would be very sur­prised if the hoax didn't come a lit­tle bit from the peo­ple that we're tak­ing on… I wouldn't be sur­prised if it was from some of these in­dus­tries that we take on, like phar­ma," Trump said. He was speak­ing in cen­tral Flori­da at an of­fi­cial White House event on Medicare. HHS sec­re­tary Alex Azar, a for­mer pres­i­dent of the US di­vi­sion of Eli Lil­ly, was in at­ten­dance.
The ac­cu­sa­tions come on the heels of an in­dus­try rep­u­ta­tion poll from Pew last month that rates the phar­ma­ceu­ti­cal in­dus­try dead last among Amer­i­cans, even a full 21% low­er than the health­care in­dus­try. Trump rode in­to the pres­i­den­cy at­tack­ing in­sti­tu­tions that had lost pub­lic trust – the Wash­ing­ton "swamp", the "crooked" news me­dia — and phar­ma is an easy tar­get.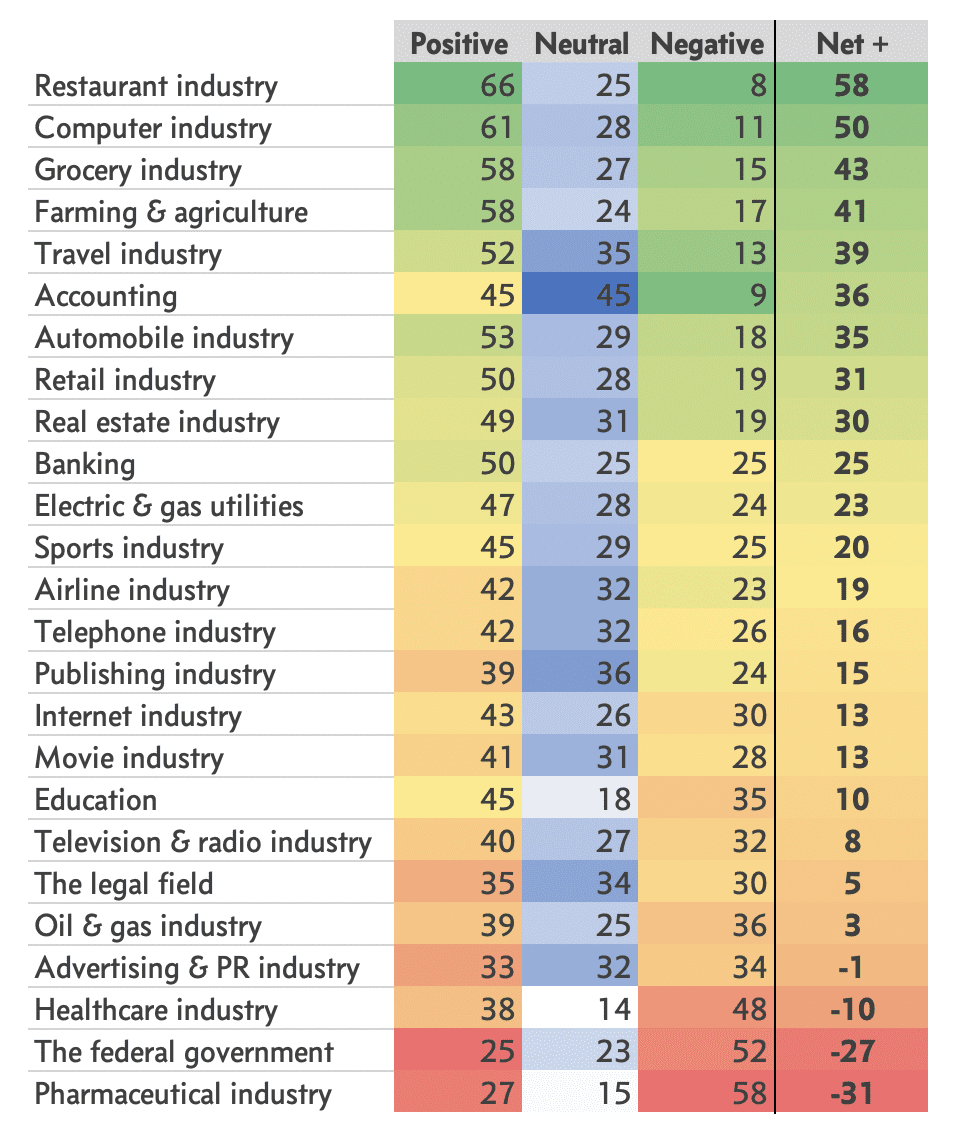 News that phar­ma is in-ca­hoots with De­moc­rats to oust a pres­i­dent may come as a sur­prise to those with­in the in­dus­try, as lob­by­ists and top play­ers came out force­ful­ly against Nan­cy Pelosi's new far-reach­ing bill to al­low the fed­er­al gov­ern­ment to ne­go­ti­ate prices for Medicare's most ex­pen­sive drugs. The in­dus­try has sim­i­lar­ly tak­en aim at price-reg­u­lat­ing pro­pos­als from Trump and top De­mo­c­ra­t­ic pres­i­den­tial can­di­dates.
The pres­i­dent al­so waxed lyri­cal about a num­ber of is­sues per­ti­nent to bio­phar­ma watch­ers.
Af­ter win­ning some ap­plause for a line about gener­ic drug ap­provals, he claimed any­time he sees peo­ple from the FDA he prods them to go faster.
FDA gener­ic ap­provals win­ning some ap­plause. Trump says every time he sees the folk at FDA, he tells them: "Faster, faster."

— Zach Bren­nan (@Zachary­Bren­nan) Oc­to­ber 3, 2019
He then piv­ot­ed to right-to-try, giv­ing an en­tire­ly false ren­di­tion of what the law ac­tu­al­ly cov­ers (com­pas­sion­ate use for pa­tients with a life-threat­en­ing con­di­tion who have ex­haust­ed oth­er op­tions and are seek­ing a drug that has passed Phase I but not been FDA ap­proved) and claimed "mir­a­cles are hap­pen­ing." It's a line he of­ten us­es al­though the first pa­tient to take ad­van­tage of the May 2018 law was on­ly dosed this year.
Next he turned to his ju­di­cial­ly-blocked reg­u­la­tion to force drug com­pa­nies to dis­close prices in com­mer­cials, say­ing they were "al­most" there.
Trump al­so had a few lines on drug im­por­ta­tion, telling Flori­da's Re­pub­li­can gov­er­nor Ron De­San­tis, who was in at­ten­dance, that he will be able to "ne­go­ti­ate til his heart's con­tent," and will be able to go to Cana­da and Eu­ro­pean coun­tries to find low­er prices, "and I have a feel­ing that when that hap­pens, the drug com­pa­nies are just go­ing to drop their prices, I think. Now they're very smart, they may go the oth­er way. And when they do, don't blame me."