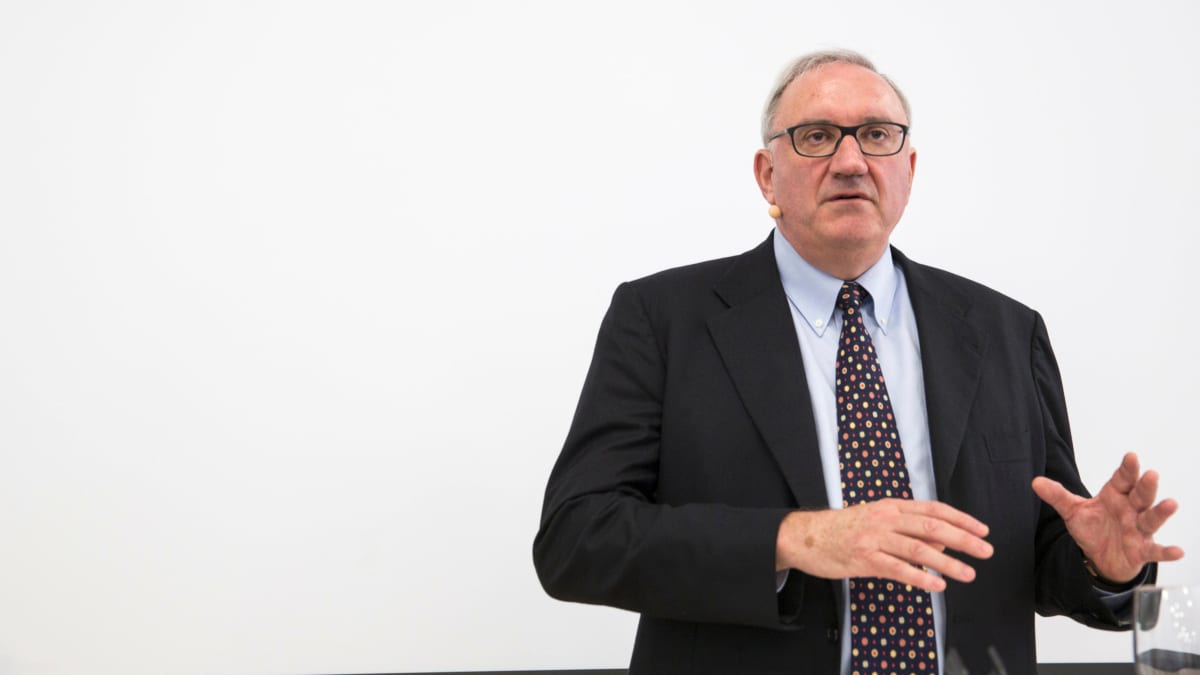 Jean-Paul Clozel, Idorsia CEO (Patrick Straub/Keystone via AP Images)
Piv­otal da­ta sug­gest clean safe­ty pro­file, po­ten­cy could set Idor­si­a's sleep­ing pill apart
Swiss biotech Idor­sia, spun out of Acte­lion af­ter J&J wrapped up its $30 bil­lion takeover in 2017, is one step clos­er to the fin­ish line with a pos­i­tive late-stage study of its in­som­nia drug.
The drug, a dual orex­in re­cep­tor an­tag­o­nist (DO­RA) called dari­dorex­ant, was be­ing test­ed in 930 adult and el­der­ly pa­tients with in­som­nia. Both dos­es (25 and 50 mg) of the ther­a­py im­proved sleep on­set and sleep main­te­nance, as well as sub­jec­tive to­tal sleep time at the end of month 1 and month 3, the com­pa­ny said, with­out dis­clos­ing specifics.
In ad­di­tion, dari­dorex­ant im­proved day­time per­for­mance, as mea­sured by pa­tients feel­ing less phys­i­cal­ly and men­tal­ly tired, less sleepy and more en­er­getic dur­ing the day.
The drug's side-ef­fect pro­file was al­so large­ly be­nign, with more se­ri­ous ad­verse events on the place­bo arm. There were al­so no next-morn­ing resid­ual ef­fects, re­bound in­som­nia, or with­draw­al symp­toms up­on dis­con­tin­u­a­tion, and no sui­cide, sui­ci­dal ideation or self-in­jury ob­served.
H.C. Wain­wright an­a­lyst Raghu­ram Sel­vara­ju sug­gest­ed its fa­vor­able safe­ty pro­file pits dari­dorex­ant as a "best-in-class drug" with the po­ten­tial for broad pen­e­tra­tion ver­sus ear­li­er-gen­er­a­tion orex­in re­cep­tor mod­u­la­tors, such as Mer­ck's Bel­som­ra and Ei­sai's re­cent­ly ap­proved Dayvi­go.
"While we de­signed dari­dorex­ant to have the op­ti­mal pro­file for a sleep med­i­cine, I am none-the-less stunned by the re­sults," said chief Jean-Paul Clozel in a state­ment. "Once ap­proved, by pro­vid­ing dari­dorex­ant to the mil­lions of pa­tients with in­som­nia, Idor­sia will have a ma­jor im­pact on this med­ical, so­cial, and eco­nom­ic prob­lem. It has struck me par­tic­u­lar­ly in these times of con­fine­ment that we are liv­ing through, that sleep prob­lems are a ma­jor is­sue and re­quire an ex­treme­ly safe and ef­fec­tive drug that can be used by many."
A sep­a­rate piv­otal tri­al test­ing 10 mg and 25 mg dos­es over three months is ex­pect­ed to read out in the third quar­ter.
The in­som­nia mar­ket is un­der­served, with mul­ti­ple op­tions that car­ry se­ri­ous safe­ty con­cerns such as sleep­walk­ing and sleep-dri­ving — the best-known ex­am­ples in­clude zolpi­dem (orig­i­nal­ly mar­ket­ed as Am­bi­en), es­zopi­clone (orig­i­nal­ly mar­ket­ed as Lunes­ta) and za­le­plon (for­mer­ly mar­ket­ed as Sonata), as well as ben­zo­di­azepines such as di­azepam, flu­razepam and temazepam, Sel­vara­ju said.
"From our van­tage point, dari­dorex­ant ap­pears much safer than all of these and could po­ten­tial­ly be po­si­tioned as the safest-ever in­som­nia drug, if ap­proved," he said.
He es­ti­mat­ed peak sales of near­ly $1.3 bil­lion in the Unit­ed States and Eu­rope by 2030.
Back in 2008, Idor­sia par­ent Acte­lion inked a deal worth up to $3.25 bil­lion with GSK for an­oth­er DO­RA, al­morex­ant. At first, al­morex­ant was tagged with sky-high ex­pec­ta­tions in the re­gion of $6 bil­lion in an­nu­al sales, but by 2011, a piv­otal study test­ing the drug was halt­ed due to an undis­closed tol­er­a­bil­i­ty is­sue.
Mer­ck, mean­while, did get a DO­RA on to the mar­ket — Bel­som­ra — al­beit with a la­bel that high­lights the po­ten­tial for abuse and day-af­ter ef­fects, which lim­it­ed its up­take.
Orex­ins, al­so called hypocre­tins, are nat­u­ral­ly pro­duced by the hy­po­thal­a­mus. As some peo­ple with nar­colep­sy ex­pe­ri­ence a loss of orex­in-pro­duc­ing neu­rons, orex­ins are un­der­stood to play a role in wake­ful­ness and arousal.