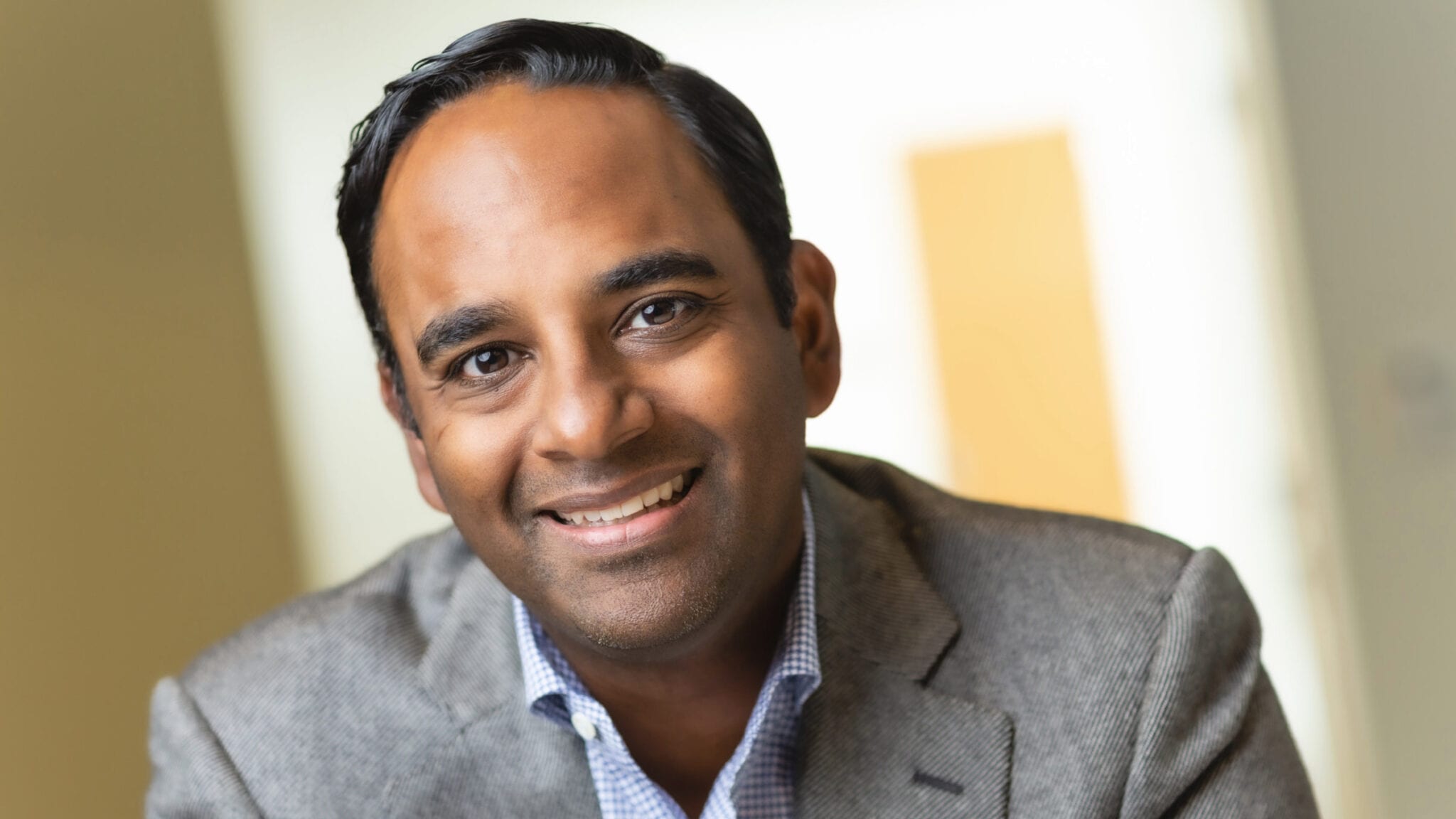 CEO Dipal Doshi (Entrada)
Piv­ot­ing to­ward neu­ro­mus­cu­lar dis­eases and Duchenne, En­tra­da locks down $116M crossover round
A lit­tle over two years since its last $59 mil­lion round, En­tra­da Ther­a­peu­tics is mak­ing some more noise Wednes­day with a nine-fig­ure crossover. And they've got a new fo­cus on neu­ro­mus­cu­lar dis­eases, led by Duchenne mus­cu­lar dy­s­tro­phy, as their re­search has broad­ened over the years.
En­tra­da pulled in a $116 mil­lion Se­ries B, with the funds pri­mar­i­ly slat­ed for get­ting its first Duchenne pro­gram in­to the clin­ic. The Boston-based biotech hopes to get past the IND ac­cep­tance phase for the lead can­di­date and then ex­pand in­to oth­er neu­ro­mus­cu­lar ar­eas.
The plat­form here, orig­i­nal­ly based on De­hua Pei's lab re­search from Ohio State Uni­ver­si­ty, cen­ters around what En­tra­da calls en­do­so­mal es­cape ve­hi­cles, or EEVs. At their core, EEVs are cyclic pep­tides that trig­ger a process en­abling cell mem­branes to take in bi­o­log­ic con­ju­gates, CEO Di­pal Doshi told End­points News.
Back in 2018 dur­ing the Se­ries A fundraise, En­tra­da's main ef­forts dealt with ap­ply­ing the EEVs to en­zyme re­place­ment ther­a­pies, with a pri­ma­ry tar­get of the mi­to­chon­dr­i­al dis­ease known as MNGIE. But last year, Doshi said, the com­pa­ny saw a "re­mark­able op­por­tu­ni­ty" in its oligonu­cleotide re­search and de­cid­ed to piv­ot to­ward this area in earnest.
Doshi now de­scribes En­tra­da as be­ing bro­ken in­to three parts: en­zyme re­place­ment, oligonu­cleotides and pro­tein degra­da­tion. As their sights have turned to­ward neu­ro­mus­cu­lar dis­eases with the oligonu­cleotides re­search, En­tra­da is now look­ing to part­ner out the MNGIE pro­gram.
"We've been very ex­plic­it to say, look, we're not go­ing to be cute here, we want to find a home for this pro­gram," Doshi told End­points. "We want to put it in­to a com­pa­ny that has the abil­i­ty to re­cruit an ul­tra-rare clin­i­cal study in the im­me­di­ate time frame."
En­tra­da doesn't nec­es­sar­i­ly have a spe­cif­ic part­ner­ship mod­el in mind, Doshi added, but they're hop­ing to find a rare dis­ease-fo­cused phar­ma that can run the tri­al while team­ing up on man­u­fac­tur­ing.
When it comes to ap­ply­ing the EEVs to oligonu­cleotides for Duchenne and its oth­er neu­ro­mus­cu­lar pro­grams, En­tra­da does so by tar­get­ing the RNA. In such dis­eases, pa­tients have mu­ta­tions that pre­vent the trans­la­tion of RNA in­to pro­teins — in Duchenne's case, the pro­tein in ques­tion is dy­s­trophin.
The oligonu­cleotides con­nect­ed to the EEVs force the cells to skip these mu­ta­tions in their ge­net­ic code, Doshi says, al­low­ing for the cre­ation of dy­s­trophin. And through this method, the dy­s­trophin can then get in­to the ap­pro­pri­ate mus­cles.
In ear­ly re­search, En­tra­da be­lieves it can dif­fer­en­ti­ate it­self from oth­er Duchenne play­ers due to the dy­s­trophin up­take they've seen in an­i­mal mod­els. Specif­i­cal­ly, re­searchers have record­ed sig­nif­i­cant up­take in the heart, which could val­i­date the EEV tech­nol­o­gy for use in oth­er neu­ro­mus­cu­lar dis­eases with sim­i­lar patholo­gies, Doshi said.
En­tra­da isn't dis­clos­ing yet which ex­on it's skip­ping in the lead pro­gram, but Doshi not­ed that they see a "bas­ket op­por­tu­ni­ty" in go­ing af­ter ex­ons 44, 45, 51 and 53 at around the same time. That would com­prise about 40% of all DMD pa­tients.
With Wednes­day's fi­nanc­ing now in hand, En­tra­da is look­ing to get the lead Duchenne can­di­date in­to the clin­ic some­time next year.
Duchenne is an area that's seen heavy in­vest­ment but few suc­cess­es in re­cent years. Last Au­gust, the FDA ap­proved the third Duchenne drug on the mar­ket, but reg­u­la­tors con­tin­ued to ex­press con­cerns about the ef­fi­ca­cy of the drug from NS Phar­ma. The oth­er two drugs come from Sarep­ta, where in one case the FDA in­fa­mous­ly flip-flopped from CRL to ac­cel­er­at­ed ap­proval af­ter just four months.
The round was led by Welling­ton Man­age­ment Com­pa­ny and joined by Red­mile Group, TCG Crossover, Green­spring As­so­ci­ates, Point72, Qatar In­vest­ment Au­thor­i­ty ("QIA"), Moore Strate­gic Ven­tures, Gold­man Sachs, Cure­Duchenne Ven­tures and one undis­closed glob­al in­vest­ment firm.
Ex­ist­ing in­vestors 5AM Ven­tures, MPM Cap­i­tal, Roche Ven­ture Fund, MRL Ven­tures Fund and Agent Cap­i­tal al­so par­tic­i­pat­ed in the Se­ries B.