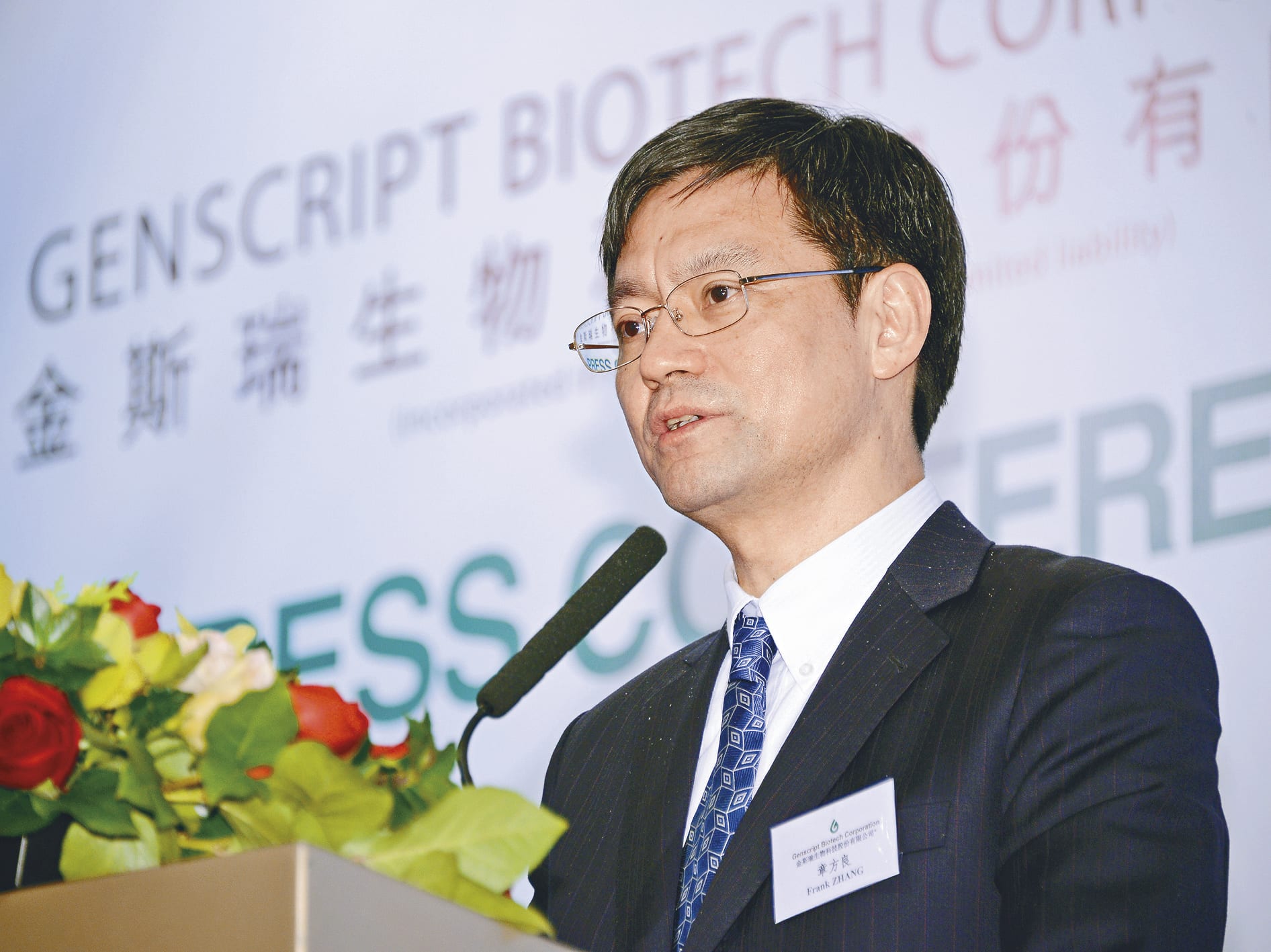 Plot thick­ens around Leg­end Biotech, Gen­Script with founder Frank Zhang's ar­rest
Two months af­ter Leg­end Biotech made the star­tling dis­clo­sure that founder and then-CEO Frank Zhang was placed un­der "res­i­den­tial sur­veil­lance," its par­ent com­pa­ny re­vealed that he's been for­mal­ly ar­rest­ed.
Zhang — who, since found­ing Gen­Script 18 years ago, has tak­en the CRO pub­lic and groomed Leg­end Biotech in-house un­til the J&J-part­nered CAR-T play­er was ma­ture enough for its own Nas­daq list­ing — is sev­er­ing his fi­nal ties with both. He is re­sign­ing as board chair/non-ex­ec­u­tive di­rec­tor of Gen­Script and di­rec­tor of Leg­end.
The cir­cum­stances around the cus­toms in­ves­ti­ga­tions and the ar­rest re­main opaque.
But the com­pa­nies are ready to move on. Gen­Script has in­stalled Meng Jiange, its VP of in­vestor re­la­tions, as the chair, while adding for­mer chief strat­e­gy of­fi­cer Zhu Li and Wang Xue­hai, VP of the Chi­na Phar­ma­ceu­ti­cal En­ter­pris­es As­so­ci­a­tion, to the board. Zhu is al­so join­ing Leg­end's board.
"While no charges have been filed against him, Dr. Zhang de­cid­ed that to avoid un­nec­es­sary dis­trac­tion to Leg­end Biotech, his res­ig­na­tion would be in the in­ter­ests of Leg­end Biotech and its share­hold­ers," a state­ment from Leg­end read.
In an HKEX fil­ing, Gen­Script re­port­ed it had learned about his ar­rest on Fri­day from a fam­i­ly mem­ber who sent over "a copy of a no­tice of ar­rest is­sued by (the) Cus­toms An­ti-Smug­gling De­part­ment of Zhen­jiang" dat­ed Nov. 20. The sus­pect­ed of­fense had to do with "smug­gling goods pro­hib­it­ed by the im­port and ex­port reg­u­la­tions un­der the laws of the PRC."
Two oth­er em­ploy­ees who had han­dled im­port and ex­port ac­tiv­i­ties have al­so been ar­rest­ed, it wrote. There was no word on what the goods might be.
Jef­feries an­a­lyst Biren Amin has pre­vi­ous­ly sug­gest­ed, based on a chat with Leg­end, that the po­ten­tial vi­o­la­tion sur­round­ed Gen­Script's ex­port of blood and ge­net­ic sam­ples out of Chi­na.
With a crit­i­cal fil­ing for its BC­MA CAR-T cell ther­a­py loom­ing, Leg­end shares $LEGN fell 4.84% pre-mar­ket.
Ying Huang, the for­mer CFO, is now over­see­ing all that as CEO while Gen­Script co-founder Sal­ly Wang serves as board chair­woman.