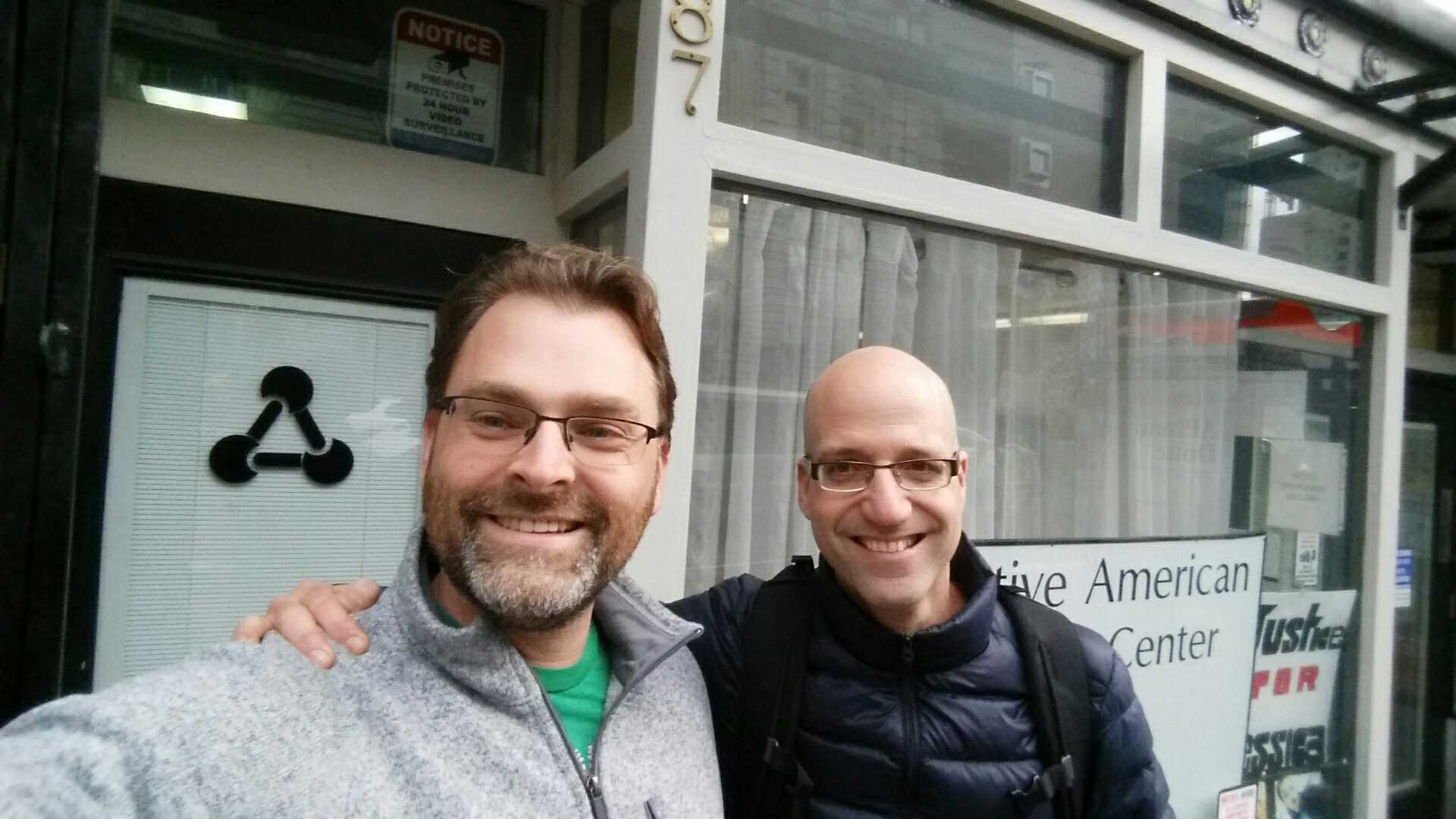 Atomwise co-founders Abe Heifets and Izhar Wallach (photo courtesy Atomwise)
Plot­ting to be the Bridge­Bio of AI, Atom­wise lands $123 mil­lion Se­ries B for hype-heavy plat­form
The PR-friend­ly, well-part­nered AI biotech that's pro­voked stern skep­ti­cism in some sci­en­tif­ic cor­ners is get­ting a boat­load of new cash.
Atom­wise has an­nounced a $123 mil­lion Se­ries B round led by San­abil In­vest­ments — a sub­sidiary of the Sau­di roy­al fund — and B Cap­i­tal Group and joined by DCVC and Y Com­bi­na­tor, among oth­ers. The new round is near­ly triple what Atom­wise had raised pri­or and will go to­wards both scal­ing their mol­e­cule-hunt­ing soft­ware and build­ing the grow­ing net­work of spin­outs they're launch­ing to de­vel­op some of the mol­e­cules that soft­ware has turned up.
The goal ul­ti­mate­ly, said CEO Abe Heifets, is to build a port­fo­lio of small­er biotechs be­neath theirs — a kind of Bridge­Bio for AI.
"We want to grow in scale," Heifets told End­points News. "The tech­nol­o­gy is small mol­e­cule — that's a very broad um­brel­la so there's in­creas­ing­ly an in­ter­est in a port­fo­lio ap­proach"
The round could be a le­git­i­mat­ing one for Atom­wise, a com­pa­ny that over the last few years has found it­self at the cen­ter of a de­bate be­tween en­gi­neers who promised that ma­chine learn­ing and AI net­works could re­make drug de­vel­op­ment and sci­en­tists who saw a lot of buzz but lit­tle sub­stance. Since its days at Y Com­bi­na­tor, the com­pa­ny has promised to use an AI con­vo­lu­tion­al net­work to rapid­ly screen bil­lions of mol­e­cules for their abil­i­ty to hit a tar­get or bind to a pro­tein, and in do­ing so speed from "years to days" the process of se­lect­ing drug can­di­dates. In do­ing so, they said, they could cut short the ar­du­ous and ex­pen­sive drug de­vel­op­ment path.
The prob­lem, crit­ics such as sci­ence blog­ger and med­i­c­i­nal chemist Derek Lowe ar­gued, is that it just doesn't take that long to screen mol­e­cules. It's a bump in the drug dis­cov­ery moun­tain.
"You can do a mil­lion in six weeks. The whole com­pound screen­ing step is just an­oth­er ear­ly thing in pre­clin­i­cal space," Lowe wrote in one piece that al­so not­ed Atom­wise's "ten­den­cy to­ward over­state­ment."
"I've nev­er seen a suc­cess­ful project in which it was a rate-lim­it­ing step. But 'shave a few weeks off some­thing at the very be­gin­ning' isn't as com­pelling an of­fer, is it?" he said.
Though just one of many com­pa­nies now of­fer­ing rapid, AI-en­abled screen­ing, Atom­wise might be the most pro­lif­ic, claim­ing "over 750 re­search col­lab­o­ra­tions ad­dress­ing over 600 dis­ease tar­gets" and part­ner­ships with ma­jor phar­ma com­pa­nies, in­clud­ing Eli Lil­ly, Mer­ck, Ko­rea's Han­soh Phar­ma­ceu­ti­cals, Bay­er and Bridge­Bio.
Yet it has ad­ver­tised those big-name part­ner­ships with par­tic­u­lar fan­fare. Rather than cal­cu­late the over­all po­ten­tial deal val­ue by up­front fees and mile­stones, as most biotechs do, they have of­ten list­ed val­ues that in­clude roy­al­ty es­ti­mates "based on his­tor­i­cal av­er­age rev­enues for small mol­e­cule drugs … with suc­cess in all projects" — in an in­dus­try where suc­cess is fleet­ing­ly rare. That's al­lowed the com­pa­ny to ad­ver­tise that "Atom­wise has signed more than $5.5 bil­lion in to­tal deal val­ue with cor­po­rate part­ners to date" with­out dis­clos­ing any in­di­vid­ual pay­ments.
Heifets says that their deal re­leas­es are in line with how oth­er biotechs talk about their deals and what their part­ners are will­ing to dis­close. He al­so says Atom­wise pro­vides ben­e­fits be­yond that ini­tial screen­ing step.
"If you think of AI as on­ly be­ing ap­plied for high through­put screen­ing, then I agree with Derek," he said. "That's a be­gin­ning part and that's pret­ty quick."
Heifets said that Atom­wise al­so pro­vides ser­vices for lead op­ti­miza­tion, a longer and more dif­fi­cult step. And he said that they've shown the soft­ware can not on­ly find mol­e­cules faster but al­so find mol­e­cules for tar­gets that ma­jor com­pa­nies have spent years and mil­lions of dol­lars fail­ing to hit.
Most no­tably, Atom­wise launched X-37 last year in part around the dis­cov­ery of mol­e­cules that can bind to the PIM3 path­way with­out harm­ing healthy tis­sue, which Heifets said Roche, No­var­tis and As­traZeneca had tried and failed to do. The com­pa­ny raised $14.5 mil­lion in Se­ries A fund­ing. They al­so qui­et­ly launched Theia Bio­sciences around mol­e­cules that can hit the HTRA1 path­way and might be used to treat age-re­lat­ed mac­u­lar de­gen­er­a­tion.
Over the next few years, Heifets said, they plan to launch more biotech sub­sidiaries, hope­ful­ly even­tu­al­ly putting mul­ti­ple drugs in the clin­ic. If the mar­kets keep their his­toric pace, he said, an IPO could al­so be in their for­tunes.
That would like­ly mean a hefty S-1 and an­oth­er round of ar­gu­ments over the role of AI in biotech, and what's hype and what's re­al­i­ty.
"I think that will de­pend on what the mar­kets are do­ing," Heifets said. "There have been a num­ber of very suc­cess­ful IPOs re­cent­ly in the biotech sec­tor, so it's a very in­ter­est­ing time."