Pol­i­tics, pric­ing con­tro­ver­sy, tax re­form and steep val­u­a­tions con­spire to con­fuse Sanofi's M&A strat­e­gy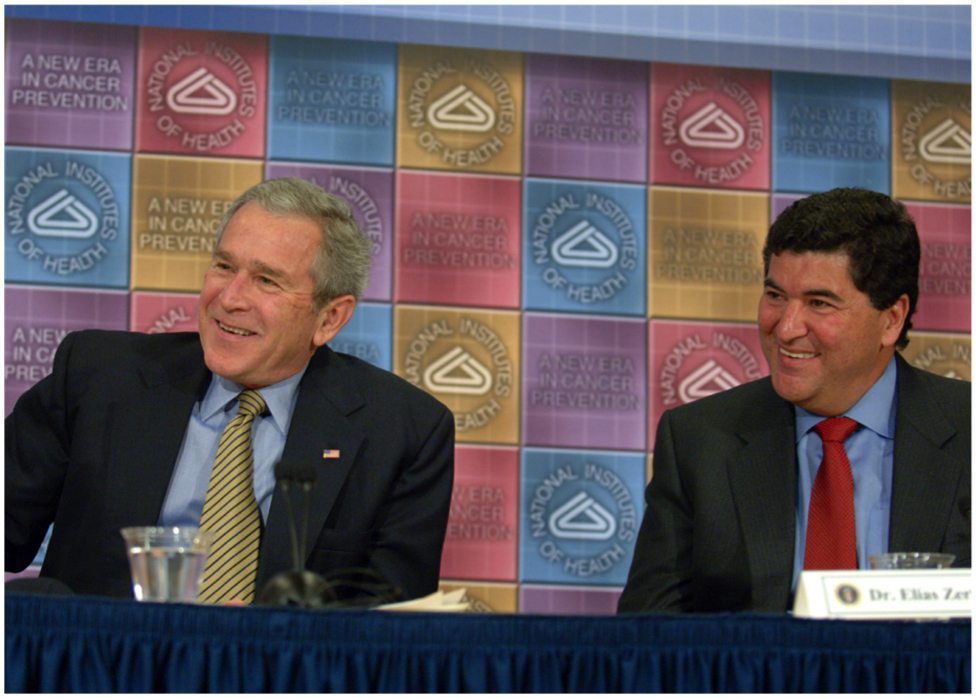 Feb 7, 2007: Pres­i­dent George W. Bush and NIH Di­rec­tor Dr. Elias Zer­houni en­joy an ex­change.

NIH – Screen­shot
---
One of the big ques­tions fac­ing the in­dus­try right now is whether or not the M&A train will get rolling in a mean­ing­ful way in 2017. It's clear that many of the ma­jor play­ers — the ones ex­pect­ed to add bil­lions in meaty deals to the bare bones of what we've been see­ing — have been caught at least some­what off bal­ance by a new pres­i­dent that con­stant­ly spouts off about out­ra­geous­ly high drug costs as well as plans to re­form cor­po­rate tax­es.
That in­de­ci­sion was cap­tured per­fect­ly over the week­end by the Fi­nan­cial Times, which in­ter­viewed Sanofi R&D chief Elias Zer­houni. Sanofi has tried, and failed, to bag Medi­va­tion as well as Acte­lion, beat out by big­ger check books (Pfiz­er/Medi­va­tion) and more con­sis­tent play­ers (J&J/Acte­lion). What­ev­er hap­pens to its re­port­ed in­ter­est in Flex­ion, that deal won't tip the M&A scales very much.
Zer­houni un­der­stands to pric­ing un­cer­tain­ty per­fect­ly.
"There is a lot of un­cer­tain­ty right now in the val­ues of all com­pa­nies be­cause of pric­ing is­sues in the US . . . in par­tic­u­lar, but world­wide," he told the FT. "And so when you see the val­ues that are be­ing paid you ques­tion your­self as to the sus­tain­abil­i­ty of those val­ues, giv­en the un­cer­tain­ty in the pric­ing en­vi­ron­ment."
He al­so has the lux­u­ry of count­ing on Re­gen­eron to pro­vide the in­no­va­tion the com­pa­ny has failed to pro­vide for it­self. That is ev­i­dent with the big new ap­proval for Dupix­ent and the con­tin­u­a­tion of its lon­grun­ning le­gal bat­tle with Am­gen. And so there's some lee­way in when and what Sanofi goes af­ter next, though a num­ber of an­a­lysts and big in­vestors aren't about to let Sanofi CEO Olivi­er Brandi­court off the hook on M&A. Says Zer­houni:
It's not fair to say that we're not in­ter­est­ed, but we're al­so very dis­ci­plined. There is an in­fla­tion of prices for these as­sets and they are quite un­usu­al.
So val­u­a­tions are high, US pol­i­tics are par­tic­u­lar­ly un­cer­tain and Sanofi ex­ecs nat­u­ral­ly don't like to sweat in pub­lic. It should be an in­ter­est­ing year, but with the di­a­betes fran­chise on the wane, mark­ing time is not a lux­u­ry that Sanofi can af­ford — what­ev­er Zer­houni says in an in­ter­view.
The M&A train at the French com­pa­ny can't stay in the sta­tion in­def­i­nite­ly.