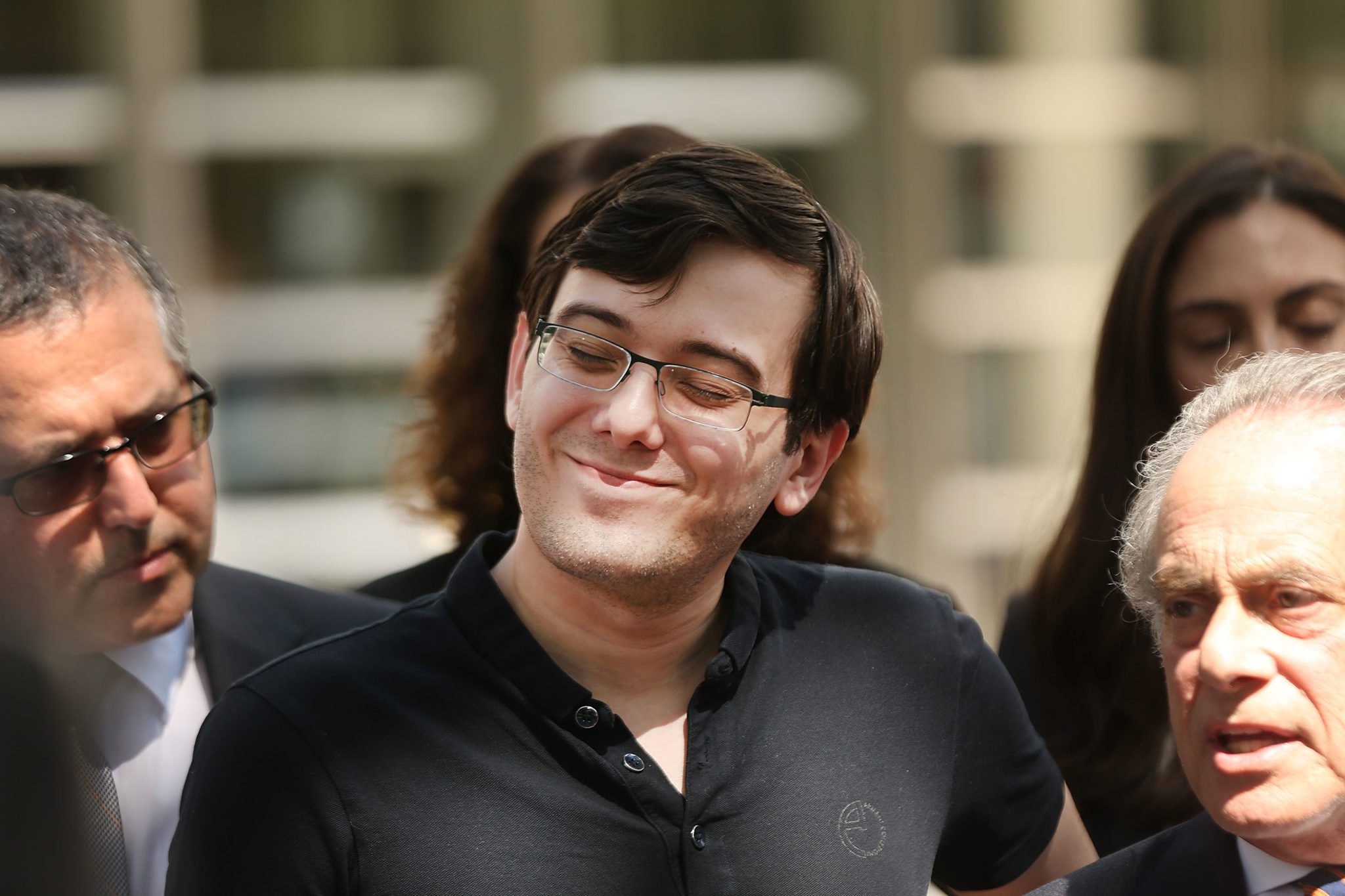 Prison of­fi­cials launch a probe in­to Mar­tin Shkre­li's lat­est an­tics, al­leged­ly run­ning his biotech busi­ness with a con­tra­band cell phone
Mar­tin Shkre­li has found him­self in an­oth­er mess, and this one comes with a pos­si­ble tack-on to his prison sen­tence of up to one year in the fed­er­al pen, plus a fine.
In the wake of the Wall Street Jour­nal's ex­pose on Shkre­li's lat­est shenani­gans, the US Bu­reau of Pris­ons has be­gun an in­ves­ti­ga­tion in­to the ar­ti­cle's claim that the 'Phar­ma Bro,' an avid smart­phone user be­fore he was sen­tenced to 7 years for fraud, has found him­self a con­tra­band cell phone to run his biotech busi­ness be­hind the walls of his low se­cu­ri­ty prison Fort Dix.
Both the phone and the hands-on man­age­ment while be­hind bars are strict­ly for­bid­den by the rules.
The Bu­reau tells me:
Ad­min­is­tra­tive­ly, Bu­reau of Pris­ons (BOP) Pro­gram State­ment 5270.09 "In­mate Dis­ci­pline Pro­gram" found here https://www.bop.gov/pol­i­cy/prog­stat/5270_009.pdf al­so de­scribes pos­ses­sion of a cell phone as a "great­est sever­i­ty lev­el" pro­hib­it­ed act (see Code 108 on page 44). Dis­ci­pli­nary sanc­tions which the in­mate can re­ceive are al­so de­scribed in the pol­i­cy (see page 45). Ad­di­tion­al­ly, in­mates who con­duct a busi­ness com­mit a "mod­er­ate sever­i­ty lev­el" pro­hib­it­ed act (see Code 334 on page 51) the dis­ci­pli­nary sanc­tions for these acts are like­wise pre­scribed (see page 52).
The al­le­ga­tions, they tell me, are be­ing in­ves­ti­gat­ed. And the pos­si­ble sanc­tions can in­volve a quick move to a new cell as well as a push­back on any pa­role date.
Trans­la­tion: Shkre­li is in it up to his neck again.
Long­time ob­servers will re­call that Shkre­li en­joyed noth­ing more than thumb­ing his nose at law­mak­ers and the law alike af­ter he came in­to the spot­light for a 5000%-plus drug price hike. The drug pric­ing is­sue was all le­gal, of course, but a fed­er­al ju­ry had a prob­lem with his habit of con­tin­u­al­ly ly­ing to the in­vestors in his hedge funds.
---
Im­age by Spencer Platt, Get­ty Im­ages