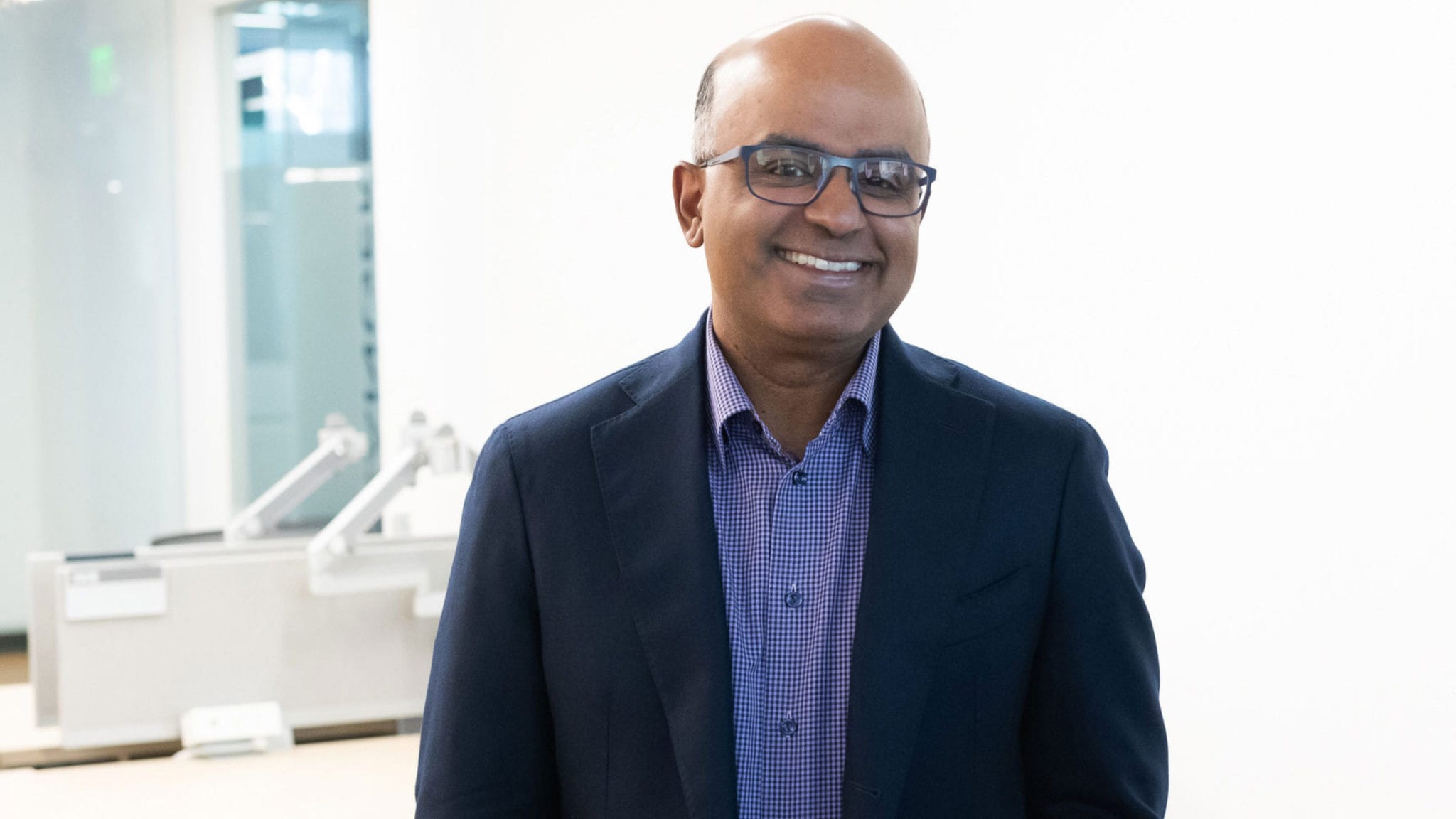 Sekar Kathire­san show­cas­es his­toric mon­key da­ta in hunt for a once-and-done gene edit­ing ap­proach to pre­vent heart at­tacks
In a first for CRISPR — a field that's seen quite a few his­toric moves in the past cou­ple of years — sci­en­tists have slashed cho­les­terol and lipid lev­els in mon­keys us­ing a tech­nique known as base edit­ing, gen­er­at­ing cru­cial proof-of-con­cept for both the biotech be­hind the ex­per­i­ment and a key part­ner.
Verve Ther­a­peu­tics de­signed two sim­i­lar ex­per­i­ments to test whether they can re­pro­duce pro­tec­tive mu­ta­tions in a pair of genes us­ing an ade­nine base ed­i­tor, which pre­cise­ly al­ters a cho­sen A to a G in the genome. CEO and co-founder Sekar Kathire­san pre­sent­ed the re­sults at a vir­tu­al keynote for the In­ter­na­tion­al So­ci­ety for Stem Cell Re­search over the week­end.
The base ed­i­tors ap­peared to have es­sen­tial­ly turned off genes, shut­ting down pro­duc­tion of cor­re­spond­ing pro­teins. That trans­lat­ed to a 60% drop in LDL with the PC­SK9 ther­a­py and a 64% plunge in triglyc­erides on the ANGPTL3 treat­ment.
When it comes to low­er­ing the col­lo­qui­al bad cho­les­terol, "60% is on par if not bet­ter than any oth­er treat­ment out there," Kathire­san told End­points News just af­ter his pre­sen­ta­tion.
These re­sults are the cul­mi­na­tion of Kathis­er­an's decades-long search for ge­net­ic clues for solv­ing coro­nary heart dis­ease, the lead­ing cause of death in the world. While di­rec­tor of the Cen­ter for Ge­nom­ic Med­i­cine at Mass­a­chu­setts Gen­er­al Hos­pi­tal and the Car­dio­vas­cu­lar Dis­ease Ini­tia­tive at the Broad In­sti­tute, he and col­leagues had iden­ti­fied eight genes that har­bor rare mu­ta­tions as­so­ci­at­ed with re­sis­tance to my­ocar­dial in­farc­tion. Af­ter show­ing in mice that they could ad­min­is­ter a one-time treat­ment for per­ma­nent low­er­ing of cho­les­terol, he left acad­e­mia to work on bring­ing it to hu­mans full-time.
There is, of course, still a long way to go. But Kathire­san be­lieves the new da­ta have lit up Verve's path to the clin­ic.
They are still choos­ing be­tween the PC­SK9 and ANGPTL3 pro­grams as their lead can­di­date. Once they do — the dead­line will be the end of the year — an IND for pa­tients ge­net­i­cal­ly pre­dis­posed to high risk of heart at­tack is in sight for 2022.
Both pro­grams demon­strat­ed dra­mat­ic re­duc­tions in the tar­get pro­tein, cut­ting 89% of PC­SK9 and 95% of ANGPTL3 from the blood­stream. With the study lim­it­ed to two weeks, though, the dura­bil­i­ty ques­tions loomed large dur­ing the Q&A.
"We have en­cour­ag­ing da­ta out to sev­er­al months now," Kathire­san said, ex­press­ing con­fi­dence that the edit­ing will be sta­ble long-term.
The rate of DNA reached 67% of the liv­er for PC­SK9 and 60% for ANGPTL3 which, Kathis­er­an point­ed out, rep­re­sents the ma­jor­i­ty of he­pa­to­cytes as around 30% of the liv­er is sup­port­ing tis­sue. Get­ting to not just ma­ture he­pa­to­cytes but al­so stem cells would be cru­cial. In pre­vi­ous re­search by oth­er groups, sci­en­tists have ob­served con­tin­ued edit­ing in mice cells even when they chop out parts of the liv­er and let it re­gen­er­ate.
Con­sid­er­ing the base ed­i­tors were de­ployed in vi­vo, safe­ty was al­so para­mount. Verve re­port­ed no off-tar­get ed­its in the 108 sites mea­sured — ow­ing, Kathire­san said, to the tech­nol­o­gy they have li­censed from Beam Ther­a­peu­tics.
Un­like the first gen­er­a­tion of CRISPR edit­ing, base edit­ing doesn't snip at the site Cas9 brings it to; rather, through an en­zyme, it con­verts one base to an­oth­er chem­i­cal­ly.
"So it's kind of in­ge­nious be­cause it us­es the GPS lo­cal­iza­tion fea­ture of Cas9, but it doesn't use the dou­ble-strand break fea­ture of Cas9," he said.
Apart from the mR­NA that forms the ed­i­tor, every Verve ther­a­py al­so con­sists of a guide RNA — picked out from hun­dreds — di­rect­ing the ma­chin­ery to the de­sired spot, all en­cap­su­lat­ed in a lipid nanopar­ti­cle en­gi­neered in col­lab­o­ra­tion with Van­cou­ver-based Acuitas.
De­liv­er­ing with lipid nanopar­ti­cles in­stead of a vi­ral vec­tor is a de­lib­er­ate choice.
"We need to get in, get the ed­i­tor and the guide RNA, get the edit­ing to hap­pen and then every­thing to go away as quick­ly as pos­si­ble," Kathire­san said, "be­cause the longer the liv­er is ex­posed to the edit­ing ma­chin­ery, the more like­ly you are to get off-tar­get ef­fects. and lipid nanopar­ti­cles al­low de­liv­ery and then res­o­lu­tion of the process with­in a cou­ple of days."
Al­so de­lib­er­ate is their de­ci­sion to part­ner wide­ly and as­sem­ble — not in­vent — all the tools that might aid their work. Base ed­i­tors aren't go­ing to cov­er the full spec­trum of pos­si­ble and nec­es­sary changes as Kathire­san and his team go down their pri­or­i­tized list of eight genes. But they are tak­ing it one step at a time.