Rat­tled by set­backs, Cel­gene turns to ex-Mer­ck R&D star Alise Re­icin to re­pair its dam­aged de­vel­op­ment rep
At a time when the ex­ec­u­tive crew at Cel­gene has rat­tled in­vestors with a se­ries of set­backs on clin­i­cal de­vel­op­ment, the big biotech is re­or­ga­niz­ing its lead­er­ship on drug de­vel­op­ment and turn­ing to a for­mer Mer­ck R&D star to lead the way out of the wilder­ness.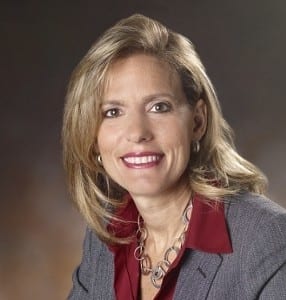 Alise Re­icin
Alise Re­icin, who played a ma­jor role in the big de­vel­op­ment cam­paign for Mer­ck's Keytru­da, is be­ing placed in charge of the crit­i­cal mid- to late-stage de­vel­op­ment work at Cel­gene, where it's been ex­pe­ri­enc­ing its biggest prob­lems.
Re­icin spent the last 3 years as a se­nior VP at the Ger­man Mer­ck's biotech arm, EMD Serono, where she helped lead the charge on Baven­cio (avelum­ab), their PD-L1 part­nered with Pfiz­er.
"Led by Alise, our clin­i­cal de­vel­op­ment or­ga­ni­za­tion will be struc­tured to more com­plete­ly align with our strat­e­gy and mis­sion to dis­cov­er, de­vel­op and com­mer­cial­ize in­no­v­a­tive ther­a­pies for pa­tients with un­met need," says CEO Mark Alles in a state­ment. He not­ed that Re­icin would be in charge of project lead­er­ship and man­age­ment, leav­ing Ru­pert Vessey to head up ear­ly re­search and de­vel­op­ment.
Left un­said is the tac­it mess that's been af­flict­ing Cel­gene's late-stage de­vel­op­ment work. Their pro­gram for ozan­i­mod, picked up in a $7.8 bil­lion deal to buy Re­cep­tos, led straight to an em­bar­rass­ing refuse-to-file no­tice from the FDA, which want­ed to wait for some ad­di­tion­al stud­ies to be com­plete. Cel­gene has promised to get that done and back to the FDA in Q1 2019, but an­a­lysts have been buzzing about the po­ten­tial for fur­ther em­bar­rass­ing de­lays.
The prob­lems with ozan­i­mod, com­ing right af­ter the Phase III fail­ure of mon­gersen last fall — the sub­ject of a rich $710 mil­lion deal — ran­kled in­vestors and an­a­lysts, who were used to see­ing a crisp per­for­mance un­der the old team led by Bob Hug­in, in­clud­ing in­sid­ers like Tom Daniel and George Golumbes­ki, who even­tu­al­ly fol­lowed Hug­in — now run­ning for the US Sen­ate — out the ex­it.
Still play­ing out as well, Cel­gene has to in­te­grate Juno's CAR-T op­er­a­tions in­to the com­pa­ny af­ter Alles' $9 bil­lion buy­out. And ru­mors are start­ing to cir­cu­late in in­dus­try cir­cles that that process has al­so been less than ide­al.
Re­icin al­so played a role in the de­vel­op­ment of Vioxx at Mer­ck, yanked from the mar­ket in 2004 af­ter ev­i­dence mount­ed that the pain drug caused a spike in risk for heart at­tacks. She fea­tured in The New York Times cov­er­age, over­rid­ing a physi­cian's con­clu­sion that one of their tri­al pa­tients had died of a heart at­tack.
"I think this should be called an un­known cause of death," Re­icin replied, ac­cord­ing to the Times re­port. Soon af­ter, she added, "I would pre­fer un­known cause of death so we don't raise con­cerns."