Re­gen­eron picks a new de­liv­ery tech in ef­fort to up­grade flag­ship block­buster Eylea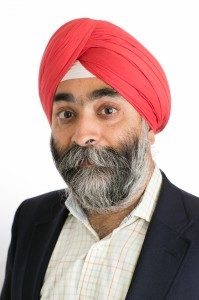 Oc­u­lar CEO Amar Sawh­ney
Last year, Re­gen­eron re­port­ed $2.7 bil­lion in Eylea sales, pro­ject­ing $3.2 bil­lion for this year. And now, 5 years af­ter the block­buster ap­proval that set the com­pa­ny up for one of the most re­mark­able R&D runs in biotech, the com­pa­ny is go­ing to work with a new de­liv­ery tech­nol­o­gy to see if they can make a bet­ter drug, with a fresh patent run­way.
This morn­ing, Re­gen­eron $REGN and Oc­u­lar Ther­a­peu­tix $OCUL spelled out a $315 mil­lion deal to use Oc­u­lar's "hy­dro­gel" on Eylea, ex­plor­ing its po­ten­tial to more durably get the drug in­to the back of the eye, re­duc­ing the num­ber of in­jec­tions pa­tients face when treat­ed for wet, age re­lat­ed mac­u­lar de­gen­er­a­tion and oth­er reti­nal dis­eases.
But Oc­u­lar CEO Amar Sawh­ney says they've been in­for­mal­ly col­lab­o­rat­ing for the past two years al­ready, giv­ing Re­gen­eron in­ves­ti­ga­tors plen­ty of time to do ini­tial proof of prin­ci­ple work be­fore for­mal­iz­ing the pact.
Shares of Oc­u­lar Ther­a­peu­tix shot up 16% on the tie-up with Re­gen­eron.
This is a no mon­ey down deal, with $10 mil­lion due if Re­gen­eron picks up its op­tion on the pro­gram dur­ing the ini­tial 18-month stage as Oc­u­lar takes on re­spon­si­bil­i­ty for de­vel­op­ment work through Phase I. That's in ad­di­tion to $155 mil­lion in de­vel­op­ment and reg­u­la­to­ry mile­stones and an­oth­er $150 mil­lion for sales goals. Oc­u­lar has a mar­ket cap of $156 mil­lion.
"They are a very sci­en­tif­i­cal­ly dri­ven com­pa­ny," says Sawh­ney about his work with Re­gen­eron over the past two years. In­ves­ti­ga­tors want­ed to gain con­fi­dence that Oc­u­lar's hy­dro­gel tech had a re­al chance of mak­ing a sig­nif­i­cant dif­fer­ence for Eylea, look­ing to re­duce in­jec­tions of the an­ti-VEGF ther­a­py from around once every one or two months – de­pend­ing on dis­ease pro­gres­sion – to once every 4 to 6 months.
De­vel­op­ing a new de­liv­ery tech for the back of the eye "makes for a very high chal­lenge," says the CEO. And it's flat­ter­ing to be picked as a part­ner by a com­pa­ny like Re­gen­eron, which has been bat­tling Roche's Lu­cen­tis and off-la­bel Avastin for mar­ket share. Suc­cess here, he adds, would open up a brand new patent run­way for Eylea.
The Bed­ford, MA-based com­pa­ny, found­ed a decade ago, now has about 100 staffers, with one prod­uct on the mar­ket. The biotech al­so just launched a Phase III study for sus­tained re­lease travo­post – which us­es its hy­dro­gel tech – in a study for glau­co­ma and oc­u­lar hy­per­ten­sion.