Re­gen­eron, Sanofi win a de­layed OK for rheuma­toid arthri­tis IL-6 heavy­weight sar­ilum­ab
It took more than six months and like­ly caused more than a few red faces, but Sanofi has dealt with the FDA's is­sues with its man­u­fac­tur­ing ops and won a green light to start mar­ket­ing the like­ly block­buster sar­ilum­ab along­side its part­ners at Re­gen­eron.
Con­sen­sus peak sales fore­casts on the drug — to be mar­ket­ed as Kevzara — top the $1 bil­lion block­buster mark, mak­ing it a big ad­di­tion for both com­pa­nies.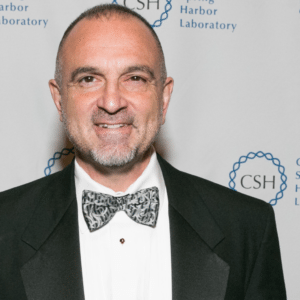 George Yan­copou­los, Re­gen­eron

(Get­ty/Bloomberg)
The part­ners say they set the WAC at $39,000/year for the 200 mg and 150 mg dos­es, which is ap­prox­i­mate­ly "30 per­cent low­er than the WAC for the two most wide­ly used TNF-al­pha in­hibitors." Those two are Hu­mi­ra – which earned $16 bil­lion last year – and En­brel.
The IL-6 drug whet­ted an­a­lysts' ex­pec­ta­tions last March when it beat out Ab­b­Vie's Hu­mi­ra in a head-to-head show­down for rheuma­toid arthri­tis. The Hu­mi­ra da­ta weren't in reg­u­la­tors' pack­age for the ap­proval, but you can be sure that pay­ers will give it a good look over once the sales team hits the streets. On the down­side, sar­ilum­ab was linked to a sig­nif­i­cant­ly high­er rate of neu­trope­nia.
Leerink high­light­ed the price com­pe­ti­tion with a nod to the low­er price mod­el.
As im­por­tant­ly, Kevzara is al­so ap­prox­i­mate­ly 15% be­low the price of Actem­ra at the high­est dose and, with dis­counts, should of­fer a cost ef­fec­tive treat­ment op­tion for pay­ers in this set­ting. In a re­cent In­sti­tute for Clin­i­cal and Eco­nom­ic Re­view (ICER) analy­sis, Kevzara did not reach a typ­i­cal $100,000 per qual­i­ty-ad­just­ed life year (QALY) cost ef­fec­tive­ness thresh­old at this lev­el, but nei­ther did any of the oth­er wide­ly pre­scribed bi­o­log­i­cals for this dis­ease, in­clud­ing En­brel, Hu­mi­ra, Cimzia, Oren­cia, Actem­ra and Xel­janz.
Sar­ilum­ab now be­comes the third an­ti­body to win ap­proval from a Re­gen­eron/Sanofi part­ner­ship. The first was the PC­SK9 drug Pralu­ent, which has trig­gered a bruis­ing le­gal bat­tle with Am­gen and has yet to find any re­al trac­tion in the mar­ket, de­spite its dra­mat­ic im­pact on cho­les­terol. The part­ners are now lin­ing up car­dio out­comes da­ta from a big Phase III, hop­ing to push that out front of the com­pe­ti­tion. Then there was an OK ear­li­er this year for Dupix­ent, which a num­ber of fore­casts have pegged as a po­ten­tial megablock­buster.
Rheuma­toid arthri­tis is a tough dis­ease to beat, es­pe­cial­ly when you have to line up against some big ri­vals that are al­ready well en­trenched in the field. J&J and Glax­o­SmithK­line demon­strat­ed that when they came up with mixed re­sults in their head-to-head with sirukum­ab vs. Hu­mi­ra. But it was Eli Lil­ly that turned in the big nasty sur­prise, with the FDA stun­ning an­a­lysts with their re­jec­tion of baric­i­tinib, a drug li­censed from In­cyte.
"In the clin­i­cal tri­al pro­gram, sar­ilum­ab demon­strat­ed sta­tis­ti­cal­ly sig­nif­i­cant, clin­i­cal­ly-mean­ing­ful im­prove­ments in adult pa­tients with rheuma­toid arthri­tis by re­duc­ing signs and symp­toms and im­prov­ing phys­i­cal func­tion, re­sult­ing in sig­nif­i­cant­ly less ra­di­ograph­ic pro­gres­sion of struc­tur­al dam­age of RA," said Alan Kivitz, an in­ves­ti­ga­tor in the glob­al SAR­IL-RA clin­i­cal pro­gram for sar­ilum­ab. "This is im­por­tant be­cause not all cur­rent­ly avail­able treat­ments work in all pa­tients, and some pa­tients may spend years cy­cling through dif­fer­ent treat­ments with­out achiev­ing their treat­ment goals. Sar­ilum­ab works dif­fer­ent­ly from the most com­mon­ly used bi­o­log­ics, such as those in the an­ti-TNF class, and is a wel­come new op­tion for pa­tients and their physi­cians."