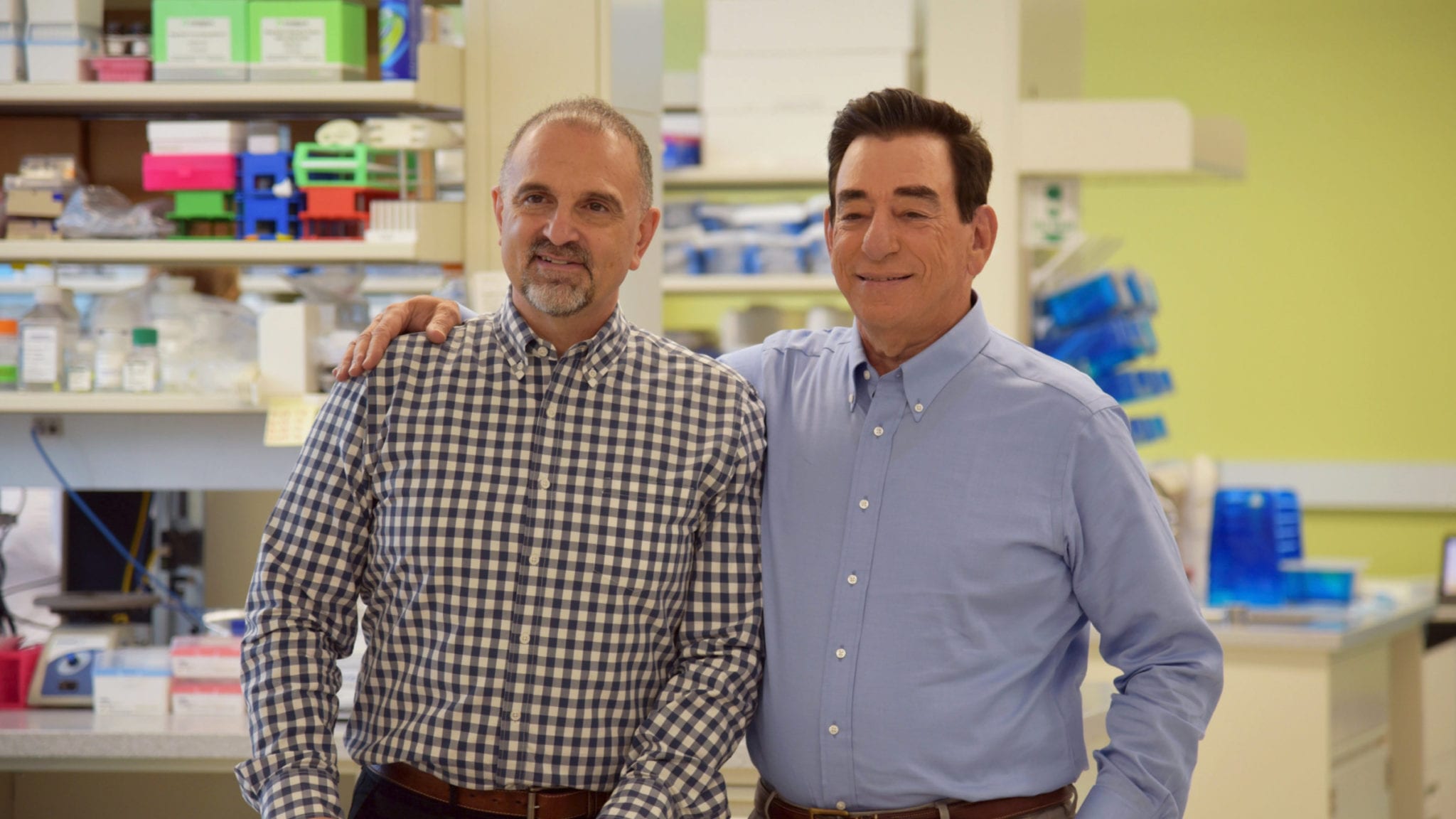 George Yancopoulos (L) and Len Schleifer (Regeneron)
Re­gen­eron's Len Schleifer, George Yan­copou­los start their am­bi­tious 5-year plan, earn­ing a front-loaded $270M com­bined
As biotech whiz kid Re­gen­eron pre­pares to move in­to the next phase of its growth, found­ing part­ners Len Schleifer and George Yan­copou­los placed a big bet on them­selves late last year with a long-term per­for­mance plan worth a po­ten­tial $1.4 bil­lion. Now — with those front-loaded, con­di­tion­al stock awards in the bank —can both men stick the land­ing?
Schleifer and Yan­copou­los earned $135 mil­lion and $134 mil­lion, re­spec­tive­ly, in 2020 on the back of the New York drug­mak­er's work ad­vanc­ing one of the ear­li­est an­ti­body cock­tails for Covid-19 through an FDA emer­gency use au­tho­riza­tion, ac­cord­ing to a proxy fil­ing with the SEC.
Those are pay pack­ages that would eas­i­ly rank among the high­est in the For­tune 500 — but the fig­ures are slight­ly mis­lead­ing. Both Schleifer and Yan­copou­los earned a $130 mil­lion stock award in 2020 tied to five-year per­for­mance share units (PSU) that will cash out in De­cem­ber 2028 af­ter a three-year hold­ing pe­ri­od.
The cur­rent val­ue of those PSUs for each ex­ec­u­tive is $130 mil­lion, but as part of a re­jig­gered com­pen­sa­tion pack­age ap­proved by Re­gen­eron's board, those units could end up much more valu­able. The board set tiered mile­stones for both ex­ec­u­tives' pos­si­ble awards with a tar­get goal of cu­mu­la­tive 65.6% growth over five years. Hit­ting that num­ber on the nose would earn both Schleifer and Yan­copou­los a cool $196.5 mil­lion each.
But on the ab­solute high end of what the board thinks is pos­si­ble — 140% share growth over five years at a 19.2% an­nu­al rate — both Schleifer and Yan­copou­los would be due a whop­ping $713.3 mil­lion each. Even if Re­gen­eron doesn't hit the award thresh­old of 31.3% growth over the next five years, Schleifer and Yan­copou­los can still earn half of the 248,108 PSU tar­get fig­ure if the drug­mak­er's share price out­per­forms the Nas­daq Biotech­nol­o­gy In­dex by 200 ba­sis points over that time. That would al­so be no easy task as the in­dex has seen near­ly 50% growth over the past five years.
Hit­ting that top-end fig­ure, equiv­a­lent to a $1,150 share price, will take some do­ing as the com­pa­ny's shares have trad­ed most­ly flat over the pre­vi­ous five years. Since Ju­ly, the com­pa­ny's shares have de­clined rough­ly 28% from a peak of $658.21 dur­ing the hype over its an­ti­body cock­tail for Covid-19.
As it stands, Schleifer and Yan­copou­los are due a big pay­check ei­ther way in 2028 in lieu of the typ­i­cal an­nu­al in­cen­tives. Mean­while, both ex­ec­u­tives' base salary saw a slight bump in 2020, with Schleifer earn­ing $1.48 mil­lion and Yan­copou­los $1.17 mil­lion.
In terms of the usu­al perks, both ex­ec­u­tives' bills ac­tu­al­ly went down on the year, with Schleifer tak­ing home about $300,000 and Yan­copou­los $120,000. Re­gen­eron cov­ers both cor­po­rate air trav­el as well as pri­vate air trav­el for both men as well as their spous­es and chil­dren, the fil­ing said.
Mean­while, as Re­gen­eron raced to de­vel­op its Covid-19 an­ti­body pair, both men were al­so de­tailed se­cu­ri­ty in No­vem­ber 2020, adding on to their pre­ex­ist­ing res­i­den­tial se­cu­ri­ty and se­cure car trans­porta­tion. Oth­er play­ers in the Covid-19 re­sponse — Mod­er­na's Stéphane Ban­cel, for in­stance — were giv­en sim­i­lar de­tails for their safe­guard­ing.