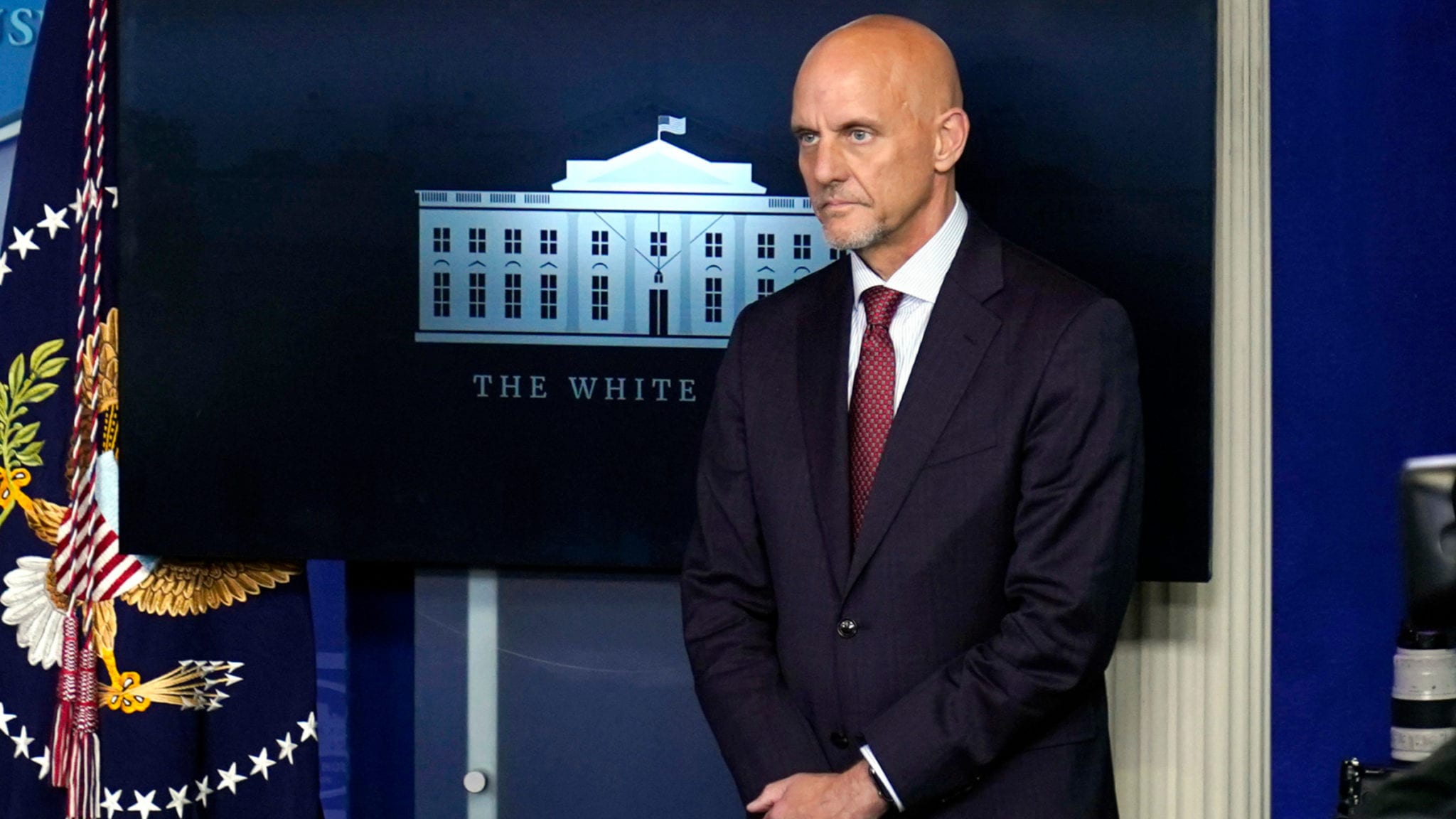 FDA commissioner Stephen Hahn at the White House (AP Images)
Un­der fire, FDA to is­sue stricter guid­ance for Covid-19 vac­cine EUA this week — re­port
The FDA has been in­sist­ing for months that a Covid-19 vac­cine had to be at least 50% ef­fec­tive – a mea­sure of trans­paren­cy meant to shore pub­lic trust in the agency and in a vac­cine that had been brought for­ward at record speed and record po­lit­i­cal pres­sure. But now, with con­cerns of a Trump-dri­ven au­tho­riza­tion ar­riv­ing be­fore the elec­tion, the agency may be rais­ing the bar.
The FDA is set to re­lease new guid­ance that would raise safe­ty and ef­fi­ca­cy re­quire­ments for a vac­cine EUA above ear­li­er guid­ance and above the cri­te­ria used for con­va­les­cent plas­ma or hy­drox­y­chloro­quine, The Wash­ing­ton Post re­port­ed. Ex­perts say this sig­nif­i­cant­ly low­ers the odds of an ap­proval be­fore the elec­tion on No­vem­ber 3, which Trump has promised de­spite vo­cal con­cerns from pub­lic health of­fi­cials, and could help shore up pub­lic trust in the agency and any even­tu­al vac­cine.
"This step should help re­as­sure Amer­i­cans that FDA's ca­reer sci­en­tists with re­spon­si­bil­i­ty for reg­u­lat­ing vac­cines have their back and are mak­ing de­ci­sions based on sound sci­ence," for­mer FDA chief sci­en­tist Lu­ciana Bo­rio told End­points News in an email, adding they "en­sure that on­ly vac­cines with ad­e­quate safe­ty and mean­ing­ful ef­fec­tive­ness da­ta are grant­ed an EUA."
Most no­table among the new reg­u­la­tions is a pro­vi­sion that calls for vac­cine man­u­fac­tur­ers seek­ing an EUA fol­low sub­jects for a me­di­an of at least 60 days fol­low­ing the sec­ond dose of the vac­cine. It al­so asks them to ac­crue at least 5 cas­es of se­vere Covid-19 in the place­bo group, a mea­sure that will be sig­nif­i­cant­ly hard­er to hit than the met­rics in the cur­rent tri­al pro­to­cols.
CBER chief Pe­ter Marks had point­ed to some of these mea­sures in pri­or ap­pear­ances, but they were not part of pub­lic guide­lines.
The Post re­port says the guide­lines could come as soon as this week.
Al­though the orig­i­nal FDA guid­ance called for long-term fol­lowup of tri­al par­tic­i­pants, as is rou­tine in vac­cine stud­ies, it did not set a bar for how long vol­un­teers had to be mon­i­tored be­fore de­vel­op­ers filed for an EUA. And while it called for the vac­cine to be 50% ef­fec­tive, the agency left open to man­u­fac­tur­ers whether they would de­fine that as ef­fec­tive in pre­vent­ing in­fec­tion or pre­vent­ing dis­ease.
The new­ly re­leased Phase III pro­to­col for Pfiz­er, whose CEO Al­bert Bourla has been the most vo­cal of any phar­ma­ceu­ti­cal ex­ec­u­tive in promis­ing Covid-19 vac­cine da­ta be­fore No­vem­ber, re­vealed that the com­pa­ny was us­ing a rel­a­tive­ly low bar for ef­fi­ca­cy com­pared to Mod­er­na, count­ing any of a long list of symp­toms as "dis­ease." Mod­er­na and As­traZeneca al­so did not re­quire in­stances of se­vere dis­ease.
News of the new guide­lines came on the same day that well-known sci­en­tists – al­beit not vac­ci­nol­o­gists – raised con­cerns in The New York Times and The Post opin­ion sec­tions that the cri­te­ria Mod­er­na and Pfiz­er picked were not strin­gent enough. Oth­ers ar­gue bar for ef­fi­ca­cy was al­so in line with WHO guid­ance, al­lows for faster an­swers and is not un­com­mon in vac­cine de­vel­op­ment.
The new guide­lines, though, al­most cer­tain­ly in­crease the amount of time need­ed to de­ter­mine safe­ty and ef­fi­ca­cy.
"It's hard to imag­ine how an EUA could pos­si­bly oc­cur be­fore De­cem­ber," Paul Of­fit, a promi­nent vac­ci­nol­o­gist and mem­ber of the FDA's vac­cines Ad­Comm, told The Post.
Er­ic Topol, who called in The Times for hard­er ef­fi­ca­cy stan­dards and was a crit­ic of the FDA's con­duct on the EUA for con­va­les­cent plas­ma, praised the move.
And this FDA an­nounce­ment to­day is most wel­come, mov­ing in the right di­rec­tion. #NoRushJobhttps://t.co/ndRo­j­jE­grn
w/ @Pe­ter­Hotez @califf001 @Dr­PaulOf­fit
by @lau­riem­cgin­ley2 and @Car­olynyjohn­son 9/ pic.twit­ter.com/GhlgD­CoXLF

— Er­ic Topol (@Er­ic­Topol) Sep­tem­ber 22, 2020
Still, it's not clear who will have fi­nal de­ci­sion mak­ing pow­er on these vac­cines. Ear­li­er this week in a memo panned by one for­mer FDA as­so­ciate com­mis­sion­er as a "pow­er grab," HHS chief Alex Azar stripped the FDA's abil­i­ty to make rules with­out his sig­na­ture. An HHS spokesper­son said con­cerns were overblown and called the memo an ex­am­ple of "good gov­er­nance" and had noth­ing to do with vac­cines.
FDA com­mis­sion­er Stephen Hahn, vest­ed with the au­thor­i­ty as fi­nal de­ci­sion mak­er on the na­tion's drugs, re­ports di­rect­ly to HHS Sec­re­tary Alex Azar. The FDA com­mis­sion­er doesn't have to fol­low agency ad­vice and it while it would be an ex­tra­or­di­nary breach of prece­dent, ex­perts say the HHS sec­re­tary could is­sue an ap­proval him­self.
Rachel Sachs, a law pro­fes­sor at Wash­ing­ton Uni­ver­si­ty at St Louis, said fed­er­al statutes make clear that the fi­nal de­ci­sion rests with the HHS sec­re­tary, not­ing that in one high-pro­file in­stance dur­ing the Oba­ma Ad­min­is­tra­tion, the sec­re­tary over­ruled FDA com­mis­sion­er Mar­garet Ham­burg on ac­cess rules for "Plan B." But she called that case the "ex­cep­tion that proves the rule" of the agency's in­de­pen­dence and said she was skep­ti­cal Azar would over­rule Hahn.
"It would be very dif­fi­cult for the sec­re­tary of HHS to au­tho­rize the vac­cines over ob­jec­tions of FDA, pro­ce­du­ral­ly as well as po­lit­i­cal­ly," she told End­points News, not­ing Marks' promise to re­sign if the agency okayed an un­proven vac­cine.
A for­mer FDA of­fi­cial, though, said there's yet a chance these guide­lines don't be­come pol­i­cy. It hasn't been re­leased and of­fi­cials could yet stop them.
"Want­i­ng to see at least some se­vere cas­es, and want­i­ng 2 months safe­ty da­ta sound like rea­son­able pre­cau­tions," for­mer FDA chief sci­en­tist Jesse Good­man told End­points in an email. "I am con­cerned that now that this is leaked some­one may try to stop it."