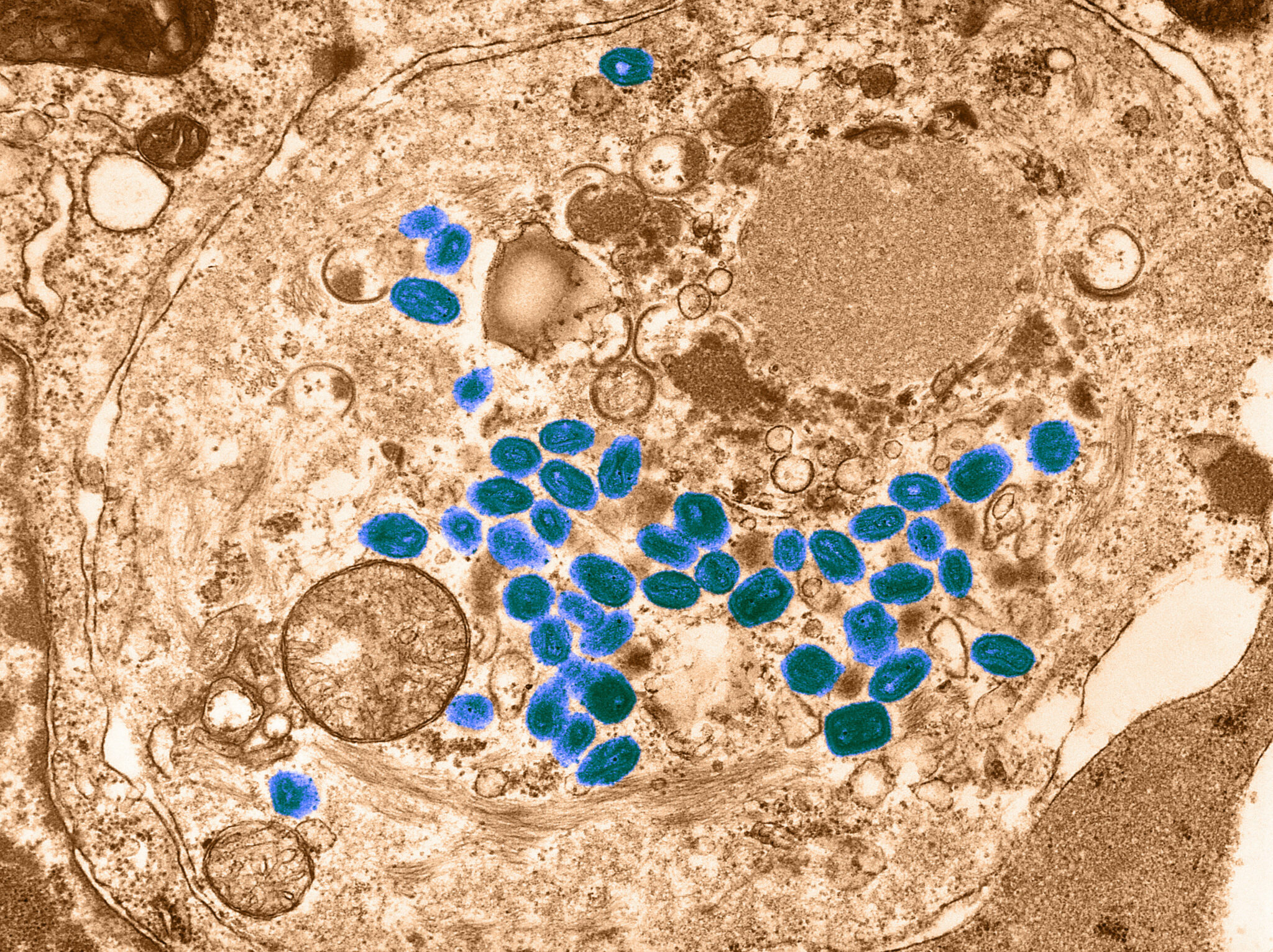 A cell containing smallpox viruses, as captured by transmission electron microscopy
UP­DATE: Re­ports of small­pox-la­beled vials at Mer­ck plant con­tained 'no trace' of virus
Small­pox was de­clared erad­i­cat­ed in 1980 by the World Health Or­ga­ni­za­tion, af­ter an ef­fort to vac­ci­nate the globe. But sev­er­al vials la­beled as the dis­ease were found at a Penn­syl­va­nia vac­cine re­search fa­cil­i­ty be­long­ing to Mer­ck, when a lab­o­ra­to­ry work­er was clean­ing out a freez­er.
The CDC re­leased a state­ment Thurs­day stat­ing that the vials con­tained no trace of the virus, but rather, the virus used in the small­pox vac­cine, and not var­i­o­la, the virus that caus­es small­pox.
"There is no ev­i­dence that the vials con­tain var­i­o­la virus, the cause of small­pox," the state­ment said. "CDC is in close con­tact with state and lo­cal health of­fi­cials, law en­force­ment, and the World Health Or­ga­ni­za­tion about these find­ings."
There's no in­di­ca­tion that any­one was ex­posed to the vials, the CDC told CNN in an email. The lab work­er was wear­ing gloves and a face mask, and the FBI is now in­ves­ti­gat­ing.
The in­ci­dent is sim­i­lar to one in 2014, when em­ploy­ees of the Na­tion­al In­sti­tutes of Health found six vials of small­pox in an un­used stor­age room while pack­ing up a lab in Bethes­da, MD. Two of those vials had vi­able dos­es of the virus, but there was no ev­i­dence, at the time, that any­one had been ex­posed to it.
There's been an on­go­ing de­bate among sci­en­tists whether or not to keep around sam­ples of the virus. Rou­tine vac­ci­na­tions against the virus stopped in 1972, CNN said, but some mil­i­tary per­son­nel still get the jab. Mean­while, boost­ers are rec­om­mend­ed every 3 to 5 years by the CDC.
"Be­cause of con­cern that var­i­o­la virus might be used as an agent of bioter­ror­ism, the US gov­ern­ment has stock­piled enough small­pox vac­cine to vac­ci­nate every­one who would need it if a small­pox out­break were to oc­cur," the CDC says on its web­site. "When there is NO small­pox out­break, you should get the small­pox vac­cine if you are … a lab work­er who works with virus that caus­es small­pox or oth­er virus­es that are sim­i­lar to it.
"When there is a small­pox out­break, you should get the small­pox vac­cine if you are di­rect­ly ex­posed to small­pox virus."
The small­pox vac­cine is not ad­min­is­tered in a shot, like oth­er vac­cines, but rather, giv­en with a two-pronged nee­dle that is dipped in­to the vac­cine so­lu­tion, then pricks the skin sev­er­al times. That is not deep but will cause a sore spot, and lead to a red le­sion de­vel­op­ing in three or four days.
Right now, there are on­ly two labs in the world that are au­tho­rized to store the virus, a CDC site in At­lanta and an­oth­er in Rus­sia.
Nei­ther Mer­ck, nor the CDC re­spond­ed to re­quests for com­ment by End­points News as of pub­li­ca­tion.
Small­pox's his­to­ry dates as far back as the 6th cen­tu­ry, when an in­crease in trade be­tween Chi­na and Ko­rea brought the virus to Japan. On av­er­age, three of every 10 peo­ple who con­tract­ed the virus died, and those who sur­vived of­ten were left with se­vere scar­ring.
In 1959, the WHO start­ed a plan to rid the world of the virus, and cas­es were elim­i­nat­ed in North Amer­i­ca and Eu­rope by 1953. The last per­son to have ac­tive small­pox was a 3-year-old from Bangladesh in 1975, and the last per­son to die of small­pox was a med­ical pho­tog­ra­ph­er at Birm­ing­ham Uni­ver­si­ty Med­ical School. She died in 1978.