Re­searchers spot­light a bas­ket of 'good' re­sponse rates for the next ADC in Seat­tle Ge­net­ic­s' pipeline
In Au­gust 2017, Seat­tle Ge­net­ics opt­ed in­to a de­vel­op­ment part­ner­ship for an an­ti­body-drug con­ju­gate de­vel­oped by Gen­mab as part of a col­lab­o­ra­tion sev­en years in the mak­ing. A year and a half lat­er, re­searchers have pulled the cur­tain back on some ear­ly re­sults that might jus­ti­fy their en­thu­si­asm for ti­so­tum­ab ve­dotin.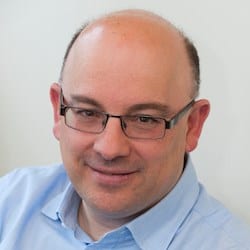 Jo­hann de Bono
In a Phase I/II tri­al in­volv­ing 147 pa­tients — span­ning 6 dif­fer­ent can­cer types — who have be­come re­sis­tant to an av­er­age of three types of pri­or treat­ments, the ADC is found to yield re­spons­es in a "sig­nif­i­cant mi­nor­i­ty," mean­ing their tu­mors ei­ther shrank or stopped grow­ing. The re­spons­es last­ed an av­er­age of 5.7 months, with the top of the range reach­ing 9.5 months, ac­cord­ing to the re­search team at The In­sti­tute of Can­cer Re­search, Lon­don, and The Roy­al Mars­den NHS Foun­da­tion Trust.
De­scribed as a "Tro­jan horse," the ADC works by bind­ing to a re­cep­tor that's abun­dant on the sur­face of can­cer cells called tis­sue fac­tor (the an­ti­body's job) then re­leas­ing a cy­to­tox­ic pay­load (the drug part) to kill the can­cer cells from with­in.
In­ves­ti­ga­tors re­port­ed "good re­spons­es" and "man­age­able side ef­fects" for heav­i­ly pre-treat­ed pa­tients in the study — with the ex­cep­tion of prostate can­cer, where there were none.
Blad­der can­cer: 27%
Cer­vi­cal can­cer: 26.5%
Ovar­i­an can­cer: 14%
Esophageal can­cer: 13%
Non-small cell lung can­cer: 13%
En­dome­tri­al can­cer: 7%
"We have al­ready be­gun ad­di­tion­al tri­als of this new drug in dif­fer­ent tu­mour types and as a sec­ond-line treat­ment for cer­vi­cal can­cer, where re­sponse rates were par­tic­u­lar­ly high," said pro­fes­sor Jo­hann de Bono, head of clin­i­cal stud­ies at ICR. "We are al­so de­vel­op­ing a test to pick out the pa­tients most like­ly to re­spond."
Ti­so­tum­ab ve­dotin adds to the slate of AD­Cs on of­fer at Seat­tle Ge­net­ics, in­clud­ing its block­buster fran­chise drug Ad­cetris as well as en­for­tum­ab ve­dotin, which is go­ing through a piv­otal Phase II with a "break­through" badge be­stowed by the FDA.
Seat­tle Ge­net­ics and Gen­mab spon­sored the study, which was pub­lished to­day in The Lancet On­col­o­gy.