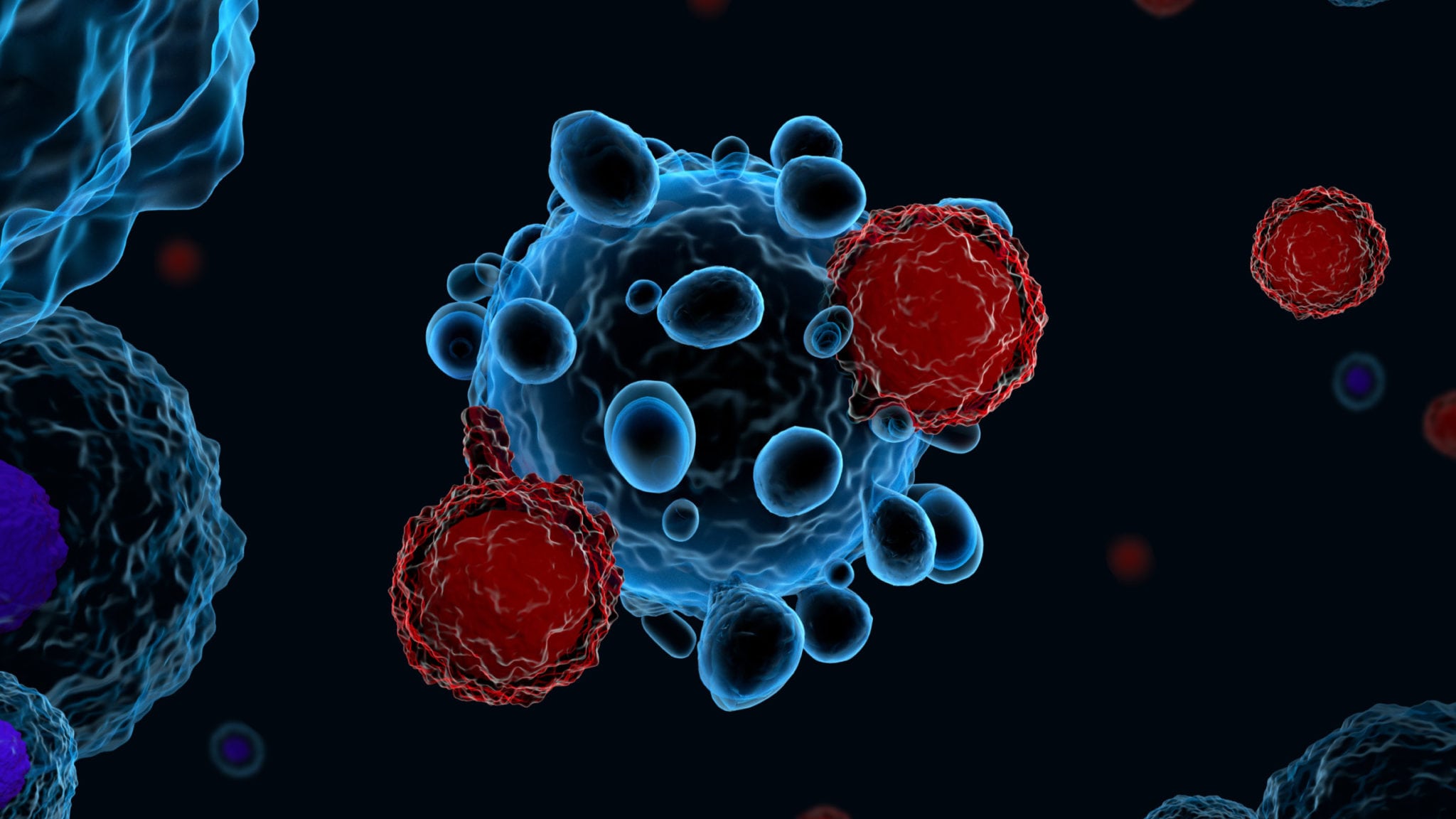 Re­sis­tant to CAR-T ther­a­pies? It's the can­cer, not your im­mune sys­tem — study
Safe­ty con­cerns and man­u­fac­tur­ing short­com­ings aside, ex­ist­ing CAR-T ther­a­pies — No­var­tis' Kym­ri­ah and Gilead's Yescar­ta — sim­ply don't work in 10% to 20% of pa­tients with B cell ma­lig­nan­cies. What fac­tors un­der­pin this re­sis­tance to CAR-T ther­a­py? The main cul­prit could be the can­cer cells them­selves, ac­cord­ing to a team of re­searchers at Penn.
CAR-T ther­a­pies are en­gi­neered to work in this way: Cells are ex­tract­ed from the pa­tient and then ma­nip­u­lat­ed in a lab where chimeric anti­gen re­cep­tors are added to di­rect the pa­tient's own T cells to snuff out spe­cif­ic can­cer cells once re-in­fused back in­to the pa­tient. But in a frac­tion of pa­tients, the armed im­mune at­tack does not oblit­er­ate the dis­ease. By tar­get­ing CD19, a mark­er present on al­most all B cells, CAR-T ther­a­pies have shown re­mark­able po­ten­cy and dura­bil­i­ty in a num­ber of blood can­cers, in­clud­ing acute lym­phoblas­tic leukemia (ALL).
Re­search so far sug­gests that re­sis­tance to CAR-T ther­a­pies is re­lat­ed to the loss of CD19. When CD19 dis­ap­pears from leukemic cells, they be­come in­vis­i­ble to CAR-T ther­a­pies, not­ed the study's co-se­nior au­thor Mar­co Ruel­la, an as­sis­tant pro­fes­sor of hema­tol­ogy-on­col­o­gy at the Uni­ver­si­ty of Penn­syl­va­nia, in an in­ter­view with End­points News.
"That ex­plains maybe half of the re­laps­es in leukemia and maybe a third in lym­phoma — so there is still a vast ma­jor­i­ty of pa­tients where we sim­ply don't know what's go­ing on," he said.
An­oth­er fac­tor dri­ving re­sis­tance was dys­func­tion­al T cells, he added. "What we are hy­poth­e­siz­ing here is that there can be a third mech­a­nism…that even in the pres­ence of CD19 those leukemic cells are un­able to die when they are trig­gered by CAR-T."
"The con­stant pres­ence of the leukemic cells that ba­si­cal­ly can­not die — they're sort of high­landers — caus­es dys­func­tion in the T-cells. To start with — the CAR-T (cells) are okay — but then they keep try­ing to kill leukemic cells that in­trin­si­cal­ly can­not die, and then, over time, they be­come dys­func­tion­al."
The find­ings were pub­lished on Thurs­day in Can­cer Dis­cov­ery, a jour­nal of the Amer­i­can As­so­ci­a­tion for Can­cer Re­search.
In the Penn study, re­searchers per­formed a genome-wide CRISPR/Cas9-based screen of an ALL cell line to iso­late path­ways as­so­ci­at­ed with re­sis­tance. Cells were edit­ed for loss of func­tion of sin­gle genes and com­bined with CAR-T cells for 24 hours to iden­ti­fy the path­way dri­ving the pri­ma­ry re­sis­tance. The in vit­ro da­ta showed that in the ALL cells that re­sist­ed the CAR-T at­tack, there was a short­age of genes in­volved in ac­ti­vat­ing the cell death path­way and a spike in genes nec­es­sary for evad­ing the cell death path­way.
In­stead of in­ter­ro­gat­ing sam­ples from pa­tients that have failed to ben­e­fit from CAR-T ther­a­pies, the plan was to mod­el a genome-wide re­sis­tance mech­a­nism and then con­firm it in pa­tients. Many pa­tients are now be­ing treat­ed with CAR-Ts, but still, the num­bers are lim­it­ed — so this ap­proach was used to dis­cov­er aber­ra­tions that the lim­it­ed num­ber of pa­tient sam­ples would not be pow­ered to iden­ti­fy, Ruel­la said.
"We start­ed with an un­bi­ased genome-wide ap­proach to study re­sis­tance and we saw that the new CRISPR/Cas9 genome knock­out li­braries were per­fect be­cause they would al­low you to ex­plore knock­outs in the whole genome and in­ter­ro­gate it for re­sis­tance to CAR-T."
The find­ings were am­pli­fied in an­i­mal mod­els. The re­searchers then tried to make sense of the re­sults by us­ing pe­di­atric pa­tient sam­ples from pre­vi­ous CAR-T tri­als by an­a­lyz­ing the genes in leukemia cells and in T cells — pre- and post-in­fu­sion — from re­spon­ders and non-re­spon­ders. The da­ta were stark: pre­vi­ous­ly iden­ti­fied sig­nal­ing path­ways in can­cer cells were di­rect­ly as­so­ci­at­ed with re­spons­es to CAR ther­a­py, sug­gest­ing that death re­cep­tor sig­nal­ing is a key reg­u­la­tor of pri­ma­ry re­sis­tance to CAR T cell ther­a­py in ALL, the au­thors con­clud­ed.
"This mech­a­nism ap­pears to re­ly on two phas­es: an ini­tial re­sis­tance to death re­cep­tor-dri­ven killing, fol­lowed by an anti­gen-dri­ven, pro­gres­sive im­pair­ment in CAR-T cell func­tion. To­geth­er this leads to CAR T cell fail­ure that per­pet­u­ates dis­ease pro­gres­sion," they wrote.
De­spite their abun­dant promise, the adop­tion of CAR-T ther­a­pies — No­var­tis' Kym­ri­ah and Gilead's Yescar­ta — has un­der­whelmed ini­tial ex­pec­ta­tions.
The up­take of Kym­ri­ah was plagued by man­u­fac­tur­ing prob­lems, and de­spite No­var­tis' at­tempt to ex­pand its ca­pac­i­ty, sales con­tin­ue to dis­ap­point com­mer­cial­ly, giv­ing Yescar­ta an edge in the mar­ket. Mean­while, big side ef­fects — no­tably life-threat­en­ing episodes of cy­tokine re­lease syn­drome and neu­ro­tox­i­c­i­ty — as well as the ther­a­pies' ex­pen­sive price tags have al­so lim­it­ed their use. Oth­er drug de­vel­op­ers have tak­en note of these con­straints and are de­vel­op­ing off-the-shelf CAR-T ther­a­pies, de­signed to smoothen man­u­fac­tur­ing com­plex­i­ties by us­ing healthy donor cells.
But the team at Penn cau­tioned that the prac­tice may not nec­es­sar­i­ly help the sub­set of pa­tients whose can­cer cells car­ry this pro­por­tion of un­fa­vor­able genes.
"A pos­si­ble im­pli­ca­tion of our ob­ser­va­tions is that the use of healthy donor (i.e. al­lo­gene­ic donor or "uni­ver­sal" donor) T cells as a sub­strate for CAR T cell man­u­fac­tur­ing may face the same bar­ri­ers as au­tol­o­gous prod­ucts," the au­thors wrote. "Un­der­stand­ing how in­trin­sic and ac­quired T cell dys­func­tion co­op­er­ate to cause ther­a­peu­tic fail­ure will be crit­i­cal to the de­sign of the next gen­er­a­tion of cel­lu­lar ther­a­pies."