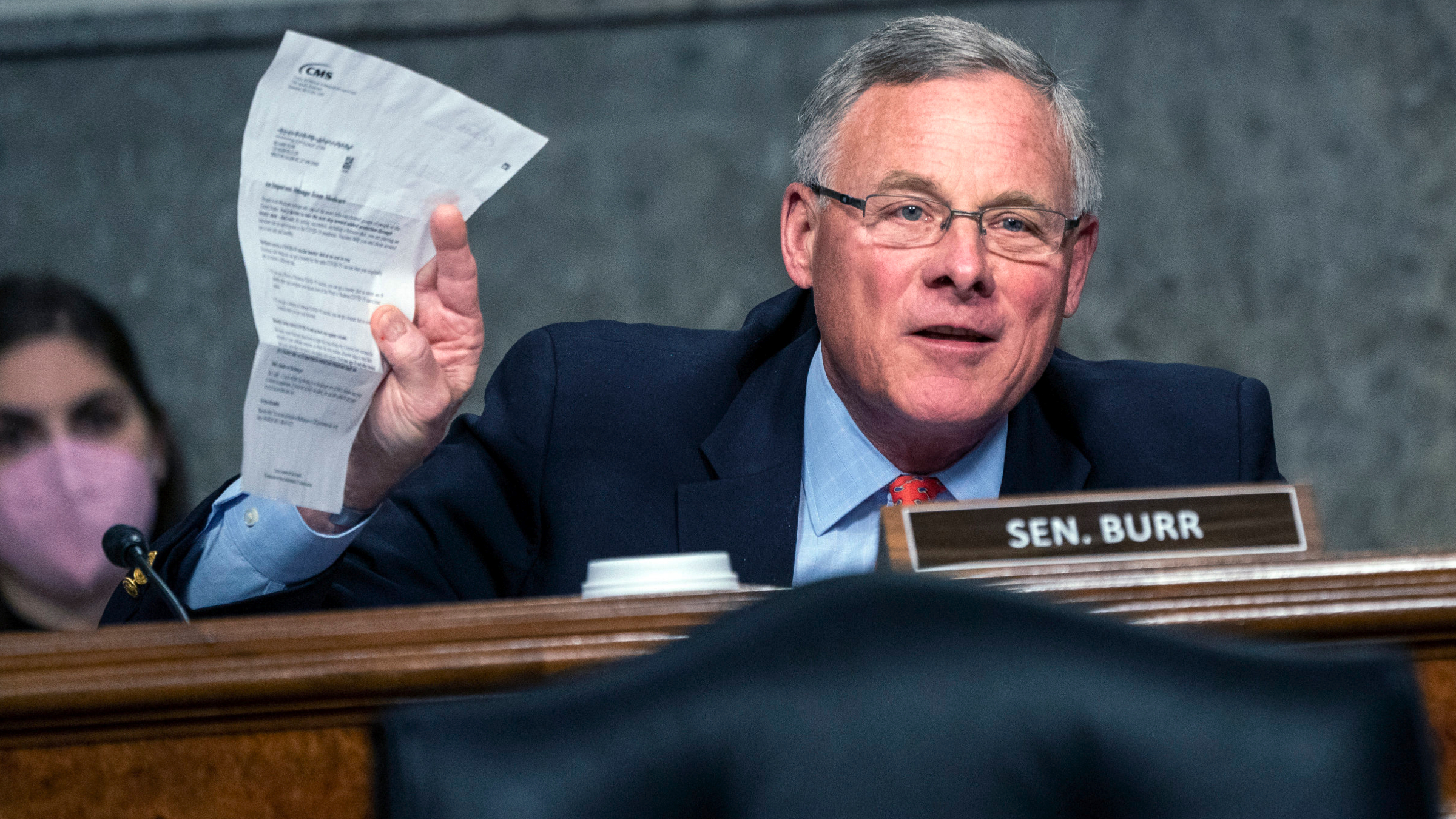 Sen. Richard Burr (R-NC) (Shawn Thew/Pool via AP)
Re­tir­ing Re­pub­li­can sen­a­tor lam­basts Biden ap­pointees' re­sponse to mon­key­pox out­break
In like­ly his fi­nal Sen­ate Health, Ed­u­ca­tion, La­bor and Pen­sions com­mit­tee meet­ing, Sen. Richard Burr (R-NC) be­gan by call­ing the Biden ad­min­is­tra­tion's re­sponse to the mon­key­pox out­break a "cat­a­stroph­ic fail­ure," and end­ed with an en­thu­si­as­tic push to the heads of the CDC, FDA, NI­AID and AS­PR to do more in prepa­ra­tion for any fu­ture out­breaks.
While point­ing to the longer-than-ex­pect­ed time­lines for ramp­ing up test­ing and vac­cines, sim­i­lar to the Covid-19 re­sponse, Burr said he will con­tin­ue to be a re­source to the var­i­ous agency lead­ers "be­cause I on­ly have one goal," and that's "for the next one, we have to re­spond a hell of a lot faster than we did for Covid, and we have do much bet­ter than we did for mon­key­pox. Be­cause on the oth­er side of this, there's po­ten­tial­ly one that gets out of con­trol with mas­sive loss of life."
Burr lament­ed the turf wars be­tween the agen­cies, as some claimed own­er­ship of cer­tain re­sponse ac­tiv­i­ties like test­ing, not­ing, "It isn't a ques­tion of au­thor­i­ty or mon­ey, it's a ques­tion of lead­er­ship and fo­cus, and squash­ing the bu­reau­crat­ic road blocks," he said.
But Biden's ap­pointees de­fend­ed their re­sponse to mon­key­pox, high­light­ing their work to ease ac­cess to test­ing and vac­cines.
While the NIH helped with the tri­als for both the Bavar­i­an Nordic vac­cine, known as Jyn­neos, and more re­cent­ly with Siga's an­tivi­ral Tpoxx (tecovir­i­mat), the health and sci­ence lead­ers as­sured the sen­a­tors that vac­cine sup­plies are ad­e­quate as cas­es be­gin to de­cline na­tion­al­ly.
De­spite Burr's time­line com­ments on slow­ness of the re­sponse, Dawn O'Con­nell, as­sis­tant sec­re­tary for pre­pared­ness and re­sponse, de­fend­ed her with­draw­al of vac­cines from the na­tion­al stock­pile, not­ing that when there were on­ly 35 known mon­key­pox cas­es in the US, she or­dered hun­dreds of thou­sands of dos­es of the vac­cine to dis­trib­ute to states.
Cur­rent­ly, 1.1 mil­lion vials have been made avail­able of the two-dose shot, O'Con­nell said, and the US has pur­chased 5.5 mil­lion more dos­es, which are ar­riv­ing in the com­ing months.
CDC Di­rec­tor Rochelle Walen­sky not­ed more than 22,000 mon­key­pox cas­es, in­clud­ing one death, and lament­ed some of the ex­ist­ing da­ta gaps, such as the fact that the CDC doesn't know how many peo­ple with mon­key­pox have been hos­pi­tal­ized.
NI­AID Di­rec­tor Tony Fau­ci, who's re­tir­ing in De­cem­ber and fend­ed off fur­ther at­tacks from Sen. Rand Paul (R-KY), al­so ex­plained how the mon­key­pox vac­cine is like­ly to pro­tect for longer than the Covid-19 vac­cines, ex­plain­ing how the dura­bil­i­ty of the small­pox vac­cine is mea­sured in decades.
FDA com­mis­sion­er Robert Califf not­ed the FDA's work around ex­pe­dit­ing the ap­proval for Bavar­i­an's Den­mark-based man­u­fac­tur­ing site ear­li­er this sum­mer to ex­pand mon­key­pox vac­cine pro­duc­tion, as well as around the switch from sub­cu­ta­neous to in­tra­der­mal shots for the mon­key­pox vac­cine, which helped to sig­nif­i­cant­ly ex­pand the num­ber of dos­es avail­able.
But even De­moc­rats sought an­swers on mon­key­pox, and sought to hear more about what the agen­cies need.
Sen­ate HELP chair Pat­ty Mur­ray (D-WA) said she was en­cour­aged by the de­clin­ing num­ber of mon­key­pox cas­es but still not­ed that she'd heard it was dif­fi­cult to find mon­key­pox tests and vac­cines, adding, "Some se­ri­ous stum­bles were made this year."
The White House Mon­key­pox Re­sponse Team and fed­er­al pub­lic health of­fi­cials said they will hold a press brief­ing to­mor­row morn­ing to pro­vide up­dates on the re­sponse.