Roche, Ab­b­Vie forced to slam brakes on myelo­ma stud­ies of star drug Ven­clex­ta af­ter re­searchers flag high­er risk of death
Two heavy­weight phar­ma play­ers to­day said they've been forced to stop re­cruit­ing pa­tients for all on­go­ing stud­ies in­volv­ing Ven­clex­ta (vene­to­clax) for mul­ti­ple myelo­ma. Roche and Ab­b­Vie say the drug arm has been linked to a high­er rate of death than the con­trol group, prompt­ing the FDA to is­sue a par­tial hold or­der­ing them to sus­pend any new pa­tient re­cruit­ment for the blood can­cer tri­als un­til they can sort out what is hap­pen­ing.
In the study, 21.1% — 41 of 194 pa­tients — in the vene­to­clax arm com­pared with 11.3% — 11 of 97 pa­tients — in the place­bo arm died, cre­at­ing a haz­ard ra­tio of 2.03.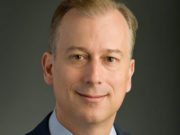 Michael Sev­eri­no
Ini­tial­ly stamped with an ac­cel­er­at­ed ap­proval for CLL back in 2016, this drug has been hur­ried along by the FDA with a to­tal of 5 break­through drug des­ig­na­tions. Both com­pa­nies are cred­it­ed with top in­ves­tiga­tive teams and a keen in­ter­est in the on­col­o­gy mar­ket.
The sud­den halt on re­cruit­ment will like­ly put a crimp in their plans to hit $3 bil­lion in peak sales for the drug, which was ini­tial­ly lim­it­ed to pa­tients with a 17p dele­tion, ac­count­ing for about 10% of all cas­es. Last sum­mer they got an ap­proval to use the drug with Rit­ux­an for re­lapsed CLL, an add-on that Leerink's Ge­of­frey Porges es­ti­mat­ed could be worth $690 mil­lion this year alone.
This was the Phase III BELLI­NI tri­al (M14-031), one of dozens of on­go­ing clin­i­cal tri­als that the phar­ma gi­ants are pur­su­ing for this ther­a­py, ac­cord­ing to a quick check of clin­i­cal­tri­als.gov.
"We will con­tin­ue work­ing with the FDA and world­wide reg­u­la­to­ry agen­cies to de­ter­mine ap­pro­pri­ate next steps for the mul­ti­ple myelo­ma pro­gram," said Ab­b­Vie re­search chief Michael Sev­eri­no in a pre­pared state­ment.