Roche beefs up di­ag­nos­tic arm with an­oth­er bet on faster, cheap­er DNA se­quenc­ing
While Roche pours half a bil­lion dol­lars in­to its Covid-19 an­ti­body test, the Swiss com­pa­ny is qui­et­ly beef­ing up the rest of their di­ag­nos­tics arm.
Roche to­day ac­quired Stratos Ge­nomics, a Seat­tle-based de­vel­op­er of a new DNA tech­nol­o­gy de­signed to make ge­net­ic strands more easy to read. Roche said it will use the Stratos tech­nol­o­gy, along­side its ex­ist­ing ef­forts, to de­vel­op a nanopore se­quenc­ing de­vice that can quick­ly and cheap­ly read pa­tients' DNA in clin­ics to di­ag­no­sis dis­ease and as­sess the risk of de­vel­op­ing one.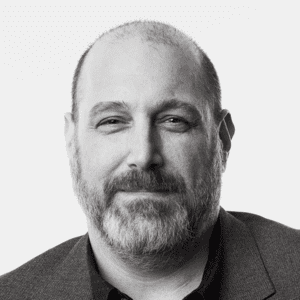 Mark Koko­ris
"We are thrilled to join the Roche fam­i­ly, which will al­low us to com­bine our unique Se­quenc­ing by Ex­pan­sion chem­istry with the Roche nanopore se­quencer," Stratos CEO Mark Koko­ris said in a state­ment.
Though known chiefly for ther­a­peu­tics, Roche has long had a strong — al­most ag­gres­sive — in­ter­est in di­ag­nos­tic se­quenc­ing. In 2012, the com­pa­ny at­tempt­ed a $5.7 bil­lion hos­tile takeover of the se­quenc­ing gi­ant Il­lu­mi­na, go­ing di­rect­ly to share­hold­ers af­ter failed ef­forts to start talks with man­age­ment. At the time, that price tag was a 63% pre­mi­um on Il­lu­mi­na's stock price. To­day, the com­pa­ny is worth $55 bil­lion.
The same year, Ox­ford Nanopore un­veiled its first dis­pos­able se­quenc­ing de­vice. It promised to used nanopore se­quenc­ing — a process that in­volves draw­ing a long strand of DNA through a tiny or­gan­ic pore with an elec­tri­cal cur­rent — to read DNA for less than $900, a cru­cial step for mak­ing ge­net­ic se­quenc­ing ac­ces­si­ble in a doc­tor's of­fice. It's an area in which Roche has long been in­ter­est­ed; the com­pa­ny ac­quired the se­quenc­ing com­pa­ny 454 Life Sci­ences back in 2007 and signed a part­ner­ship with Pa­cif­ic Bio in 2013, though they broke it off 3 years lat­er, set­ting the stage for a failed buy­out by Il­lu­mi­na.
Stratos tries to ex­pand on the tra­di­tion­al nanopore ap­proach with the de­vel­op­ment of a mol­e­cule it calls an "Xpandomer." This mol­e­cule comes in 4 types — one for each dif­fer­ent DNA base pair. The idea is that be­fore send­ing the strand through a nanopore, these mol­e­cules will bind to it, base by base, and am­pli­fy the sig­nal 50-fold, lead­ing to a more ac­cu­rate read­out.
The com­pa­ny will con­tin­ue to op­er­ate in Seat­tle. There is no time­line yet for the com­ple­tion of Roche's nanopore de­vice.