Roche dumps its PhI­II PI3K ef­fort on taselis­ib af­ter re­searchers track poor sur­vival edge, harsh side ef­fects for breast can­cer
CHICA­GO — You can write off an­oth­er PI3K drug.
Roche has de­cid­ed to scrap its con­tender taselis­ib af­ter in­ves­ti­ga­tors re­port­ed a slight, 2-month pro­gres­sion-free sur­vival ad­van­tage for the drug — along with a sketchy safe­ty pro­file com­mon to the class — com­bined with ful­ves­trant hor­mone ther­a­py in a Phase III study of metasta­t­ic breast can­cer.
Here's what Roche had to say:
The mag­ni­tude of ben­e­fit ob­served in SAND­PIPER isn't as strong as we had hoped for and, giv­en the chal­leng­ing safe­ty pro­file of this com­bi­na­tion and the cur­rent clin­i­cal land­scape, we will not be pur­su­ing an FDA sub­mis­sion for taselis­ib based on the da­ta pre­sent­ed at AS­CO.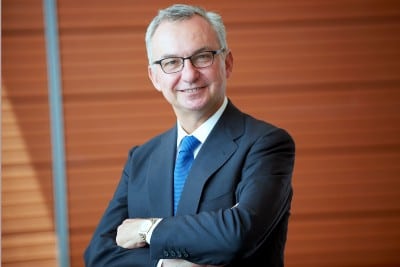 José Basel­ga
Jose Basel­ga han­dled the AS­CO pre­sen­ta­tion, out­lin­ing the slight edge on PFS against a slate of grade 3 or high­er cas­es of di­ar­rhea (12%), hy­per­glycemia (10%), col­i­tis (3%), and stom­ati­tis (2%). The ad­verse events trig­gered a high rate of dis­con­tin­u­a­tions for the drug com­bo — 17% ver­sus 2% — and dose re­duc­tions for more than a third of the pa­tients in the taselis­ib arm.
An­a­lysts have been shak­ing their heads over the PI3K field for years. Gilead's pi­o­neer­ing Zy­delig got slapped with a black box warn­ing on side ef­fects, forc­ing an end to its quest to com­plete front­line tri­als. Bay­er's Aliqopa (co­pan­lis­ib) was ap­proved last fall for fol­lic­u­lar lym­phoma pa­tients on the ba­sis of some promis­ing re­sults, crowd­ing a field that Ve­rastem hopes to join with du­velis­ib, a PI3K dropped by In­fin­i­ty Phar­ma­ceu­ti­cals af­ter Ab­b­Vie walked away af­ter get­ting a glimpse of unim­pres­sive — but still ap­prov­able — re­sults.
The po­ten­tial here, though, is still at­tract­ing de­vel­op­ers like MEI Phar­ma, which re­cent­ly raised $75 mil­lion for their reg­is­tra­tion study. And Roche hasn't giv­en up on the tar­get. The phar­ma gi­ant notes:
Still, HR-pos­i­tive, HER2-neg­a­tive MBC re­mains in­cur­able and we are in­ves­ti­gat­ing new med­i­cines for it, in­clud­ing oth­er mol­e­cules that tar­get PI3K, that we hope could pro­vide more ro­bust ef­fi­ca­cy and bet­ter tol­er­a­bil­i­ty. We re­main com­mit­ted to find­ing new ways to tar­get breast can­cer to help im­prove out­comes for peo­ple with many dif­fer­ent types of the dis­ease.