Roche picks up a speedy nod in Chi­na as reg­u­la­tors fol­low through on plans for a fast 48 new drug OKs
Chi­nese reg­u­la­to­ry au­thor­i­ties are fol­low­ing through with their plan to rush along a slate of new drug ap­provals. And Roche finds it­self near the front of the line formed to ben­e­fit from that new trend.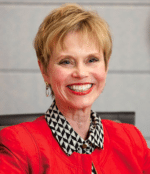 San­dra Horn­ing
Overnight Roche re­port­ed that the Chi­na Na­tion­al Drug Ad­min­is­tra­tion had fol­lowed up with a green light for Roche to start sell­ing Ale­cen­sa as a front­line ther­a­py for ad­vanced cas­es of ALK-pos­i­tive non-small cell lung can­cer. Roche her­ald­ed an OK that ar­rived just 8 and 9 months af­ter the EMA and FDA flagged the drug through for front­line use fol­low­ing new da­ta un­der­scor­ing its ef­fi­ca­cy in treat­ing pa­tients com­pared to a stan­dard of care.
Chi­na's drug reg­u­la­tors have been hus­tling along their re­views, in­tent on get­ting a list of 48 pri­or­i­ty drugs in­to the mar­ket as swift­ly as pos­si­ble — elim­i­nat­ing bar­ri­ers that once took years to over­come in the boom­ing mar­ket.
The ap­proval to­day, not­ed Roche CMO San­dra Horn­ing, marks a "sig­nif­i­cant reg­u­la­to­ry shift, with the ap­proval re­ceived un­der un­prece­dent­ed time­lines."
Roche has been speed­ing up the roll­out in front­line, ALK-pos­i­tive NSCLC af­ter a key late-stage study proved that it was sig­nif­i­cant­ly bet­ter than Pfiz­er's lead­ing ef­fort with Xalko­ri. Ale­cen­sa al­so is pit­ted against No­var­tis' Zyka­dia, though Pfiz­er has re­mained the one to beat in clin­i­cal tri­als. In the ALEX tri­al the Ale­cen­sa arm hit a me­di­an PFS of 25.7 months with Xalko­ri pa­tients reg­is­ter­ing on­ly 10.4 months.
Look for a slate of new drug ap­provals to hit in Chi­na as reg­u­la­tors con­tin­ue to make short work out of a long list of pri­or­i­ty meds. While far from per­fect, Chi­na's drug mar­ket has been bustling as drug­mak­ers hunt down a mar­ket that will ri­val the US and Eu­rope. Can­cer drugs, which have been placed on reg­u­la­to­ry fast tracks in the US and Eu­rope, make up a fourth of the 48 meds that Chi­nese of­fi­cials have high­light­ed for VIP treat­ment.
One of those meds is Keytru­da, which was ap­proved in Chi­na last month based on Phase Ib melanoma da­ta. And more are com­ing.