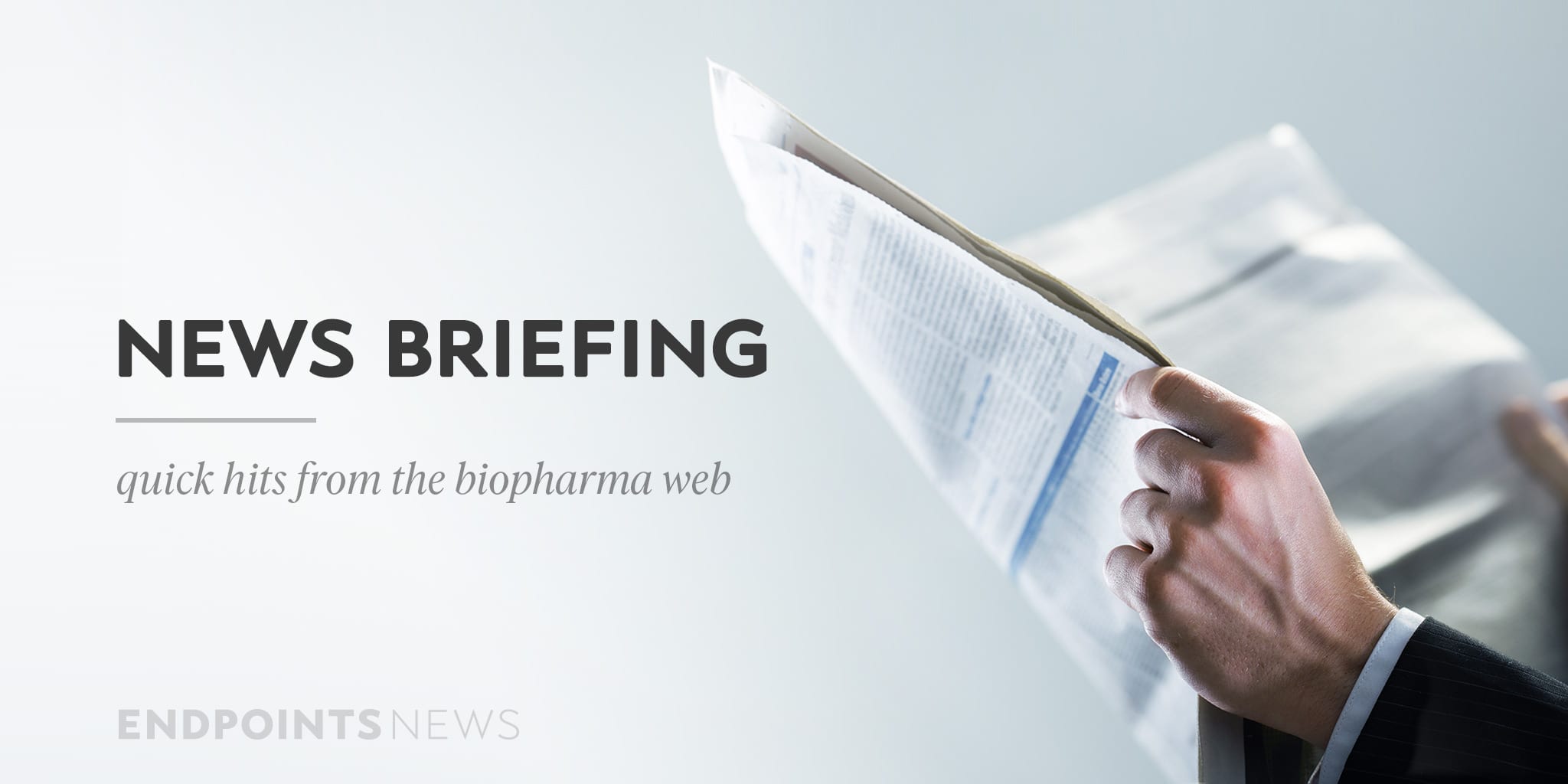 Roche's Alzheimer's drug spurred bio­mark­er changes but no cog­ni­tive im­pact — pa­per; vTv out-li­cens­es for­mer lead pro­gram
More than a year ago, Roche and Eli Lil­ly were forced to con­tend with a Phase II/III fail­ure of their re­spec­tive Alzheimer's drugs. But while Eli Lil­ly es­sen­tial­ly threw in the tow­els, Roche wasn't ready to give up yet.
The Swiss drug­mak­er now has some bio­mark­er da­ta to spot­light as in­ves­ti­ga­tors con­tin­ue mon­i­tor­ing pa­tients in an open-la­bel ex­ten­sion study.
Dubbed DI­AN-TU, the study had been de­signed to see whether Roche's gan­tenerum­ab and Lil­ly's solanezum­ab could spur a cog­ni­tive ben­e­fit for a group of pa­tients who had a rare, in­her­it­ed form of Alzheimer's that'd tied to ear­ly-on­set. In short, they didn't: Both failed the pri­ma­ry end­point.
How­ev­er, in a new study pub­lished on Na­ture Med­i­cine, the in­ves­ti­ga­tors from the Wash­ing­ton Uni­ver­si­ty at St Louis not­ed that the two drugs didn't per­form ex­act­ly the same way.
"The solanezum­ab-treat­ed group showed a greater cog­ni­tive de­cline on some mea­sures and did not show ben­e­fits on down­stream bio­mark­ers," they wrote. "Gan­tenerum­ab sig­nif­i­cant­ly re­duced amy­loid plaques, cere­brospinal flu­id to­tal tau, and phos­pho-tau181 and at­ten­u­at­ed in­creas­es of neu­ro­fil­a­ment light chain."
No­tably, both drugs were said to have en­gaged the be­ta-amy­loid tar­get — the ba­sis for the con­tro­ver­sial FDA ac­cel­er­at­ed ap­proval of Bio­gen's Aduhelm.
Roche is run­ning two oth­er Phase III tri­als for gan­tenerum­ab in­volv­ing pa­tients with ear­ly spo­radic Alzheimer's dis­ease. — Am­ber Tong
vTv out-li­cens­es for­mer lead Alzheimer's pro­gram to Can­tex
Once herald­ing a drug can­di­date that flopped mul­ti­ple tests in Alzheimer's dis­ease, vTv Ther­a­peu­tics has said au revoir to the pro­gram.
The small biotech an­nounced Tues­day that it has li­censed out the com­pound, azeli­ragon, to Can­tex Phar­ma­ceu­ti­cals. vTv is giv­ing Can­tex ex­clu­sive world­wide rights to de­vel­op and com­mer­cial­ize the can­di­date, ef­fec­tive­ly punt­ing on what was once their lead pro­gram.
But azeli­ragon pro­duced less than stel­lar re­sults in Alzheimer's dis­ease about three years ago, a field that's seen more than its fair share of clin­i­cal tri­al fail­ures. The pro­gram failed to make a mark and mild and mod­er­ate dis­ease, de­spite vTv's ef­forts to high­light a po­ten­tial pos­i­tive in a sub­group of pa­tients with low­er max­i­mal plas­ma con­cen­tra­tions of azeli­ragon.
Fi­nan­cial terms of the deal weren't dis­closed, but in a state­ment, Can­tex said it's look­ing to ad­vance the RAGE an­tag­o­nist in can­cer. — Max Gel­man
Gy­ro­scope pairs up with Aus­tralian re­search cen­ter for gene ther­a­py cap­sids
Gy­ro­scope Ther­a­peu­tics is team­ing up with an Aus­tralian pe­di­atric re­search in­sti­tute in or­der to fur­ther de­vel­op gene ther­a­pies.
The Lon­don-based biotech will col­lab with Chil­dren's Med­ical Re­search In­sti­tute to push for­ward R&D work in cap­sids for oc­u­lar gene ther­a­pies, the pair an­nounced Tues­day. A team of re­searchers from CM­RI and Gy­ro­scope will work to­geth­er in de­sign­ing and screen­ing cap­sid li­braries to iden­ti­fy new cap­sids for en­hanced de­liv­ery of such treat­ments. The CM­RI team is led by Leszek Lisows­ki.
"Cap­sids are one of the most crit­i­cal com­po­nents of a gene ther­a­py, how­ev­er, there are some lim­i­ta­tions with the cap­sids avail­able to­day," said Gy­ro­scope CSO Jane Hugh­es in a state­ment. "We are ex­cit­ed to col­lab­o­rate with as­so­ciate pro­fes­sor Lisows­ki and the team at CM­RI to en­gi­neer next-gen­er­a­tion cap­sids." — Max Gel­man
LegoChem and Ik­su­da ex­pand agree­ment for ADC plat­form
Fol­low­ing the suc­cess of their first agree­ment, Ik­su­da Ther­a­peu­tics has reached a li­cense agree­ment with South Ko­rea-based LegoChem Bio­sciences to ex­pand its re­search, it an­nounced Tues­day.
The agree­ment will ex­plore ad­di­tion­al an­ti­body drug con­ju­gates. In April 2020, Ik­su­da li­censed three of its pro­grams us­ing the LCB's ADC link­er/tox­in plat­form, and has been grant­ed the rights for three ad­di­tion­al tar­gets, bring­ing its to­tal num­ber of po­ten­tial pro­grams to six, the com­pa­ny said. Its pro­grams tar­get tu­mors that have lim­it­ed treat­ment op­tions and high treat­ment rates.
"Our part­ner­ship has val­i­dat­ed the su­pe­ri­or­i­ty of LCB's ADC plat­form tech­nol­o­gy and the com­pet­i­tive po­ten­tial of IKS03 (for­mer­ly known as LCB73) as an in­no­v­a­tive ADC drug," LegoChem CEO Yong-Zu Kim said in the press re­lease. "This val­i­da­tion has led to the ex­e­cu­tion of this ex­pand­ed li­cense agree­ment. We will con­tin­ue to co­op­er­ate close­ly with Ik­su­da to ac­cel­er­ate the ad­vance­ment of all LCB-re­lat­ed ADC can­di­dates in­to clin­ic."
Ik­su­da re­cent­ly com­plet­ed a $47 mil­lion fi­nanc­ing round to help sup­port the ad­vance­ment of its lead ADC pro­grams. — Josh Sul­li­van