Roche's Tecen­triq scoops up a big win in small cell lung can­cer, grab­bing the lead in front­line cas­es
Roche's Genen­tech has scored a land­mark suc­cess in treat­ing small cell lung can­cer, re­port­ing that its PD-L1 check­point Tecen­triq plus chemo helped pa­tients live longer when they re­ceived the com­bo as a front­line ther­a­py. And the score on IM­pow­er133 should put it in the lead in that sec­tor — for now.
Falling on the heels of some set­backs, Genen­tech ex­ecs are re­port­ing that their com­bi­na­tion ap­proach of­fered sta­tis­ti­cal­ly sig­nif­i­cant re­sults for both over­all sur­vival as well as pro­gres­sion-free sur­vival. The beat over the con­trol arm was al­so iden­ti­fied at an in­ter­im stage, al­low­ing Roche to ac­cel­er­ate plans to get this in­to the hands of reg­u­la­tors.
The win here is cru­cial for Roche, which is play­ing catch-up with check­point lead­ers Bris­tol-My­ers Squibb and Mer­ck. And not all that ef­fec­tive­ly. The phar­ma gi­ant needs to get out well ahead of the com­pe­ti­tion in key ar­eas if they ex­pect to hold on to their third-ranked po­si­tion in the mar­ket, as As­traZeneca moves ahead with its ad­van­tage in one im­por­tant niche of non-small cell lung can­cer.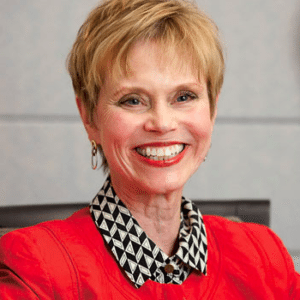 San­dra Horn­ing
We won't see Roche's da­ta un­til an up­com­ing con­fer­ence, stan­dard op­er­at­ing pro­ce­dure in drug de­vel­op­ment.
Ever­core ISI's Umer Raf­fat and sev­er­al oth­er an­a­lysts have pegged IM­pow­er133 as one of the most sig­nif­i­cant read­outs in SCLC this year, with Bris­tol-My­ers lin­ing up Check­mate-451, where they are study­ing their I/O-I/O com­bo of Op­di­vo and Yer­voy as a main­te­nance ther­a­py.
Ab­b­Vie, mean­while, re­cent­ly con­ced­ed that their try against SCLC with Ro­va-T was a flop. And Mer­ck al­so has failed to ig­nite much en­thu­si­asm so far with its bas­ket study re­sults for Keynote-158 as a sec­ond-line ther­a­py for SCLC.
Mer­ck, mean­while, is ag­gres­sive­ly mov­ing to chal­lenge Roche here, with piv­otal re­sults be­ing as­sem­bled in Keynote-604 for a com­bi­na­tion of Keytru­da and chemo af­ter surg­ing in­to a dom­i­nant po­si­tion in front­line non-small cell lung can­cer.
Now Mer­ck is in the un­usu­al po­si­tion of be­ing sec­ond. Pa­tients, mean­while, can look for­ward to some progress in a dis­ease that has proved stub­born­ly dif­fi­cult to beat.
"These are the first pos­i­tive Phase III sur­vival re­sults for any im­munother­a­py-based com­bi­na­tion in the ini­tial treat­ment of ex­ten­sive-stage small cell lung can­cer, a par­tic­u­lar­ly dif­fi­cult-to-treat type of dis­ease," said Roche CMO San­dra Horn­ing.
IM­pow­er133 tri­al of car­bo/etopo­side with or w/o ate­zolizum­ab (Tecen­triq) in 1st line ex­ten­sive st stage small cell #Lung­Cancer (SCLC) shows sig­nif im­prove­ment in PFS & OS for chemo/im­munother­a­py! https://t.co/BRmE­WO­jVQm
Broke im­passe in 1st line SCLC we've faced x 15 yrs! #LC­SM

— H. Jack West, MD (@Jack­West­MD) June 25, 2018