Sage claims an­oth­er big win on a small study, this time for post­par­tum de­pres­sion
Shares of Sage Ther­a­peu­tics $SAGE rock­et­ed up 38% this morn­ing af­ter the Cam­bridge, MA-based biotech post­ed re­mark­able da­ta from a small study of its lead drug for post­par­tum de­pres­sion.
So far, Sage has con­cen­trat­ed much of its at­ten­tion tout­ing the im­pact of SAGE-547 on rare cas­es of pro­tract­ed seizures called su­per-re­frac­to­ry sta­tus epilep­ti­cus. But CEO Jeff Jonas has al­so been pur­su­ing a the­o­ry that the drug can have an im­pact on mood dis­or­ders like de­pres­sion, a tough field that has seen a se­ries of painful prat­falls by de­vel­op­ers over the years.
In this lat­est study, Sage says that the drug–aimed at GA­BAA re­cep­tors in the brain–hit the pri­ma­ry end­point in the Phase II, which in­volved on­ly 21 pa­tients; and on­ly a few pa­tients ac­tu­al­ly got the drug. In­ves­ti­ga­tors tracked a 60% re­mis­sion rate at 60 hours with a 30-day fol­low-up.
Sage re­port­ed:
Re­mis­sion from de­pres­sion, as de­ter­mined by a HAM-D ≤7, mea­sured at 60 hours, was seen in 7 of 10 of the SAGE-547 group com­pared with 1 of 11 in the place­bo group (p=0.008). Sim­i­lar­ly, at 30 days, 7 of 10 of the SAGE-547 group and 2 of 11 in the place­bo group were in re­mis­sion (p=0.03).
That's a ma­jor dif­fer­ence in out­comes, but it still on­ly in­volves a tiny num­ber of pa­tients, which could heav­i­ly skew the out­come. To put this in some per­spec­tive, Alk­er­mes' two failed Phase III stud­ies for their de­pres­sion drug in­volved more than 800 pa­tients with a much high­er place­bo re­sponse. And a third Phase III has yet to read out.
The next step at Sage will be to ex­pand the small study in search of an op­ti­mal dose. But the small num­ber of pa­tients in­volved so far cer­tain­ly didn't stop the com­pa­ny from claim­ing a huge win. Sage con­fi­dent­ly out­lined a big role for it­self in some risky fields, in­clud­ing ma­jor de­pres­sion, bipo­lar dis­or­der, and pan­ic dis­or­der.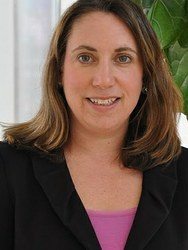 Saman­tha Meltzer-Brody, M.D., M.P.H., As­so­ci­ate Pro­fes­sor and Di­rec­tor of the UNC Peri­na­tal Psy­chi­a­try Pro­gram
"The rapid on­set of ac­tion of this drug ob­served in the tri­al is un­like any­thing else avail­able in the field to date," said Saman­tha Meltzer-Brody, M.D., M.P.H., As­so­ci­ate Pro­fes­sor and Di­rec­tor of the UNC Peri­na­tal Psy­chi­a­try Pro­gram of the UNC Cen­ter for Women's Mood Dis­or­ders and pri­ma­ry in­ves­ti­ga­tor for the PPD-202 Tri­al. "The da­ta show the po­ten­tial of the drug to pro­vide re­lief from the de­bil­i­tat­ing symp­toms of PPD, and to marked­ly de­crease suf­fer­ing in women who are se­vere­ly af­fect­ed."
Sage has a his­to­ry of find­ing rea­sons for its in­vestors to be su­per-ex­cit­ed about its da­ta. But it's al­so been un­der at­tack by short sell­ers at Sahm Ad­ran­gi's Ker­ris­dale Cap­i­tal. Ad­ran­gi's group has ridiculed the com­pa­ny's da­ta on brain seizures, say­ing the com­pa­ny went from a small study in­to a Phase III that it was doomed to flop in.
With Sage's stock way up to­day, the longs and the shorts will be at each oth­er's throats. One group will win big; an­oth­er will lose a huge amount.
But that ju­ry is still out. The FDA typ­i­cal­ly re­quires sev­er­al big late-stage stud­ies for any drug when it comes to de­pres­sion, sim­ply be­cause of the im­pact of a high­ly vari­able place­bo ef­fect. If Sage can sur­vive that process, the sky's the lim­it. But a his­to­ry of fail­ures might be cause for cau­tion.
Ar­rrgh 21 pa­tients is a tiny sam­ple size – you can't ex­tract to the uni­verse on that folks! {/head_desk}

— Sal­ly Church 🏴󠁧󠁢󠁥󠁮󠁧󠁿 (@Mav­er­ick­NY) Ju­ly 12, 2016
I think the mar­ket is cor­rect­ly ex­cit­ed about $SAGE to­day. https://t.co/81Ek­Wm­rkrF

— Matthew Her­p­er (@matthe­wher­p­er) Ju­ly 12, 2016