Sam­sung Bioepis switch­es gears, moves from knock­offs to new drugs with fast-chang­ing Take­da
Sam­sung Bioepis knows how to make a great copy of a bi­o­log­ic. Now the com­pa­ny wants to start cre­at­ing them from scratch.
The biosim­i­lars mak­er, al­lied with Bio­gen on de­vel­op­ing gener­ic ver­sions of brand­ed bi­o­log­ics, to­day un­veiled a new al­liance with Japan's ag­gres­sive Take­da on co-de­vel­op­ing a pipeline of new drugs.
First up is a Take­da drug, TAK-671, for acute pan­cre­ati­tis.
Christo­pher Han­sung Ko, the CEO of Sam­sung Bioepis, put it this way:
Five years ago, we en­tered the bio­phar­ma­ceu­ti­cal in­dus­try with a strong de­ter­mi­na­tion to trans­form the way ther­a­pies are brought to pa­tients by re­plac­ing lega­cy process­es with new and in­no­v­a­tive ones. To­geth­er with Take­da, we look for­ward to re­al­iz­ing this vi­sion by ac­cel­er­at­ing the de­vel­op­ment of ef­fec­tive ther­a­pies for pa­tients who are cur­rent­ly with­out a vi­able treat­ment op­tion.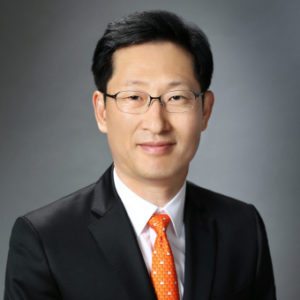 Christo­pher Han­sung Ko
Of course there's noth­ing tru­ly in­no­v­a­tive in what Sam­sung has been do­ing, un­less de­sign­ing a com­plex bi­o­log­ic as a pre­cise knock­off of an ex­ist­ing ther­a­py — like J&J's Rem­i­cade — and kick­ing up an in­dus­tri­al­iza­tion ef­fort to mass pro­duce these cheap­er copies, re­quires in­no­va­tion. That could trig­ger a few de­bates in biotech cir­cles.
Take­da has been rip­ping up its old glob­al R&D struc­ture over the past year un­der CEO Christophe We­ber and R&D chief Andy Plump, con­cen­trat­ing its forces in Cam­bridge, MA and Japan as it out-li­cens­es, in-li­cens­es and works up new pacts with de­vel­op­ers of every stripe world­wide. The part­ners didn't dis­cuss cash terms to­day.
Sam­sung Bioepis has the cash to come in and work on nov­el drugs with Take­da, which has been wide open to de­vis­ing new al­liances that will share the risk in or­der to broad­en its over­all drug de­vel­op­ment work. Like a lot of drug com­pa­nies, Take­da has been work­ing on find­ing new ways to de­vel­op more drugs than it can af­ford to de­vel­op alone. And it's been re­vamp­ing the pipeline, leav­ing some drugs up for grabs. So it has out-li­censed drugs to com­pa­nies like Je­re­my Levin's Ovid and Vivek Ra­maswamy's My­ovant.
"At Take­da, we think dif­fer­ent­ly – and cre­ative­ly – about what makes a part­ner­ship suc­cess­ful and look to build on our strengths by col­lab­o­rat­ing with part­ners who have com­ple­men­tary ex­per­tise," said Daniel Cur­ran, who runs the ex­ter­nal in­no­va­tion group at Take­da.