Marathon CEO tries to call a time out on con­tro­ver­sy as law­mak­ers rip in­to $89K de­flaza­cort price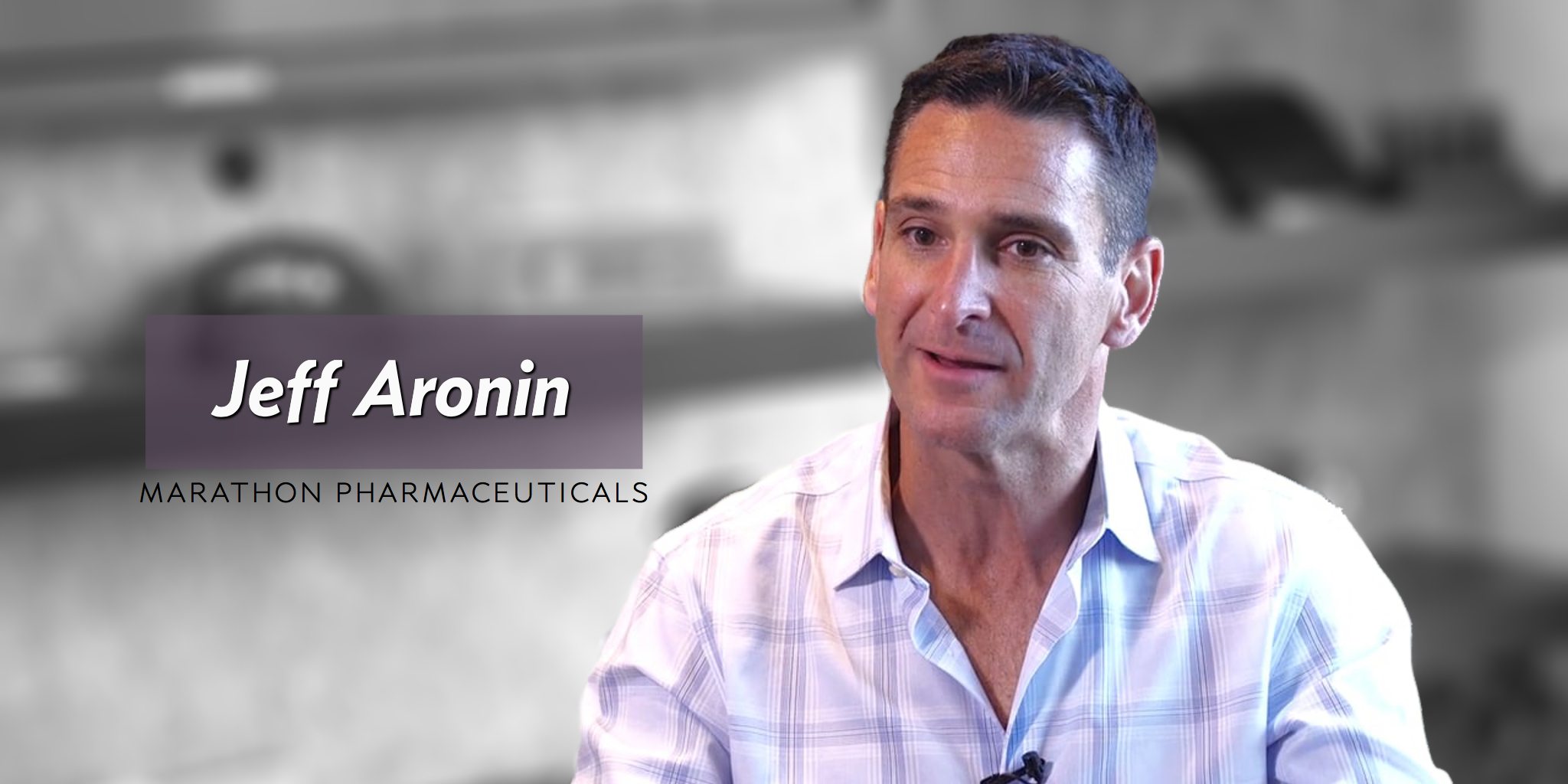 Sen­a­tor Bernie Sanders and Con­gress­man Eli­jah Cum­mings have found their new poster boy for phar­ma price goug­ing. His name is Jeff Aronin, the CEO of Marathon Phar­ma­ceu­ti­cals.
In a joint let­ter ad­dressed to Aronin, the two law­mak­ers slammed the com­pa­ny's "out­ra­geous plans" to set a list price of $89,000 on their new­ly ap­proved de­flaza­cort, a cheap steroid that's been avail­able for decades in oth­er coun­tries around the world. And they launched an in­ves­ti­ga­tion in­to Marathon's plans, de­mand­ing doc­u­ments re­lat­ed to the ac­tu­al cost of the pro­gram while in­sist­ing that Marathon "sig­nif­i­cant­ly low­er the price" for re­leas­ing the drug.
The let­ter cites sto­ries from End­points News, The Wash­ing­ton Post, Stat and oth­ers.
Al­most si­mul­ta­ne­ous­ly, Marathon ex­e­cut­ed a strate­gic re­treat, telling a group of rep­re­sen­ta­tives from var­i­ous Duchenne groups at a pol­i­cy meet­ing in Wash­ing­ton DC that they were call­ing a "pause on the launch," ac­cord­ing to one of the at­ten­dees, who asked not to be iden­ti­fied.
Var­i­ous Marathon rep­re­sen­ta­tives were at the meet­ing, in­clud­ing mar­ket­ing chief Er­ic Mesnner and de­vel­op­ment chief Tim Cun­niff, and a state­ment from Aronin was read out as­sur­ing the Duchenne com­mu­ni­ty that they would still be able to or­der de­flaza­cort from Mas­ters Glob­al in the UK "un­til we fig­ure this out."
In his state­ment, Aronin re­peat­ed his ear­li­er, wide­ly dis­put­ed po­si­tion that the com­pa­ny's pri­ma­ry in­ter­est was in bring­ing the steroid to pa­tients who cur­rent­ly can't get it. He pledged:
"We will meet with care­givers and ex­plain our com­mer­cial­iza­tion plans, re­view their con­cerns, dis­cuss all op­tions, and move for­ward with com­mer­cial­iza­tion based on an agreed plan of ac­tion."
That will re­quire some quick foot­work with law­mak­ers.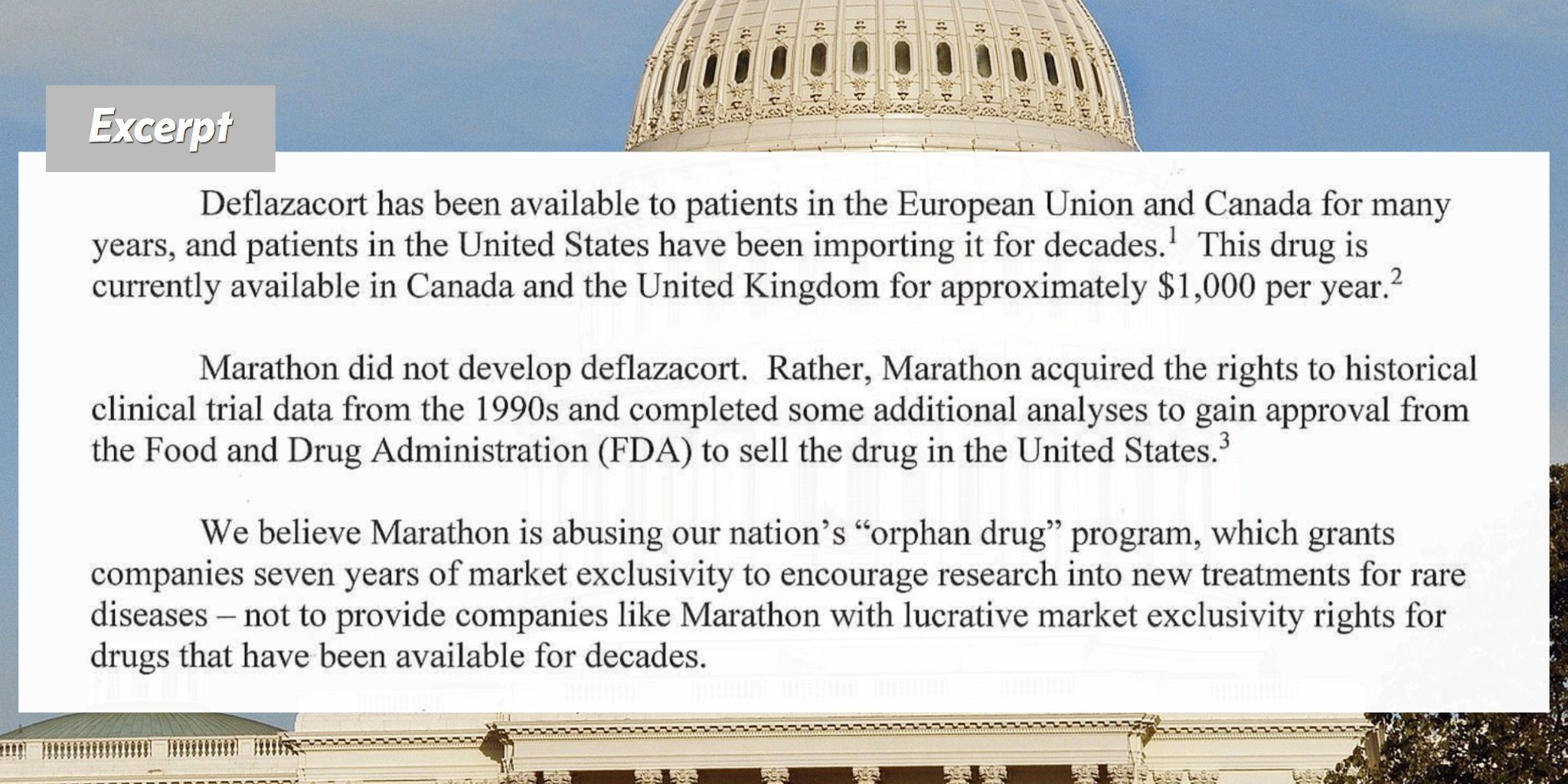 "Marathon did not de­vel­op de­flaza­cort," Sanders and Cum­mings wrote. "Rather Marathon ac­quired the rights to his­tor­i­cal clin­i­cal tri­al da­ta from the 1990s and com­plet­ed some ad­di­tion­al analy­ses to gain ap­proval from the Food and Drug Ad­min­is­tra­tion to sell the drug in the Unit­ed States.
"We be­lieve that Marathon is abus­ing our na­tion's or­phan drug pro­gram, which grants com­pa­nies sev­en years of mar­ket ex­clu­siv­i­ty to en­cour­age re­search in­to new treat­ments for rare dis­eases, not to pro­vide com­pa­nies like Marathon with lu­cra­tive mar­ket ex­clu­siv­i­ty rights for drugs that have been avail­able for decades."
As we re­port­ed this morn­ing, Marathon has made much out of its R&D ef­forts, say­ing the price was jus­ti­fied by the amount that was spent to gain an ap­proval. Tri­al ex­perts, though, say it could have been done for any­thing from less than $10 mil­lion to a high of $75 mil­lion, a sum that could be eas­i­ly cov­ered just by the sale of the pri­or­i­ty re­view vouch­er that it ob­tained from the ap­proval.
The lat­est pric­ing con­tro­ver­sy wasn't over­looked by pay­ers and drug ben­e­fit man­agers.
"As you might ex­pect," not­ed a spokesper­son for Ex­press Scripts in a mes­sage to me, "we be­lieve this is an­oth­er ex­am­ple of egre­gious pric­ing for an old drug that is avail­able else­where for much less."
Marathon has con­sis­tent­ly re­fused to re­spond to my re­peat­ed re­quests for an in­ter­view with Aronin, whose broth­er, J&J vet Greg Aronin, works as a lob­by­ist for the com­pa­ny.