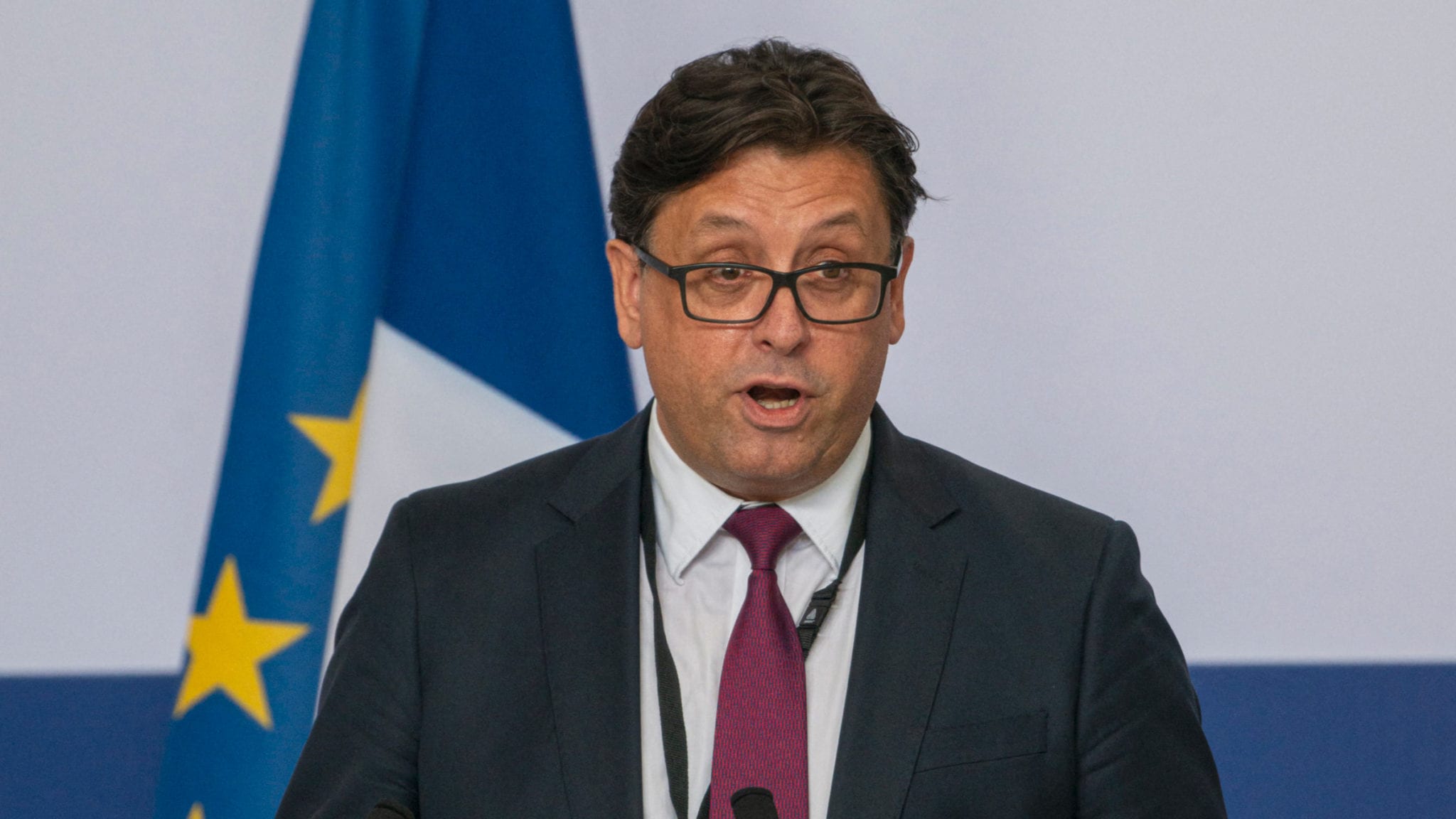 Paul Hudson, Sanofi CEO (Sipa via AP Images)
Sanofi con­tin­u­ing with API spin­off de­spite French on-shoring push, ten­sions with union — Reuters
The ques­tion of where and by whom drugs' ac­tive in­gre­di­ents are man­u­fac­tured was a fair­ly niche is­sue back in Feb­ru­ary, when new Sanofi CEO Paul Hud­son first said he would spin off the French gi­ant's ac­tive phar­ma­ceu­ti­cal in­gre­di­ent (API) busi­ness in­to its own pub­lic com­pa­ny as part of his strate­gic re­think of the long-la­bor­ing drug­mak­er.
He like­ly did not imag­ine that it would soon be­come a na­tion­al se­cu­ri­ty ques­tion for many coun­tries as a pan­dem­ic threat­ened glob­al sup­ply lines and a vac­cine arms race un­der­scored the ad­van­tage those with in-coun­try phar­ma­ceu­ti­cal man­u­fac­tur­ing ca­pac­i­ty had. Or that French Pres­i­dent Em­manuel Macron would stand in a teal face­mask at their own French fa­cil­i­ties and tell broad­cast­ers about the need to keep pro­duc­tion in France.
Still, Sanofi is sol­dier­ing on with the plan to spin out its API busi­ness, Reuters re­port­ed. The goal re­mains to re-fo­cus the com­pa­ny around its most prof­itable ar­eas, in­clud­ing de­vel­op­ment of vac­cines and drugs for rare dis­eases and can­cer.
"Sanofi re­mains com­mit­ted to ex­e­cut­ing our IPO on Eu­ronext Paris as planned. We are not re­view­ing any oth­er fi­nan­cial al­ter­na­tive op­tion," a Sanofi spokesper­son said in an email to Reuters in a rare un­equiv­o­cal state­ment for a Big Phar­ma talk­ing about its plans.
The plan, Reuters re­port­ed, is to be­gin so­lic­it­ing in­di­vid­ual in­vestors in the fall and po­ten­tial­ly launch an IPO in 2021 — a year ear­li­er than they had ini­tial­ly in­di­cat­ed. They are al­ready re­port­ed­ly in dis­cus­sions with the state in­vest­ment bank Bpifrance. The spin­out val­ue could range to 1-2 bil­lion eu­ros, de­pend­ing on how much Sanofi plans to keep for it­self, and would be­come the sec­ond largest API pro­duc­er be­hind Switzer­land's Lon­za.
The spin­out would not nec­es­sar­i­ly mean pro­duc­tion would move, though it would ex­pose it to the whims of share­hold­ers. Sanofi has said the new group will still be head­quar­tered in France, and that Sanofi will re­tain a stake in the busi­ness and be its biggest cus­tomer.
The move, though, will be com­pli­cat­ed not on­ly by in­ter­na­tion­al con­cerns but al­so by in­ter­nal ones. Ten­sions be­tween Sanofi and its work­ers' union have been run­ning high since the com­pa­ny said last month they would lay off 1,680 Eu­ro­pean work­ers over the next year.
A source told Reuters that talks with the union would be­gin in Sep­tem­ber. "Shap­ing the fu­ture of the API will be one of the first pri­or­i­ties of the man­age­ment team af­ter the sum­mer break," they said, "and every­one is well aware the dis­cus­sions with the em­ploy­ee rep­re­sen­ta­tives will be very chal­leng­ing."