Sanofi fires back at Roseanne: 'racism is not a side ef­fec­t' of Am­bi­en
In the sober­ing day­light af­ter Roseanne Barr tweet­ed a racist jab at one of Barack Oba­ma's se­nior ad­vi­sors, Barr is blam­ing her bad be­hav­ior on a late-night dose of Am­bi­en. But the drug's mak­er Sanofi is throw­ing off the as­so­ci­a­tion, tak­ing to Twit­ter to raise an eye­brow at Barr's de­fense.
Peo­ple of all races, re­li­gions and na­tion­al­i­ties work at Sanofi every day to im­prove the lives of peo­ple around the world. While all phar­ma­ceu­ti­cal treat­ments have side ef­fects, racism is not a known side ef­fect of any Sanofi med­ica­tion.

— Sanofi US (@SanofiUS) May 30, 2018

Barr's of­fen­sive tweet was di­rect­ed at Va­lerie Jar­rett, an African-Amer­i­can woman who was one of Oba­ma's top ad­vi­sors dur­ing his pres­i­den­cy. Al­though quick­ly delet­ed from her ac­count, the tweet was saved in per­pe­tu­ity via screen­grab and shared all over the in­ter­net.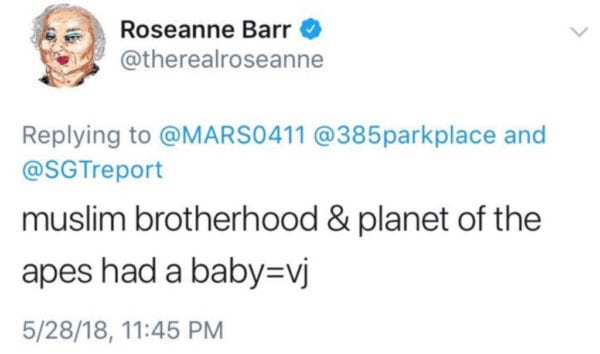 The tweet got Barr's new show — a re­newed take on the pop­u­lar "Roseanne" sit­com —im­me­di­ate­ly can­celed, even af­ter a suc­cess­ful first sea­son. The show brought in an es­ti­mat­ed $45 mil­lion in ad rev­enue for ABC, and was ex­pect­ed to bring in $60 mil­lion in its next sea­son. But that ad rev­enue will nev­er come, as Chan­ning Dungey, pres­i­dent of ABC En­ter­tain­ment ex­plained.
From Chan­ning Dungey, Pres­i­dent of ABC En­ter­tain­ment: "Roseanne's Twit­ter state­ment is ab­hor­rent, re­pug­nant and in­con­sis­tent with our val­ues, and we have de­cid­ed to can­cel her show."
There was on­ly one thing to do here, and that was the right thing.

— Robert Iger (@Rober­tIger) May 29, 2018