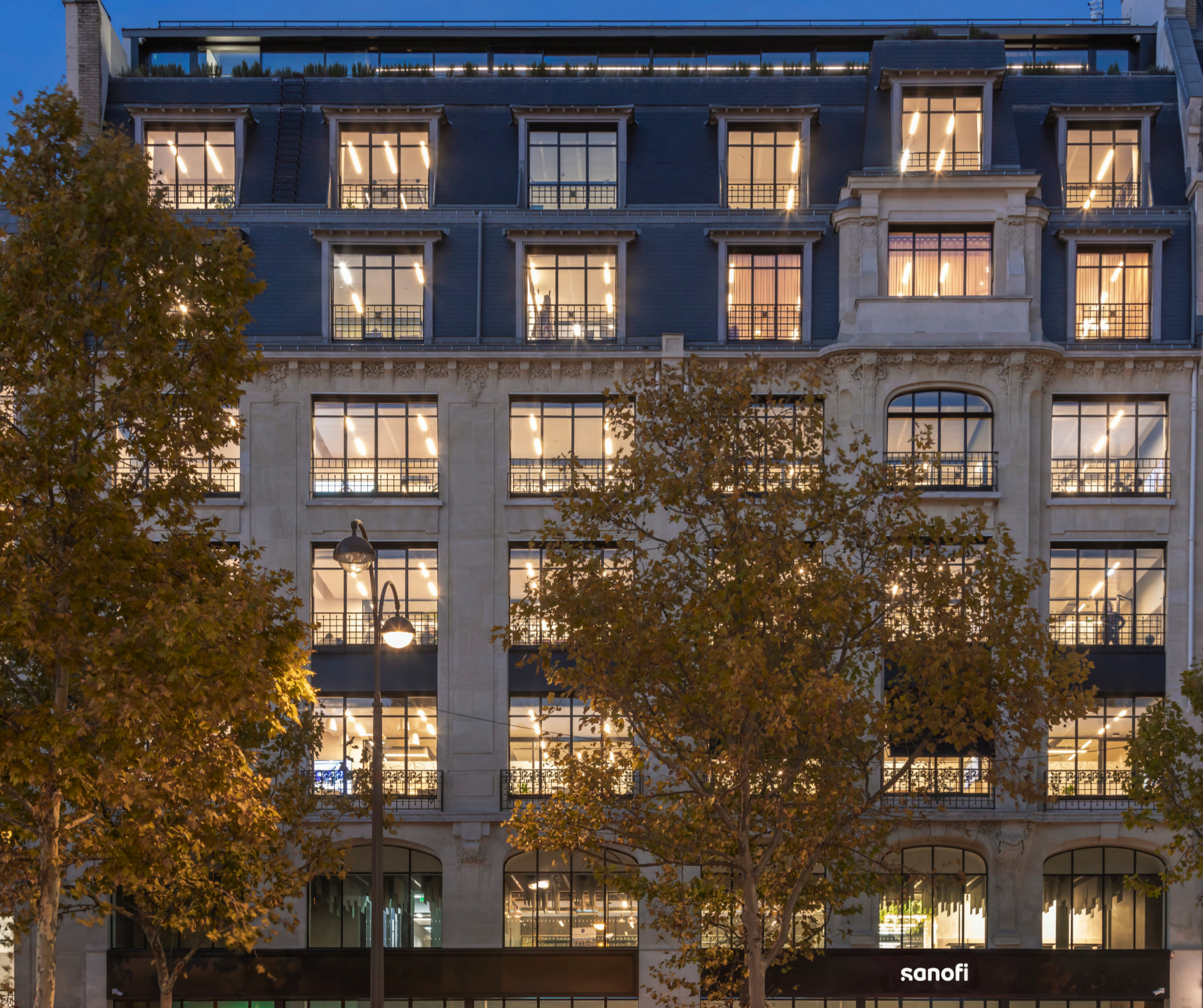 Sanofi's new headquarters, La Maison Sanofi, in Paris (Credit: Luc Boegly)
Sanofi wel­comes 500 staffers to new Paris HQ af­ter €30M ren­o­va­tion
When Paul Hud­son took the helm at Sanofi back in 2019, he promised to rein­vent the phar­ma gi­ant — in­clud­ing its Paris head­quar­ters. This week, the com­pa­ny set up shop in new "state-of-the-art" digs.
La Mai­son Sanofi, as the new HQ is called, is of­fi­cial­ly open for busi­ness, Hud­son an­nounced on Mon­day. The 9,000-square-me­ter (just un­der 97,000-square-foot) space ac­com­mo­dates 500 em­ploy­ees across the com­pa­ny's gov­ern­ment and glob­al sup­port func­tions teams, in­clud­ing fi­nance, HR, le­gal and cor­po­rate af­fairs — and it was built with en­vi­ron­men­tal sus­tain­abil­i­ty and hy­brid work in mind.
"The open­ing of La Mai­son Sanofi is an­oth­er step to­ward the mod­ern health­care com­pa­ny we strive to be­come," Hud­son said in a news re­lease. "A com­pa­ny open to the world and that seeks to of­fer its peo­ple the best work en­vi­ron­ment to chase the mir­a­cles of sci­ence."
Sanofi signed a lease for the new space on Av­enue de la Grande Ar­mée back in 2020, just as its old lease on Rue La Boétie ex­pired. The com­pa­ny hired Franklin Azzi Ar­chi­tec­ture for the ren­o­va­tions, which in­clud­ed merg­ing two pre­vi­ous­ly sep­a­rate build­ings.
While a Sanofi spokesper­son de­clined to dis­close the cost of the project, they did note that the new lease is less ex­pen­sive than the pre­vi­ous one. Franklin Azzi said the ren­o­va­tion cost €30 mil­lion ($31 mil­lion).
The re­vamp is part of Sanofi's push to mod­ern­ize its work­spaces, which re­cent­ly in­clud­ed a new 900,000-square-foot fa­cil­i­ty in Cam­bridge, MA. The com­pa­ny al­so ren­o­vat­ed its rough­ly 7-year-old Gen­til­ly cam­pus, close to Paris, to "bet­ter wel­come up to 3,000 col­lab­o­ra­tors." Ear­li­er this year, Hud­son al­so sketched out a $1 bil­lion-plus in­vest­ment for a new mR­NA cen­ter in France.
"The new Paris head­quar­ters (as oth­er Sanofi of­fices in the world) was de­signed in or­der to bet­ter adapt to col­lab­o­ra­tors' needs and new us­es born with the de­vel­op­ment of telecom­mut­ing and hy­brid work," the spokesper­son said.
The build­ing boasts a rooftop ter­race, light­ing that changes through­out the day de­pend­ing on the bright­ness out­side, and acoustics de­signed to re­duce street noise. Franklin Azzi em­braced the old charm of the build­ing, high­light­ing the build­ing's old fa­cades and bring­ing in ta­bles made from re­cy­cled glass and floor cov­er­ings made from old fish­ing nets. The build­ing was de­signed to be "as wel­com­ing as 'a home,'" ac­cord­ing to Sanofi.
"Ad­di­tion­al­ly and im­por­tant­ly, we want­ed the project it­self to be in­her­ent­ly sus­tain­able. So we fo­cused on ren­o­vat­ing an ex­ist­ing build­ing and giv­ing it new life, rather than con­struct­ing a new build­ing," the spokesper­son said.
Back in Feb­ru­ary, Hud­son un­veiled an en­tire­ly new look for Sanofi, leav­ing be­hind the well-known Pas­teur and Gen­zyme names and unit­ing the com­pa­ny un­der a new pur­ple, low­er­case brand.