Sarep­ta rock­ets up af­ter FDA ap­proves its con­tro­ver­sial Duchenne drug
Af­ter years of fierce de­bate in a see­saw bat­tle over the fate of Sarep­ta's Duchenne mus­cu­lar dy­s­tro­phy drug eteplirsen, the FDA has grant­ed the drug con­di­tion­al ap­proval in the US, mak­ing this the first drug OK'd to treat the lethal dis­ease.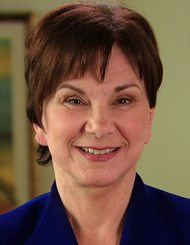 Janet Wood­cock
The ap­proval comes with the threat of swift ret­ri­bu­tion, though, if in­ves­ti­ga­tors fail to fol­low through with pos­i­tive da­ta from a big­ger study. The agency's state­ment in­cludes a re­quire­ment that Sarep­ta will now have to con­firm that the drug ac­tu­al­ly works as de­signed, spurring pro­duc­tion of dy­s­trophin in a way that can im­prove mo­tor func­tion in the 13% of pa­tients amenable to ex­on 51 skip­ping. And the agency says that it may with­draw its OK with­out that da­ta.
For now, though, Sarep­ta will move fast to start mar­ket­ing the drug.
The agency's de­ci­sion came months af­ter a pan­el of out­side ex­perts vot­ed against an ap­proval and FDA in­sid­ers, no­tably Ron Farkas, who re­cent­ly left the agency, re­ject­ed the biotech's ar­gu­ment at every turn this year. Par­ents and pa­tients, though, turned out in the hun­dreds to voice their full sup­port for eteplirsen, mount­ing a lob­by­ing cam­paign that would re­cruit a long list of elect­ed of­fi­cials as well as physi­cians who treat this dis­ease.
Sarep­ta's $SRPT share price, which has been on a roller coast­er ride at every twist and turn in the eteplirsen saga, ripped up 81% on the news. The drug will now be sold as Ex­ondys 51.
The drug, though, will re­main con­tro­ver­sial. The agency's Janet Wood­cock over­ruled oth­ers in the FDA in giv­ing this drug a green light, in­clud­ing El­lis Unger, the di­rec­tor of the Of­fice of Drug Eval­u­a­tion, who protest­ed against Wood­cock's de­ci­sion. And while the drug has its avowed sup­port­ers, a le­gion of crit­ics has not­ed that Sarep­ta nev­er pro­vid­ed the da­ta need­ed to win an ap­proval, with Wood­cock seen as cav­ing to the lob­by­ing cam­paign in a way that would like­ly dog the agency for years to come.
The big de­bate over this drug cen­tered on its tiny pi­lot study, which gath­ered da­ta on on­ly a dozen boys. Sarep­ta says that their in­ves­ti­ga­tors gath­ered clear ev­i­dence that their drug helped boys with this crip­pling, dev­as­tat­ing dis­ease con­tin­ue to walk fur­ther dis­tances than his­tor­i­cal da­ta would con­sid­er pos­si­ble with­out a ther­a­peu­tic ef­fect. FDA in­sid­ers like Farkas, though, re­ject­ed the his­tor­i­cal com­par­isons and crit­i­cized the biotech for fail­ing to pur­sue a larg­er study ear­li­er.
The ap­proval comes af­ter sev­er­al po­ten­tial ri­vals have been slapped down, with Bio­Marin's can­di­date re­ject­ed — and now shelved — and PTC's drug re­fused a hear­ing af­ter in­sid­ers at the agency con­clud­ed that the com­pa­ny sim­ply had not made its case.
Those ear­li­er re­fusals leave Sarep­ta with a clear shot at its mar­ket.
Janet Wood­cock, the FDA's Cen­ter for Drug Eval­u­a­tion and Re­search di­rec­tor, said:
"Pa­tients with a par­tic­u­lar type of Duchenne mus­cu­lar dy­s­tro­phy will now have ac­cess to an ap­proved treat­ment for this rare and dev­as­tat­ing dis­ease. In rare dis­eases, new drug de­vel­op­ment is es­pe­cial­ly chal­leng­ing due to the small num­bers of peo­ple af­fect­ed by each dis­ease and the lack of med­ical un­der­stand­ing of many dis­or­ders. Ac­cel­er­at­ed ap­proval makes this drug avail­able to pa­tients based on ini­tial da­ta, but we ea­ger­ly await learn­ing more about the ef­fi­ca­cy of this drug through a con­fir­ma­to­ry clin­i­cal tri­al that the com­pa­ny must con­duct af­ter ap­proval."
$SRPT — FDA sum­ma­ry re­view con­firms ap­peal by El­lis Unger of Wood­cock­'s ap­proval de­ci­sion. pic.twit­ter.com/N5GOC3Dm8g

— Andy Biotech (@Andy­Biotech) Sep­tem­ber 19, 2016