It's no secret that the average biotech company is no great fan of compassionate use requests for their experimental drugs. They can be expensive to satisfy and present a potential threat if the drug backfires with an unexpected side effect.
So it's no great surprise that the typical biotech company doesn't provide a simple online gateway for patients desperate to gain access to their experimental therapies outside of trials. And if the 21st Century Cures Act ever passes, that could present an issue in need of quick resolution.
Avalere Health put this point to a test. They gathered a list of the top 100 pharma and biotech companies based on market cap and went hunting for their compassionate use sections on their websites. In 81 cases, they didn't find one.
Here's the breakdown, and it's not hard to understand. Big companies, defined as $10 billion-plus, were the most likely to have a compassionate use page, with about half offering something. For medium-sized companies ($1.5 billion to $10 billion) it was 14%. And in the under $1.5 billion range, where you'll find the large majority of your typical biotech companies, it was 4%.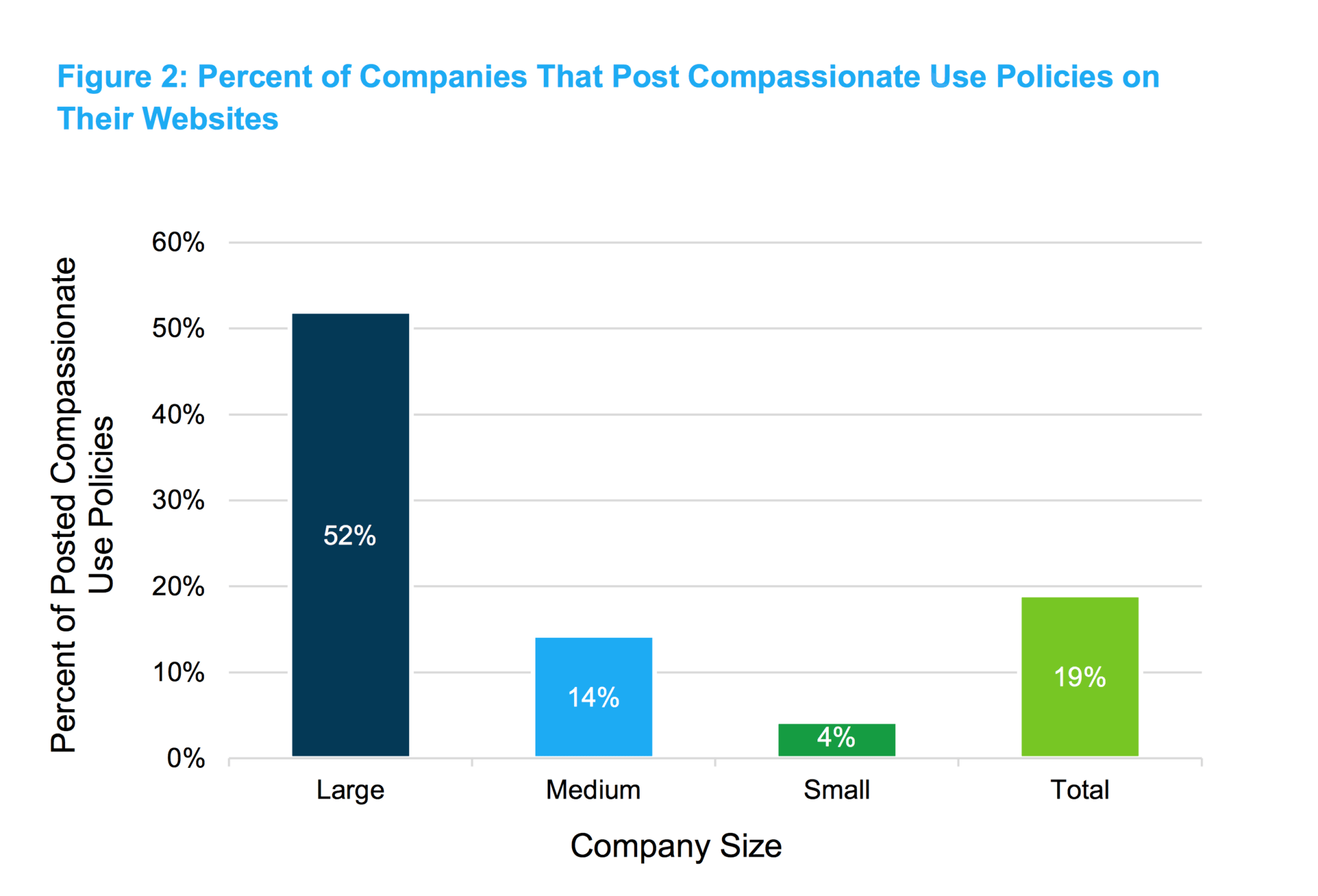 Few of the companies that did post their policy were in complete compliance with the proposed law.
The new federal act would change things quickly for most everyone in the clinic with a drug. The law requires that biopharma companies post:
Contact information for the manufacturer or distributor to facilitate communication about requests; (2) procedures for making compassionate use requests; (3) the general criteria considered for approving requests; and (4) the length of time anticipated to acknowledge receipt of requests.
("I)f the expanded access policy provision included in H.R. 6, the 21st Century Cures Act passes as currently written, many companies would have 60 days from enactment (or at the first initiation of a phase 2 or phase 3 study of the investigational drug) to comply with the policy transparency requirements."
Until then, though, it's unlikely that most biotechs will comply voluntarily.
What are your thoughts on the subject? We've assembled a snap poll to gather some feedback, take a minute and let us know. Here's the link.
---
The best place to read
Endpoints News

? In your inbox.

Comprehensive daily news report for those who discover, develop, and market drugs. Join 47,700+ biopharma pros who read Endpoints News by email every day.

Free Subscription
---
---
---