Sci­ence team de­signs a new CAR they say may work much bet­ter than BC­MAs in fight­ing mul­ti­ple myelo­ma
Right now the big R&D play in the mul­ti­ple myelo­ma field is cen­tered around a raft of ex­per­i­men­tal BC­MA ap­proach­es, in­clud­ing CAR-Ts. But a sci­en­tif­ic team at the Uni­ver­si­ty of Utah says they may have found a bet­ter ap­proach.
Fo­cus­ing on the high rate of re­lapse us­ing cur­rent ther­a­pies, as well as the wan­ing ef­fi­ca­cy of the clin­i­cal CAR-Ts, a team at the Hunts­man Can­cer In­sti­tute at the Uni­ver­si­ty of Utah built a new CAR fo­cused on CD229.
That tar­get, they say, goes af­ter a mol­e­cule that en­dures through the course of the dis­ease on the sur­face of can­cer cells, in­clud­ing myelo­ma stem cells at the root of re­lapse.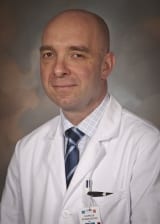 Djord­je Atanack­ovic U Health
"We were dis­mayed that al­though some of our pa­tients re­spond quite well to cur­rent­ly avail­able im­munother­a­pies, they re­lapsed as ear­ly as one year af­ter treat­ment," says physi­cian-sci­en­tist Djord­je Atanack­ovic. "We thought if we could tar­get every last can­cer cell in a pa­tient's body, in­clud­ing the can­cer stem cell, this could make the crit­i­cal dif­fer­ence and yield more durable, deep­er re­spons­es to treat­ment."
The study was pub­lished in Na­ture Com­mu­ni­ca­tions.
Work­ing with a pro­tein en­gi­neer, the team pro­duced an an­ti­body that could hook on­to CD229, an es­sen­tial part of their new CAR-T. And it checked out in pre­clin­i­cal an­i­mal and cell mod­els — leav­ing plen­ty of work ahead in the clin­ic if this ever gets to the mar­ket­place.