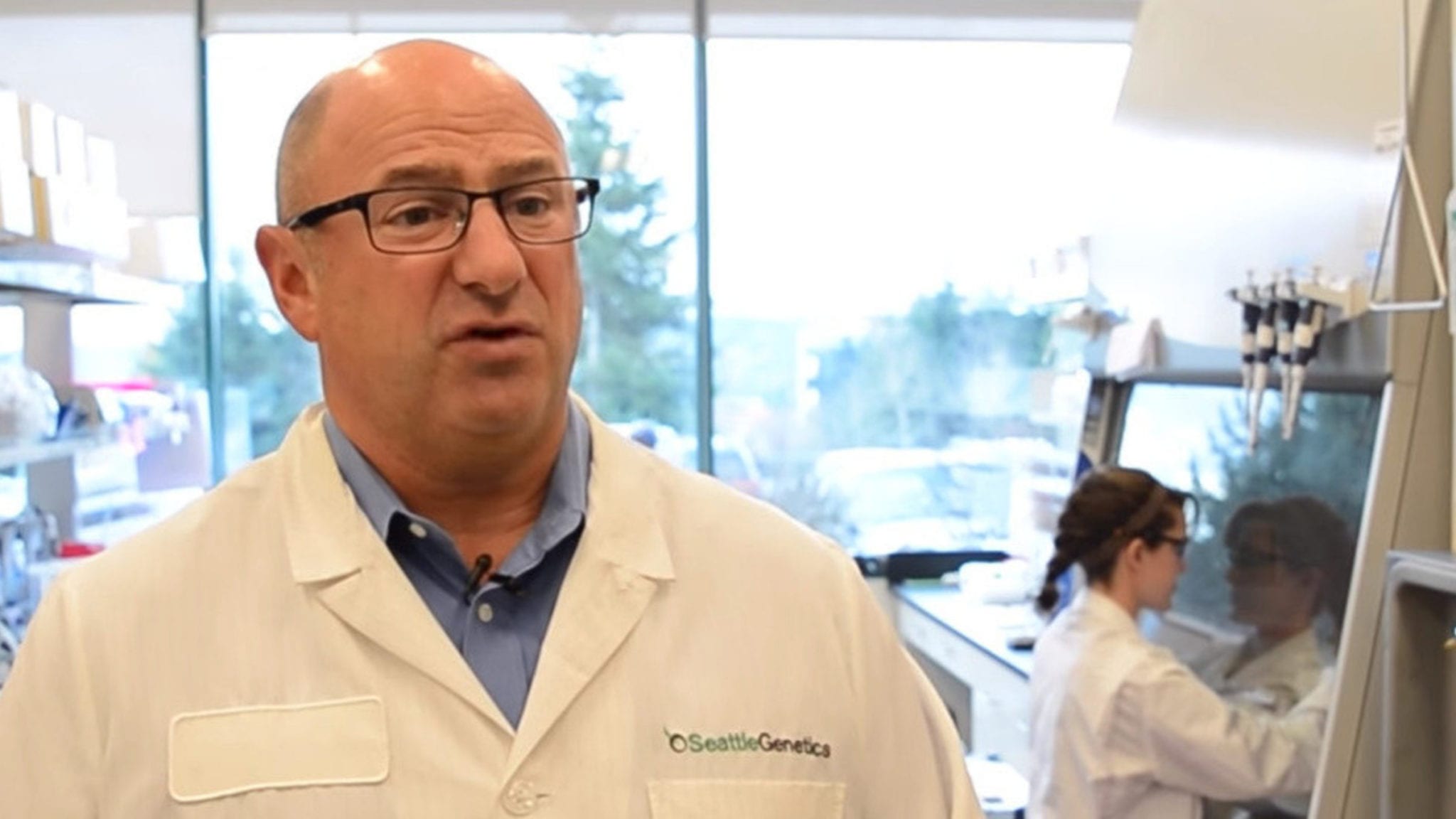 Clay Siegall, Seagen CEO (Life Science Washington via YouTube)
Seat­tle Ge­net­ics? Not any­more. The biotech has short­ened its name to Seagen to il­lus­trate glob­al ex­pan­sion
Would a Seat­tle Ge­net­ics by any oth­er name smell as sweet? We're about to find out.
The biotech an­nounced Thurs­day it's chang­ing its name to Seagen, cap­ping off what's been a 12-month pe­ri­od in which it closed a $4.5 bil­lion deal with Mer­ck and saw two drugs get FDA ap­proval. Seagen is al­so keep­ing the same Wall Street tick­er — $SGEN.
CEO Clay Sie­gall said the com­pa­ny made the change to rep­re­sent its ex­pand­ing glob­al op­er­a­tions.
"Our goal is to help can­cer pa­tients around the world," Sie­gall said. "It is, to us, bet­ter to be re­flect­ed as a biotech­nol­o­gy com­pa­ny that makes can­cer prod­ucts for the globe, and as we've ex­pand­ed it makes sense.
"Can­cer pa­tients don't have bound­aries or bor­ders," he added.
On top of all that, Seagen pre­sent­ed pos­i­tive Phase II da­ta at ES­MO just a few weeks ago. The com­pa­ny's ex­per­i­men­tal drug ti­so­tum­ab ve­dotin, an an­ti­body-drug con­ju­gate cre­at­ed on its flag­ship tech, showed an av­er­age re­sponse last­ing 8.3 months and an ob­jec­tive re­sponse rate of 24% in 101 pa­tients with re­cur­rent or metasta­t­ic cer­vi­cal can­cer.
Though it was a sin­gle-arm tri­al, Seagen com­pared the re­sults to da­ta sug­gest­ing ex­ist­ing ther­a­pies "typ­i­cal­ly" have a re­sponse rate of less than 15% and pa­tients sur­vive for 6 to 9.4 months.
So why change things up now? Sie­gall said that the com­pa­ny had al­ready been call­ing it­self Seagen in­ter­nal­ly and in­ter­na­tion­al­ly, point­ing to its "seagen.com" email ad­dress­es in use since in­cep­tion and over­seas af­fil­i­ates such as Seagen France. By short­en­ing the name, Sie­gall said, Seagen not on­ly makes things less cum­ber­some but al­so lets the com­pa­ny stay at­tached to its Seat­tle roots.
"We def­i­nite­ly are proud of our Pa­cif­ic North­west roots; Seat­tle is known as the Emer­ald City and that's why green is in our lo­go," Sie­gall said. "While we are re­tain­ing our strong roots and the 'S-E-A' in our name, this ex­pan­sion re­al­ly makes it, we feel, a more ap­pro­pri­ate name for a glob­al com­pa­ny."
Sie­gall likened it some­what to the de­liv­ery ser­vice Fed­er­al Ex­press shrink­ing its name to FedEx in the mid-1990s. Though the two com­pa­nies "have no sem­blance of com­par­i­son," Sie­gall said, Seagen is adopt­ing a nick­name that's been the un­of­fi­cial moniker for years and keep­ing the same col­ors in its lo­go.
At the end of the day, though, this re­brand­ing won't change any­thing about Seagen's busi­ness. Sie­gall talked at length about how the new name sig­ni­fies Seagen is an in­ter­na­tion­al com­pa­ny, but em­pha­sized that its can­cer prod­ucts re­main its true brand.
"This is not some­thing where we are try­ing to over­state our name change as some­thing more than what it is," Sie­gall said. "This is a mi­nor change, but some­thing that we think is good go­ing for­ward and very pro­duc­tive. I don't think any­one should view this as 'Seat­tle Ge­net­ics is do­ing some­thing dif­fer­ent.'"