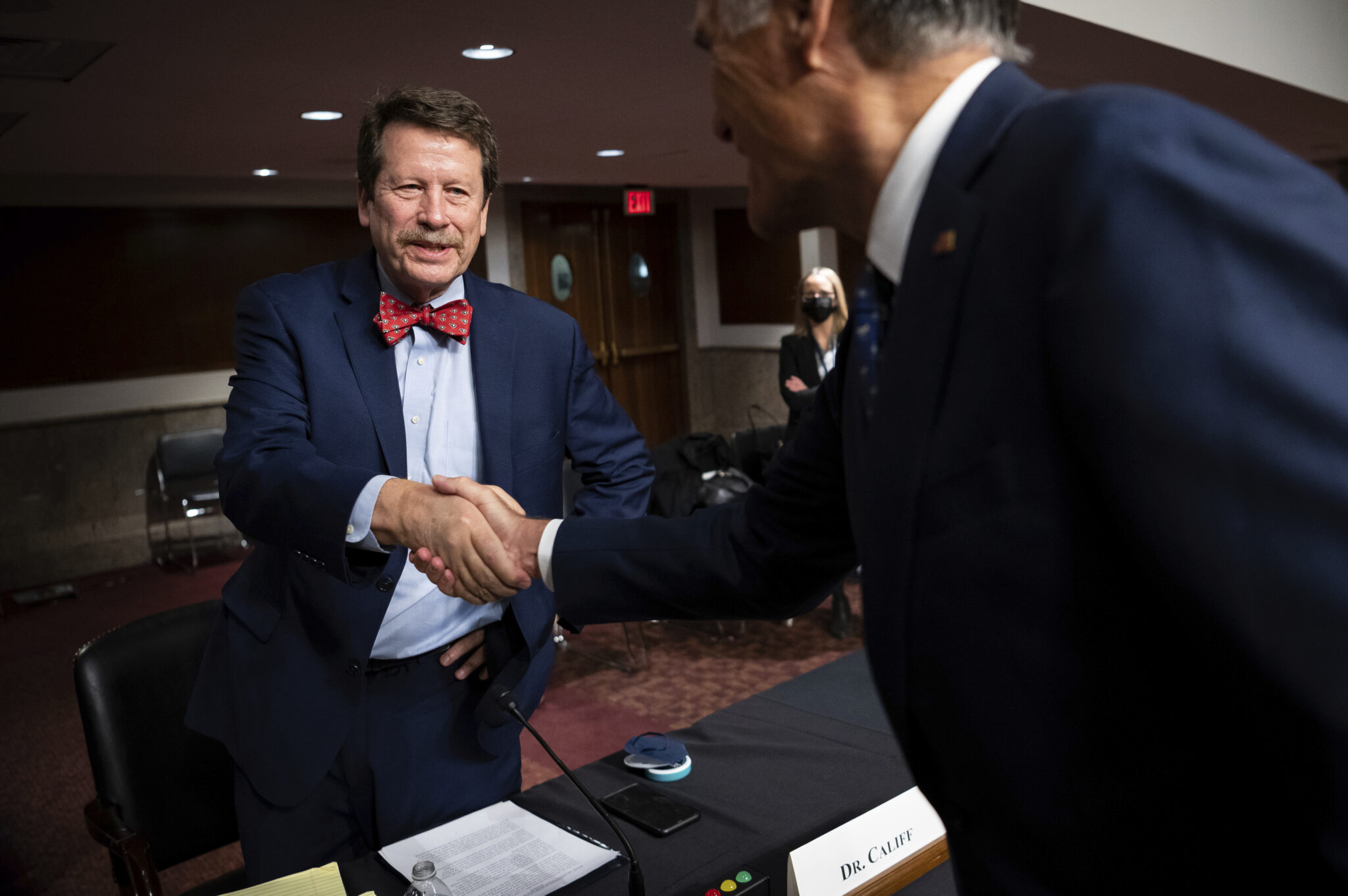 Robert Califf (L) shakes hands with Sen. Mitt Romney (R-UT) at Califf's confirmation hearing for FDA commissioner, Dec. 14, 2021 (Graeme Sloan/Sipa via AP Images)
Sen­ate health com­mit­tee again of­fers its sup­port for FDA com­mis­sion­er nom­i­nee Rob Califf
Rob Califf, the fa­mous car­di­ol­o­gist from Duke Uni­ver­si­ty, is like­ly to re­turn to the top of the FDA, this time un­der the Biden ad­min­is­tra­tion.
At his con­fir­ma­tion hear­ing Tues­day, De­moc­rats and Re­pub­li­cans on the Sen­ate health com­mit­tee of­fered their sup­port for Califf, with Chair Pat­ty Mur­ray (D-WA) stress­ing the need for an ex­pe­ri­enced leader, like Califf, who can en­sure that sci­ence comes first.
"I'm not sure you could write a re­sume for some­one who's more qual­i­fied to be FDA com­mis­sion­er," Sen. Richard Burr (R-NC) said while in­tro­duc­ing Califf and say­ing he thought there was enough Re­pub­li­can sup­port to get Califf across the fin­ish line.
While crit­i­ciz­ing Pres­i­dent Joe Biden for leav­ing this com­mis­sion­er po­si­tion open for al­most a year, Burr called on Califf to en­sure that FDA does "not go back to the ways be­fore Covid. We need a war time com­mis­sion­er."
Califf, who re­cent­ly worked as a se­nior ad­vis­er to Google Health and Ver­i­ly, and is well-known for his clin­i­cal re­search knowl­edge, called the pan­dem­ic "dev­as­tat­ing," and said he was ready to "hit the ground run­ning" while thank­ing act­ing FDA com­mis­sion­er Janet Wood­cock and the agency's staffers for their "ex­em­plary ser­vice" over the past sev­er­al years.
"I'm go­ing to be very ag­gres­sive in this area of med­ical mis­in­for­ma­tion," Califf said.
He stressed that all of the FDA's ac­tions must fo­cus on pro­tect­ing con­sumers and pa­tients, call­ing for a more "sys­tem­at­ic ap­proach to im­prove pa­tient safe­ty and bet­ter un­der­stand ben­e­fits and risks" of med­ical prod­ucts.
Califf was al­so ques­tioned re­peat­ed­ly on re­al weal world ev­i­dence, one of his long­time pet projects. He said the FDA needs to get sys­tems in place to pro­duce re­al world da­ta more quick­ly, give peo­ple the con­fi­dence to share da­ta, and "get those rules right."
When sev­er­al De­moc­rats raised con­cerns with the FDA's han­dling of the con­tin­ued opi­oid epi­dem­ic, Califf com­mit­ted to con­duct­ing a re­view of opi­oid la­bels, adding, "We need to learn from the past sev­er­al decades and re­assess be­cause what­ev­er we've done un­til now is not enough."
At­tract­ing and re­tain­ing the sci­en­tif­ic work­force at FDA, mean­while, "may be more im­por­tant than any oth­er pol­i­cy," Califf said. Two se­nior vac­cine of­fi­cials re­cent­ly re­tired and CBER in par­tic­u­lar is strug­gling to re­tain and re­cruit tal­ent.
While Califf has his foes, most­ly for his web of fi­nan­cial ties to in­dus­try, in­clud­ing De­moc­rats like Joe Manchin (WV), Ed Markey (MA), Richard Blu­men­thal (CT), Bernie Sanders, and po­ten­tial­ly Ben Lu­ján (NM), Re­pub­li­cans who pre­vi­ous­ly sup­port­ed him in 2016 — Sens. Burr, Bill Cas­sidy (LA), Su­san Collins (ME), and Mitt Rom­ney (UT) — seemed to of­fer their sup­port again in Tues­day's hear­ing.
And should more De­moc­rats de­fect from vot­ing for Biden's se­lec­tion for FDA, a to­tal of 34 Re­pub­li­cans who pre­vi­ous­ly vot­ed to con­firm Califf on his first time around are still in the Sen­ate.
"The Covid-19 pan­dem­ic has made clear­er than ever the choice be­tween phar­ma­ceu­ti­cal prof­its and the health of our peo­ple. In this crit­i­cal mo­ment, Dr. Califf is not the leader Amer­i­cans need at the FDA," Sanders said in a state­ment on Tues­day.
In ques­tions from Burr and oth­ers on the ac­cel­er­at­ed ap­proval path­way, which is un­der scruti­ny in­side the agency and with­in HHS, Califf said that he's "a fan of ac­cel­er­at­ed ap­proval un­der the right con­di­tions," such as for peo­ple with rare ge­net­ic dis­eases or life-threat­en­ing can­cer. But he con­ced­ed the US needs a bet­ter sys­tem to eval­u­ate ac­cel­er­at­ed ap­proval prod­ucts as they're used on the mar­ket.
Six for­mer FDA com­mis­sion­ers, as well as more than 90 oth­er or­ga­ni­za­tions of­fered their sup­port for Califf late Mon­day, in­clud­ing a let­ter of sup­port from the Na­tion­al Health Coun­cil, which has PhRMA and BIO ex­ec­u­tives on its board.
Oth­er Re­pub­li­cans ques­tioned Califf over what the FDA might do with the birth con­trol drug mifepri­s­tone, as the Biden ad­min­is­tra­tion pre­vi­ous­ly sig­naled that the FDA may re­move a decades-old pro­hi­bi­tion on dis­pens­ing such pills via mail. But Califf said he would lis­ten to the ca­reer ex­perts and the lat­est da­ta.
And while the FDA doesn't usu­al­ly dip its toes in­to ar­eas like drug pric­ing, Califf said that he's on record sup­port­ing Medicare's abil­i­ty to ne­go­ti­ate prices. Sanders al­so ques­tioned Califf on how to make drugs more af­ford­able and Califf men­tioned the need for a more ro­bust gener­ics in­dus­try. The biosim­i­lars pro­gram needs to do bet­ter too, he said.
"Wealthy coun­tries need to pay their fair share," Califf said. But he not­ed the US has not a hit a sweet spot, as fi­nan­cial tox­i­c­i­ty re­mains a se­ri­ous is­sue for can­cer pa­tients. Al­most one-quar­ter of those pa­tients skip their chemo treat­ments be­cause of the cost, he said.