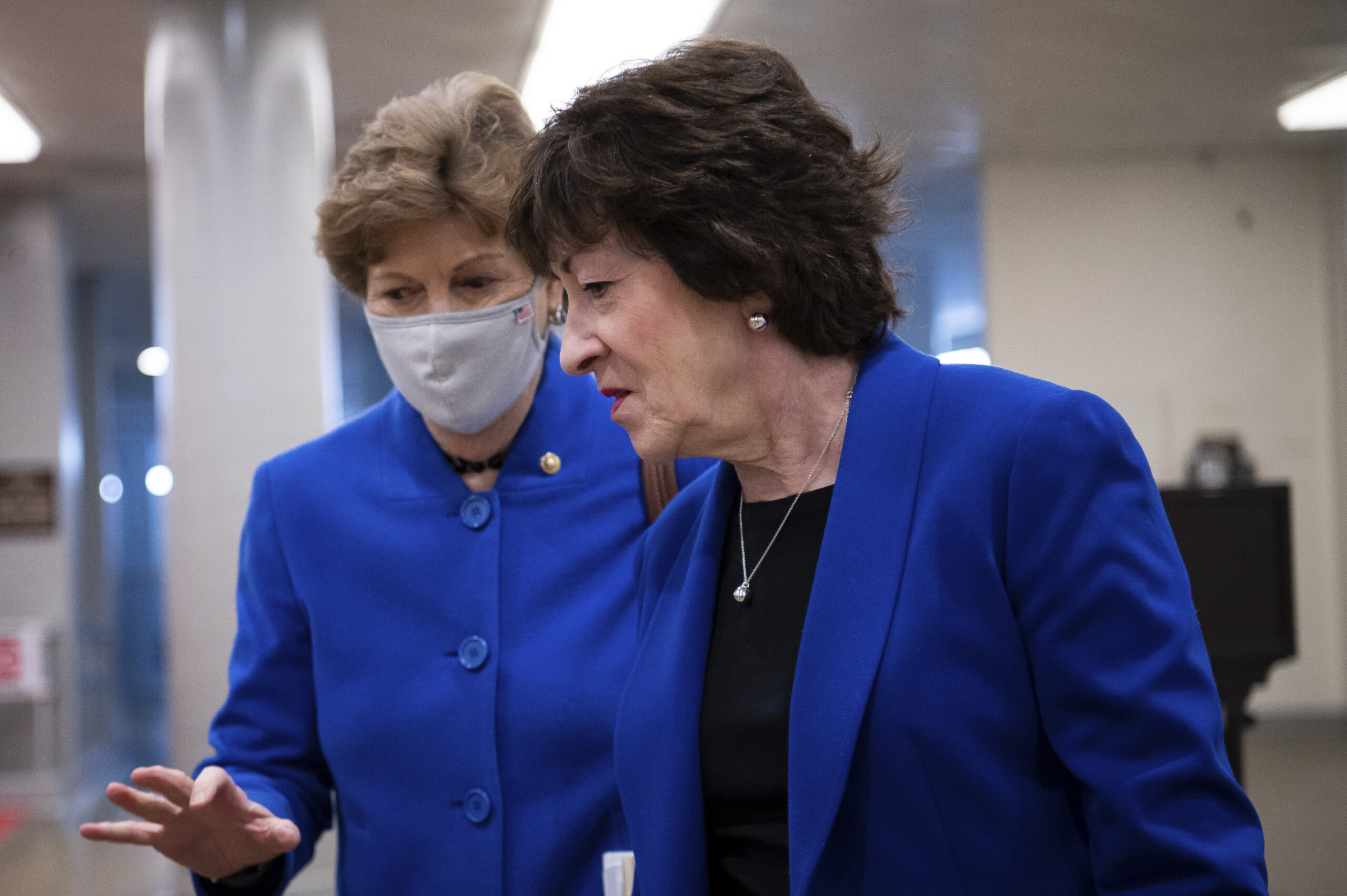 Senator Jeanne Shaheen (D-NH), left, speaks with Senator Susan Collins (R-ME), right. (Graeme Sloan/Sipa USA)(Sipa via AP Images)
Sen­ate looks to take up House-passed mea­sure to cap in­sulin prices — a move Eli Lil­ly sup­ports
The fa­mil­iar bi­par­ti­san pair of Sens. Su­san Collins (R-ME) and Jeanne Sha­heen (D-NH) un­veiled a bill to­day, which Ma­jor­i­ty Leader Chuck Schumer (D-NY) said would come for a vote soon, to curb month­ly in­sulin costs to $35.
The duo has been work­ing to get some­thing on in­sulin passed since at least 2019, al­though it's un­clear if they'll win over enough Re­pub­li­can sup­port, even as the list prices of in­sulin have con­tin­ued to sky­rock­et.
Schumer on Collins/Sha­heen in­sulin bill: "I will put this bi­par­ti­san leg­is­la­tion on the Sen­ate floor very soon – it ought to be passed ex­pe­di­tious­ly"

— Burgess Everett (@burges­sev) June 22, 2022
The House passed (232-193) the same month­ly cap in March, with just 12 Re­pub­li­cans vot­ing in fa­vor of the mea­sure. While both the Sen­ate and the House bills ef­fec­tive­ly cut what many of those who re­ly on in­sulin to stay alive will pay at the phar­ma­cy counter, it doesn't hit the prices set by the phar­ma man­u­fac­tur­ers, nor does it help those who are unin­sured. Schumer sim­i­lar­ly said in March that a vote was com­ing soon then.
And some of the biggest play­ers in the in­sulin space on the man­u­fac­tur­ing and de­vel­op­ment side are fine with this bill too.
"We just re­ceived the work­ing draft and will be re­view­ing it this week. But, we are en­cour­aged by the pa­tient-cen­tric lan­guage that is a step in the right di­rec­tion," an Eli Lil­ly spokesper­son told End­points News this af­ter­noon via email.
Three drug­mak­ers con­trol the more than $20 bil­lion in­sulin mar­ket — Lil­ly, No­vo Nordisk, and Sanofi — which has bal­looned in the US. The cur­rent price of in­sulin in the U.S. is more than 10 times that of 33 oth­er com­pa­ra­ble coun­tries, even as the net price of in­sulin has de­clined in re­cent years. No­vo in 2021 set­tled a suit for $100 mil­lion af­ter be­ing ac­cused of rais­ing the price of its in­sulin drugs 450% above the rate of in­fla­tion.
Those ma­jor dif­fer­ences in list and net price for in­sulin have led the Fed­er­al Trade Com­mis­sion to re­cent­ly look in­to PBMs and the way they can dri­ve this spread. But oth­er con­gres­sion­al re­ports have not­ed the lock-step list price in­creas­es among the top three.
Still, any out-of-pock­et sav­ings the Biden ad­min­is­tra­tion can forge from in­sulin could be good news at the polls for Biden as more than 37 mil­lion Amer­i­cans live with di­a­betes, in­clud­ing an es­ti­mat­ed one in every three se­niors.