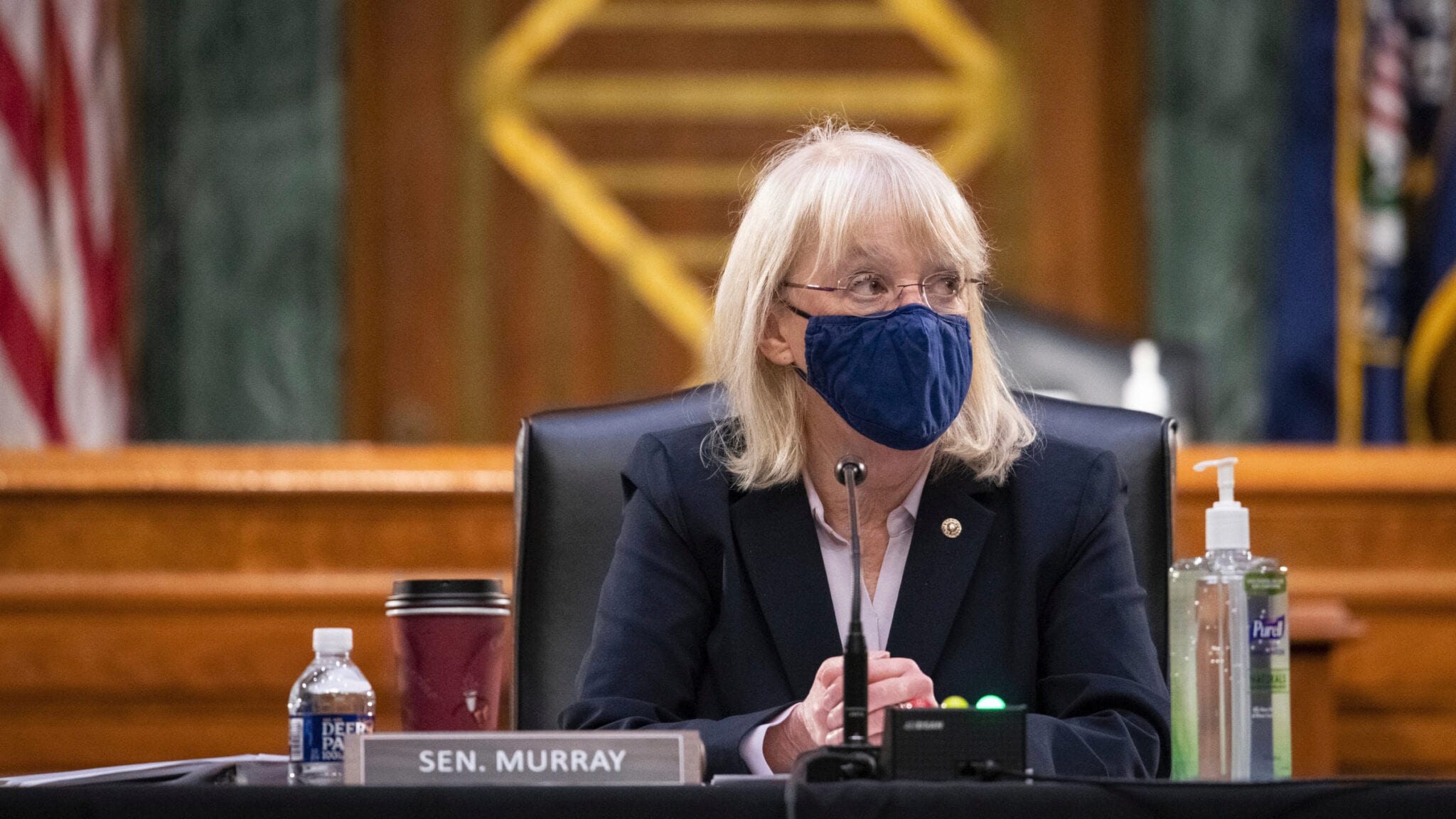 Sen. Patty Murray (D-WA) (Graeme Sloan/Sipa USA/Sipa via AP Images)
Sen­a­tors to NIH: Do more to pro­tect US bio­med­ical re­search from for­eign in­flu­ence
Al­though Thurs­day's Sen­ate health com­mit­tee hear­ing was fo­cused on how for­eign coun­tries and ad­ver­saries might be try­ing to steal or neg­a­tive­ly in­flu­ence bio­med­ical re­search in the US, the on­ly coun­try men­tioned by the sen­a­tors and ex­pert wit­ness­es was Chi­na.
Com­mit­tee chair Pat­ty Mur­ray (D-WA) made clear in her open­ing re­marks that the US can­not "let the few in­stances of bad ac­tors" over­shad­ow the hard work of the many im­mi­grant re­searchers in the US, many of which have won No­bel prizes for their work. But she al­so said, "There is more the NIH can be do­ing here."
The hear­ing fol­lows a se­ries of high pro­file con­vic­tions of sci­en­tists for steal­ing in­tel­lec­tu­al prop­er­ty from top bio­med­ical re­search in­sti­tu­tions.
Just this week, Yu Zhou of Ohio was sen­tenced to 33 months in prison af­ter he plead­ed guilty to steal­ing sci­en­tif­ic trade se­crets re­lat­ed to ex­o­somes and ex­o­some iso­la­tion from Na­tion­wide Chil­dren's Hos­pi­tal's Re­search In­sti­tute, which he sought to sell in Chi­na.
Song Guo Zheng, A pro­fes­sor of in­ter­nal med­i­cine and re­searcher at The Ohio State Uni­ver­si­ty and Penn­syl­va­nia State Uni­ver­si­ty, al­so plead­ed guilty in late 2020 to mak­ing false state­ments to fed­er­al au­thor­i­ties as part of an im­munol­o­gy re­search grant fraud scheme. He ad­mit­ted to ly­ing on ap­pli­ca­tions in or­der to use more than $4 mil­lion in NIH grants to de­vel­op Chi­na's ex­per­tise around rheuma­tol­ogy and im­munol­o­gy, ac­cord­ing to writ­ten tes­ti­mo­ny Thurs­day from Gary Cantrell, deputy in­spec­tor gen­er­al at HHS' Of­fice of In­spec­tor Gen­er­al.
"The threat is sig­nif­i­cant," Michael Lauer, deputy di­rec­tor for ex­tra­mur­al re­search at NIH, told the sen­a­tors. He said NIH has iden­ti­fied more than 500 sci­en­tists of con­cern, and reached out to the in­sti­tu­tions where over 200 of them work, al­though each one re­quires a tremen­dous amount of work.
But Lauer al­so not­ed in­stances where re­search in­sti­tu­tions are dis­cov­er­ing prob­lems on their own. For in­stance, Alan List, pres­i­dent and CEO of the Mof­fitt Can­cer Cen­ter in Flori­da, re­signed in late 2019 af­ter the cen­ter con­duct­ed an in­ter­nal re­view on col­lab­o­ra­tions with re­search in­sti­tu­tions in Chi­na.
Can­dice Wright, act­ing di­rec­tor of sci­ence, tech­nol­o­gy as­sess­ment, and an­a­lyt­ics at GAO, al­so ex­plained how non-fi­nan­cial con­flicts, such as ac­cess to cer­tain re­search labs or bi­o­log­ic ma­te­ri­als, can pose risks too. "Non-fi­nan­cial con­flicts can be great risks and we don't see a lot of at­ten­tion paid to those," she said.
But progress has been made in re­cent years to be more vig­i­lant of po­ten­tial crimes, even as crit­ics have raised ques­tions about whether this crack­down has un­fair­ly tar­get­ed Chi­nese re­searchers. Last year, two rep­re­sen­ta­tives, Jamie Raskin (D-MD) and Judie Chu (D-CA) wrote let­ters to the FBI and NIH, rais­ing con­cerns that in­no­cent Chi­nese sci­en­tists were be­ing pro­filed, and asked for in­for­ma­tion on the de­mo­graph­ic make­up of sci­en­tists un­der in­ves­ti­ga­tion.
Sen. Richard Burr (R-NC) con­ced­ed that the NIH has come a long way since 2018, when NIH Di­rec­tor Fran­cis Collins sent a let­ter to more than 10,000 re­search in­sti­tu­tions, urg­ing them to en­sure NIH grantees were re­port­ing their links with for­eign gov­ern­ments. But he and oth­er sen­a­tors specif­i­cal­ly took is­sue with Chi­na.
"It's a con­cert­ed ef­fort from those in Chi­na, backed by their gov­ern­ment, to bring back any­thing they can learn, store or steal," Burr said. Oth­er Re­pub­li­cans on the com­mit­tee like Sen. Bill Cas­sidy (LA) ques­tioned whether 23andMe's op­er­a­tions in Chi­na might be wor­ri­some, but none of the wit­ness­es on the pan­el of­fered any specifics.
As an­ti-Asian sen­ti­ment has reached a fever pitch in re­cent months in the US, Lauer al­so sought to make clear that the over­whelm­ing ma­jor­i­ty of Chi­nese-born sci­en­tists work­ing in the US are not bad ac­tors. He said NIH has iden­ti­fied crim­i­nals who are Amer­i­cans too.
"We can­not re­ject bril­liant minds that are work­ing hon­est­ly," Lauer added. "Le­git­i­mate in­ter­na­tion­al col­lab­o­ra­tions are great, and this is ex­treme­ly im­por­tant, but that's dif­fer­ent from ly­ing, cheat­ing and steal­ing."