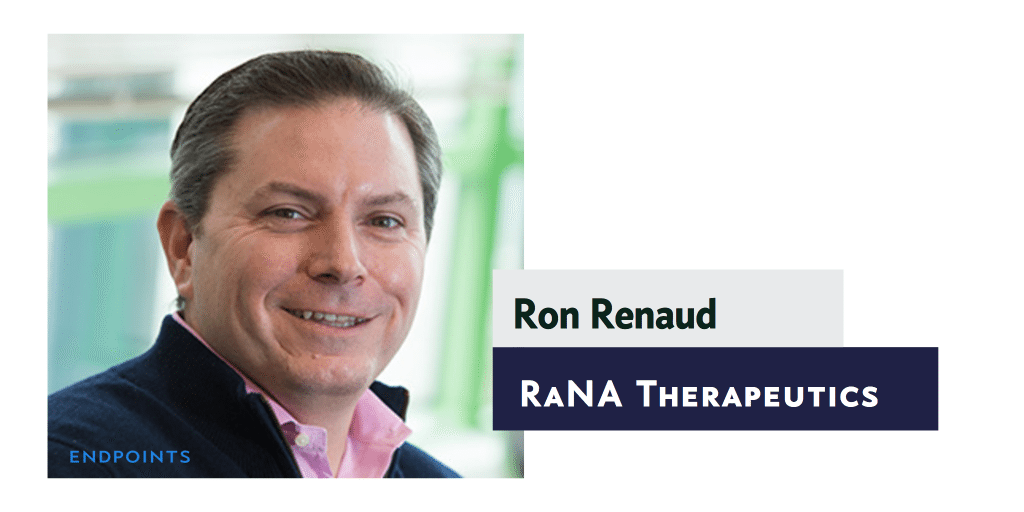 Shire spins out mR­NA group to RaNA, which is hatch­ing plans to tack­le cys­tic fi­bro­sis in the clin­ic
Over the last few years, the ex­ec­u­tive crew at Shire has on a few rare oc­ca­sions spot­light­ed their work in mR­NA, tout­ing its po­ten­tial for adding to its fore­cast of bil­lions in new rev­enue. A lit­tle more than two years ago, the re­search arm of the Cys­tic Fi­bro­sis Foun­da­tion con­tributed $15 mil­lion to the ven­ture. But now, with their big merg­er with Bax­al­ta still be­ing worked through, Shire is lat­er­al­ing their mR­NA team — more than a dozen staffers and two key pro­grams — to RaNA Ther­a­peu­tics in ex­change for a chunk of eq­ui­ty.
The Cam­bridge, MA-based RaNA gets two pre­clin­i­cal pro­grams that are poised to en­ter the clin­ic in the near fu­ture, with a shot at launch­ing clin­i­cal pro­grams on cys­tic fi­bro­sis and urea cy­cle dis­or­ders in H1 2018. And RaNA CEO Ron Re­naud is clear­ly pumped about adding a new plat­form to the RNAi com­pa­ny at a time that he is halfway through rais­ing a "sub­stan­tial" amount of cash to back the next stage of de­vel­op­ment work at the biotech.
"What I was most in­trigued by," Re­naud tells me, "is that this ini­tia­tive was un­der­way in 2008. This is some­thing they have been work­ing on for awhile, build­ing IP, work­ing through all those de­vel­op­ment is­sues to where it is to­day. Hav­ing this new plat­form opens up a vast amount of tar­get space for us."
Get­ting the group will in­crease RaNA's head count from 48 to more than 60, says the CEO, giv­ing it a makeover that will fun­da­men­tal­ly al­ter its pro­file.
Re­naud de­clined to say for now how much eq­ui­ty Shire is get­ting, or how much he plans to raise.
For its part, a Shire spokesper­son says the grow­ing com­pa­ny spun out the plat­form as part of an on­go­ing as­sess­ment of what works best in­side, or out­side, Shire.
"From a big pic­ture per­spec­tive," she adds, "pe­ri­od­i­cal­ly eval­u­at­ing and dis­con­tin­u­ing pro­grams is nec­es­sary to main­tain a ful­ly op­ti­mized pipeline where achiev­ing in­no­va­tion/main­tain­ing fo­cus are the goals….Shire will stay close to RaNA and the MRT Plat­form as Shire re­ceives an eq­ui­ty stake in RaNA and is el­i­gi­ble for fu­ture mile­stones and roy­al­ties on prod­ucts de­vel­oped with the tech­nol­o­gy."
In a short pe­ri­od, RaNA will jump in­to a po­si­tion where it can start mak­ing a mark in a field that has at­tract­ed in­tense in­ter­est. The near­by biotech Mod­er­na has earned the li­on's share of the at­ten­tion, and $1.9 bil­lion in back­ing, for their mR­NA work — us­ing mes­sen­ger RNA tech­nol­o­gy to smug­gle in in­struc­tions for cells to make spe­cif­ic ther­a­peu­tic pro­teins. Mod­er­na plans to un­veil more of its pipeline work next week at the big JP Mor­gan con­fab, but it's still in ear­ly-stage de­vel­op­ment with its lead ef­forts fo­cused on new vac­cines. Cure­Vac in Ger­many has more ad­vanced work on a prostate can­cer vac­cine.
It is ex­treme­ly risky work with lit­tle by way of sol­id clin­i­cal da­ta to prove that you can ac­tu­al­ly do what's in­tend­ed. On the oth­er hand, RaNA now is close enough be­hind the lead­ers that it can po­si­tion it­self in key fields just as the sec­tor is ei­ther tak­ing off, or count­ing ca­su­al­ties.