Small is big: Phar­ma's R&D brain drain con­tin­ues as GSK's Chris Car­pen­ter jumps to up­start Ru­bius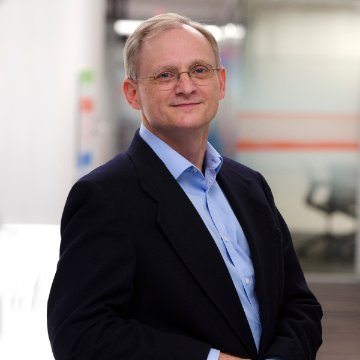 Chris Car­pen­ter
The steady mi­gra­tion of top R&D ex­ecs out of Big Phar­ma and in­to lit­tle biotech is con­tin­u­ing this morn­ing.
Af­ter spend­ing the last decade in Big Phar­ma R&D, Chris Car­pen­ter is mak­ing the leap to biotech, join­ing the ris­ing star Ru­bius as chief med­ical of­fi­cer.
Car­pen­ter — a for­mer as­so­ciate pro­fes­sor at Har­vard Med, where he ran a lab for years — spent the last six years at GSK, where he wrapped up his stint as a se­nior VP and head of can­cer epi­ge­net­ics. He jumped from Har­vard to Mer­ck to GSK, where he was cred­it­ed with lead­ing the de­vel­op­ment of Votri­ent. And at Mer­ck he worked on MK-4827, which went on to be­come Tesaro's PARP drug Ze­ju­la.
He's go­ing to one of the best fi­nanced up­starts in biotech. Just a few months ago, Cam­bridge, MA-based Ru­bius lined up a $120 mil­lion round, with plans to de­vel­op a full pipeline of new drugs.
Car­pen­ter says he didn't leave GSK's Philadel­phia op­er­a­tions be­cause he was un­hap­py. Far from it.
"I re­al­ly en­joyed my time at GSK," he tells me. "The DPU (Dis­cov­ery Per­for­mance Units) mod­el re­al­ly works and pro­vides a lot of in­no­va­tion."
In­stead, once he had a chance to take a se­ri­ous look at the tech­nol­o­gy Ru­bius is work­ing with, he felt he couldn't pass on the chance of play­ing a lead role de­vel­op­ing some­thing com­plete­ly nov­el, with ap­pli­ca­tions in a va­ri­ety of dis­eases.
"For me, it re­al­ly was some­thing that no one else was do­ing and I re­al­ly want­ed to get in on the ground floor."
The red-cell ther­a­py tech they have is de­signed to iso­late hematopoi­et­ic stem cells from O neg­a­tive donors and use them as the build­ing blocks for new ther­a­pies, ge­net­i­cal­ly en­gi­neer­ing them in­to red blood drugs that can ex­press a mul­ti­tude of pro­teins on the cells while they still have a nu­cle­us, mod­u­lat­ing them for pro­tein ex­pres­sion and then shed­ding the nu­cle­us as they switch on the ther­a­peu­tic qual­i­ties of the cell.
The new ex­ec­u­tive chair­man of Ru­bius is David Ep­stein, the for­mer phar­ma chief at No­var­tis.
With biotech boom­ing, we've been see­ing a steady mi­gra­tion of se­nior re­search and man­u­fac­tur­ing ex­ecs leav­ing se­nior spots at the world's biggest de­vel­op­ers in fa­vor of a start­up like Ru­bius. A few weeks ago, for ex­am­ple, we saw Tony Ho leave a top job at As­traZeneca for a role run­ning R&D at CRISPR Ther­a­peu­tics. At the same time Juan An­dres left a top job in No­var­tis' glob­al man­u­fac­tur­ing di­vi­sion to take a lead role at Mod­er­na. And in re­cent days we've seen the likes of An­drew Wit­ty and Mon­cef Slaoui, the for­mer CEO and ex-R&D head at GSK, start new ca­reers in biotech ven­ture cap­i­tal firms. The list goes on.
Their places in Big Phar­ma R&D are of­ten filled by high-pro­file aca­d­e­m­ic in­ves­ti­ga­tors. And that is start­ing to look like the great cir­cle of drug R&D in this brave new world.
Great to have Chris on board. Mak­ing the next gen­er­a­tion of high­ly ac­tive ready-to-use cel­lu­lar ther­a­pies to treat can­cer, in­duce tol­er­ance and pro­vide a bet­ter way to re­place miss­ing en­zymes. https://t.co/jNCztkgHR3

— David Ep­stein (@DavidEp­stein­RX) Sep­tem­ber 27, 2017