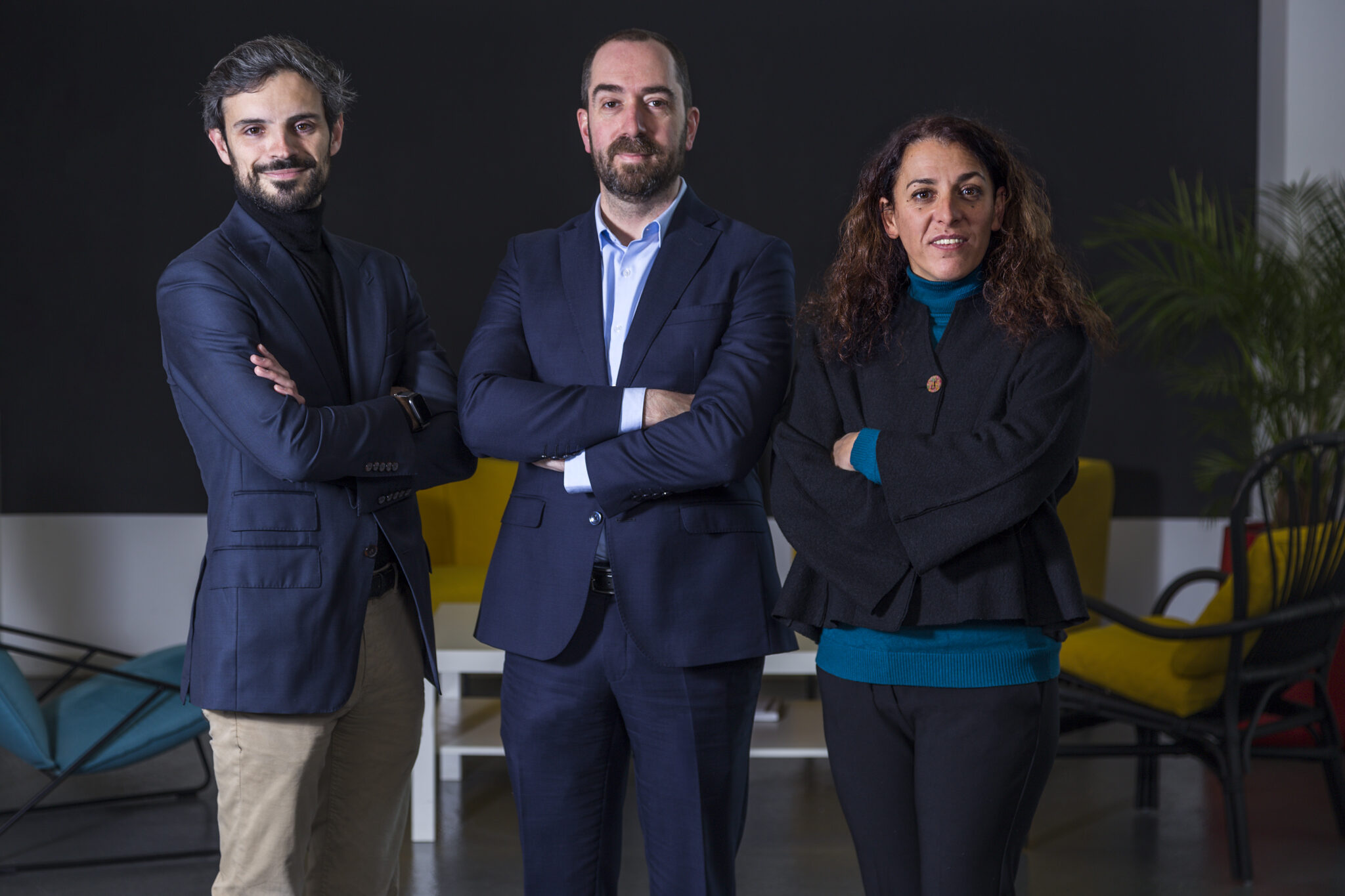 From L-R: Gerard Caelles, Miquel Vila-Perelló and Silvia Frutos (SpliceBio)
Some genes are too large to fit in­to AAV vec­tors. UCB, No­var­tis back $57M idea to de­liv­er them in parts in­stead
Of all the ma­jor lim­i­ta­tions of ade­no-as­so­ci­at­ed virus­es (AAV) as a vec­tor for gene ther­a­py, one is par­tic­u­lar­ly well-known and in­dis­putable: They can on­ly car­ry a trans­gene up to a cer­tain size. De­sign a pay­load larg­er than 4.7kb, and there's sim­ply no way you can fit every­thing in.
That's why gene ther­a­py de­vel­op­ers work­ing on, say, Duchenne mus­cu­lar dy­s­tro­phy have come up with workarounds, such as cre­at­ing short­ened ver­sions of the tar­get gene.
But a Span­ish biotech be­lieves there's an al­ter­na­tive: What if you can de­liv­er the full gene in two parts?
Splice­Bio has raised close to $57 mil­lion (€50 mil­lion) from UCB Ven­tures, Ys­ios Cap­i­tal, New En­ter­prise As­so­ci­ates, Gilde Health­care, No­var­tis Ven­ture Fund and Asabys Part­ners to test the con­cept, start­ing with a rare ge­net­ic dis­ease of the eye.
The big idea here is pro­tein splic­ing. Miquel Vi­la-Perel­ló, co-founder and CEO, be­gan study­ing pro­tein seg­ments known as in­teins while work­ing as a re­search schol­ar with Prince­ton's Tom Muir.
Since their dis­cov­ery in the late 1990s, in­teins have been ex­plored for var­i­ous ap­pli­ca­tions in bio­con­ju­ga­tion and pro­tein re­con­sti­tu­tion, Vi­la-Perel­ló said. But they large­ly failed to cat­alyze re­ac­tions as ef­fi­cient­ly as re­searchers were hop­ing.
Build­ing on close to two decades of work by Muir, "we ba­si­cal­ly evolved or de­vel­oped, en­gi­neered nov­el in­teins that are en­gi­neered that over­come the lim­i­ta­tions of the nat­ur­al ones," he said.
Ap­plied to gene ther­a­py, it trans­lates to two dif­fer­ent AAV vec­tors each en­cod­ing for rough­ly half the pro­tein you want, with an in­tein tagged to each. Once the body churns out the de­sired pro­tein, the in­teins bind the two frag­ments to form a full-length pro­tein — then get cleaved off.
"Through our plat­form tech­nol­o­gy, we can go af­ter tar­gets that, you know, that were kind of off the pic­ture for gene ther­a­py … be­cause these genes were too large," Vi­la-Perel­ló said. "So these dis­eases were kind of ruled out or peo­ple were try­ing these rather con­vo­lut­ed ap­proach­es of the mi­ni-genes or dif­fer­ent strate­gies that have not re­al­ly panned out."
Work­ing out of Barcelona with a team of 10 — they hope to dou­ble the head­count with the new round — Splice has nom­i­nat­ed a lead pro­gram in Star­gardt dis­ease. A com­mon form of ju­ve­nile mac­u­lar dy­s­tro­phy, Star­gardt is "a very preva­lent dis­ease for a rare dis­ease," said CBO Ger­ard Caelles, with more than 80,000 es­ti­mat­ed pa­tients in the US and EU. The con­di­tion is caused by a loss of func­tion mu­ta­tion in the AB­CA4 gene, which is 6.8kb large.
While oth­er sci­en­tists have pro­posed a dual-vec­tor ap­proach to AAV gene ther­a­py, they re­lied on DNA re­com­bi­na­tion to piece the full pro­tein to­geth­er.
"We es­ti­mate that from 20% up to 50% of all mono­genic dis­eases could ben­e­fit from our tech­nol­o­gy," Caelles said.
With co-founder Sil­via Fru­tos head­ing the plat­form tech­nol­o­gy as CTO/COO, Splice hopes to spend the next two or three years tak­ing the lead can­di­date to­ward the clin­ic while ex­pand­ing the pipeline, ini­tial­ly in oph­thal­mol­o­gy but per­haps ex­pand­ing to oth­er or­gans as well.
By that time, Vi­la-Perel­ló hopes the boom­ing field may have solved some of the oth­er lim­i­ta­tions and is­sues — in­clud­ing se­ri­ous safe­ty con­cerns — around AAV.
"In the fu­ture, we ex­pect that there's gonna be some im­prove­ments in vec­tors that could make sys­temic de­liv­ery less prob­lem­at­ic, so that peo­ple don't need to re­sort to the high dos­es," he said.