Spin­raza ri­val? With DMD flops in the rearview mir­ror, PTC Ther­a­peu­tics posts strong SMA da­ta
Af­ter years try­ing to push a thrice-failed Duchenne drug in­to the US mar­ket (and ul­ti­mate­ly fail­ing to do so), PTC Ther­a­peu­tics is fi­nal­ly on­to some­thing in­ter­est­ing.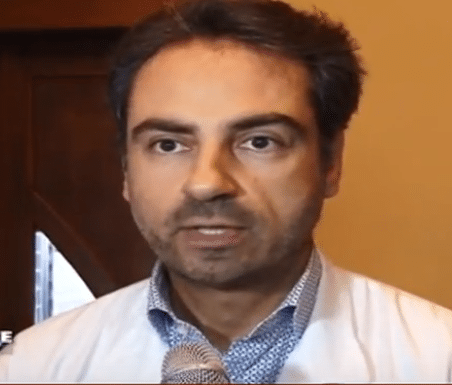 Gio­van­ni Baranel­lo
The New Jer­sey com­pa­ny's stock $PTCT is soar­ing on news of a com­plete­ly dif­fer­ent pro­gram — one part­nered with Roche — that's just im­pressed an­a­lysts and in­vestors with up­dat­ed da­ta from a Phase I tri­al.
This drug, called ris­diplam or RG7916, is be­ing test­ed in ba­bies with spinal mus­cu­lar at­ro­phy, a ge­net­ic con­di­tion that robs peo­ple of phys­i­cal strength by af­fect­ing the mo­tor nerve cells in the spinal cord. It's the num­ber one ge­net­ic cause of death for in­fants. The dis­ease is caused by a gene mu­ta­tion that pre­vents the body from pro­duc­ing a mus­cle de­vel­op­ment pro­tein called SMN, which leads to at­ro­phy of the mus­cles, mo­tor im­pair­ment, and paral­y­sis. Ba­bies born with the sever­est kind of SMA nev­er learn to crawl, sit up, or walk, and many lose the abil­i­ty to breathe. They of­ten die with­in 18 months.
PTC's drug, li­censed to Roche in 2011, is de­signed to re­place the miss­ing SMN pro­tein — and it can be tak­en oral­ly. The small tri­al test­ed RG7916 in 21 ba­bies born with the sever­est form of SMA. In the up­dat­ed Phase I da­ta, the drug showed to im­prove mo­tor func­tion in pa­tients, with a me­di­an im­prove­ment of 5.5 points in a test known as the CHOP-IN­TEND. This test, de­vel­oped by the Chil­dren's Hos­pi­tal of Philadel­phia, mea­sures mus­cle de­vel­op­ment mile­stones.
See­ing im­prove­ment in mus­cle func­tion this ear­ly was a bit of a sur­prise — which is why in­vestors are so gid­dy.
"Da­ta on mo­tor func­tion seem more en­cour­ag­ing when we con­sid­er that we are see­ing mo­tor func­tion im­prove­ments and mile­stones achieve­ment at this ear­ly stage of the study, which was es­sen­tial­ly a dose-find­ing study and most of the in­fants in­clud­ed have re­ceived their first dose af­ter the age of 5 months," said in­ves­ti­ga­tor Gio­van­ni Baranel­lo at the Fon­dazione Is­ti­tu­to Neu­ro­logi­co Car­lo Besta. "It is ex­cit­ing to see ev­i­dence of clin­i­cal ben­e­fit from a sys­temic oral treat­ment for SMA."
An­a­lysts are posit­ing that RG7916 could one day be com­pet­i­tive to Spin­raza — the block­buster SMA drug de­vel­oped by Io­n­is and li­censed by Bio­gen. Spin­raza, al­so de­signed to boost SMN pro­tein, is de­liv­ered via a shot to the spine. If PTC/Roche's drug was equal­ly ef­fec­tive but eas­i­er to take via pill, the med­i­cine could be a sol­id ri­val.
It should be not­ed that there's an­oth­er po­ten­tial Spin­raza ri­val com­ing down the pipeline: a gene ther­a­py de­vel­oped by Avex­is and re­cent­ly bought by No­var­tis in the $8.7 bil­lion Avex­is buy­out in April.
Re­gard­less, the da­ta are good news for PTC, a com­pa­ny that's been plagued with bad news for years due to the fail­ure (af­ter fail­ure af­ter fail­ure) of its Duchenne mus­cu­lar dy­s­tro­phy drug ataluren. That drug, ap­proved in Eu­rope, has so far failed to please reg­u­la­tors in the US. Al­though PTC still isn't giv­ing up on DMD, in­vestors are sure­ly hap­py to see the com­pa­ny mov­ing on to green­er pas­tures. The com­pa­ny's stock is up 23% Mon­day morn­ing, trad­ing at $46.29 as of press time. That's up from Fri­day's close of $37.55 per share.