Spread­ing its wings in Chi­na with glob­al am­bi­tion, EpimAb snags $74M Se­ries B for bis­pe­cif­ic work
PHILADEL­PHIA — A Shang­hai-based biotech look­ing to make it big in the glob­al bis­pe­cif­ic boom has $74 mil­lion to both deep­en and broad­en its pres­ence in the clin­ic.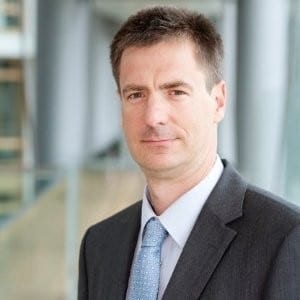 Stephan Lenskey LinkedIn
With the Se­ries B, EpimAb Bio­ther­a­peu­tics hopes to of­fer not on­ly proof that its plat­form tech works, but that it works across mul­ti­ple pro­grams. By the end of next year, it in­tends to have Phase I/II da­ta on 60 pa­tients for its lead as­set tar­get­ing EGFR and cMET as well as a sec­ond tri­al — for a dual check­point in­hibitor — well un­der way.
The ul­ti­mate goal, COO and CBO Stephan Lensky tells me, is to go head-to-head with all the big­wigs try­ing to tack­le two can­cer anti­gens at once.
"We are the on­ly for­mat that has no link­ers, no mu­ta­tions, no sin­gle chain Fv, al­so no non-Ig com­po­nents," he said. "It ba­si­cal­ly has the fun­da­men­tal el­e­ments of an an­ti­body in it, and be­cause of the sym­met­ric na­ture of the mol­e­cule it's al­so very straight for­ward to man­u­fac­ture."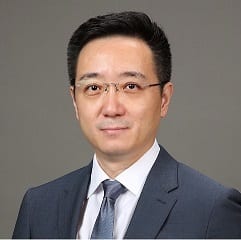 Cheng­bin Wu EpimAb
Lensky, a Boehringer In­gel­heim vet who's kept his home base in Ger­many while tra­vers­ing the globe for part­ner­ship and fi­nanc­ing talks, adds that EMB-01 took on­ly 15 months from can­di­date iden­ti­fi­ca­tion to IND fil­ing on both sides of the At­lantic. And in Chi­na, they got the go-ahead in 45 days — a record, he claims. In 2017, the CF­DA re­port­ed a 120 day av­er­age turn­around for INDs.
Kymab and In­novent have al­so li­censed the plat­form to gen­er­ate their own mol­e­cules, in­de­pen­dent from the in­ter­nal work.
Bin Peng EpimAb
EpimAb will al­so be­gin work on a CMC site in Suzhou. With the up­com­ing pipeline of mol­e­cules, they want to have the process de­vel­op­ment and ear­ly man­u­fac­tur­ing done in-house in­stead of re­ly­ing on ser­vice or­ga­ni­za­tions.
CEO and Ab­bott vet Cheng­bin Wu to­geth­er with CMO Bin Peng, who jumped from a top re­search po­si­tion at No­var­tis, are in charge of the on-the-ground op­er­a­tions, which will grow well in­to the 40s if not more with new hires.
The com­pa­ny now counts SDIC Fund and Sher­pa Health­care Part­ners among its back­ers in ad­di­tion to SCVC and A round in­vestors in­clud­ing Oriza Seed Cap­i­tal, Decheng Cap­i­tal, 3E Bioven­tures Cap­i­tal and the Trend In­vest­ment Group.