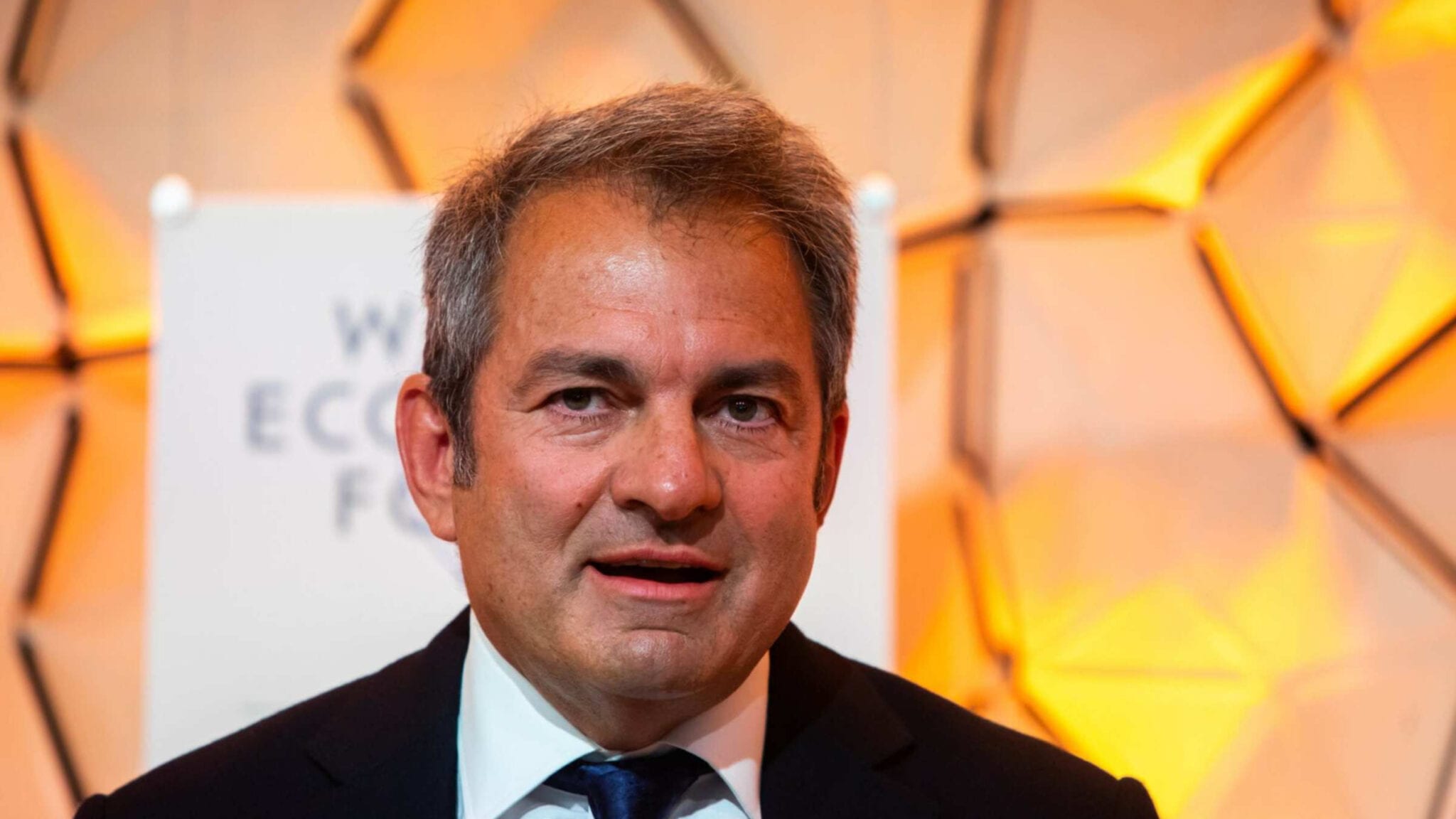 Michel Vounatsos, Biogen CEO (Credit: World Economic Forum/Ciaran McCrickard)
Seiz­ing Aduhelm prece­dent, Bio­gen, Ei­sai get the ball rolling on an­oth­er ac­cel­er­at­ed Alzheimer's ap­proval
Bio­gen — to­geth­er with part­ners at Ei­sai — will be the first to breeze down that Alzheimer's trail it blazed with the FDA's his­toric and con­tro­ver­sial ac­cel­er­at­ed ap­proval of Aduhelm.
Ei­sai dis­closed it's ini­ti­at­ed a rolling BLA sub­mis­sion for lecanemab, or BAN2401, the an­ti-amy­loid be­ta an­ti­body that Bio­gen has long tout­ed as a fol­low-on to Aduhelm (then ad­u­canum­ab). Fol­low­ing the prece­dent that the agency has now set, the two com­pa­nies are gun­ning for an OK based on da­ta sug­gest­ing that the drug could low­er amy­loid be­ta plaques.
They won't be alone in the queue for long. Roche and Eli Lil­ly are hot on their heels to join the gold rush, with the lat­ter hav­ing al­so pledged to file by the end of the year.
Un­like with Aduhelm, whose ap­proval was ce­ment­ed by mixed da­ta viewed neg­a­tive­ly by the FDA's ad­vi­so­ry com­mit­tee, the lecanemab fil­ing on­ly comes with Phase IIb da­ta, in­clud­ing those from the open-la­bel ex­ten­sion. The tri­al, dubbed Study 201, en­rolled 856 pa­tients with ear­ly Alzheimer's and con­firmed amy­loid pathol­o­gy.
"The lecanemab Clar­i­ty AD Phase 3 clin­i­cal tri­al in ear­ly AD is on­go­ing and com­plet­ed en­roll­ment in March 2021 with 1,795 pa­tients," Ei­sai wrote in a state­ment. "The U.S. FDA has agreed that the re­sults of Clar­i­ty AD, when com­plet­ed, can serve as the con­fir­ma­to­ry study to ver­i­fy the clin­i­cal ben­e­fit of lecanemab. Blind­ed safe­ty da­ta from Clar­i­ty AD will be in­clud­ed to sup­port the BLA."
A spokesper­son added the pri­ma­ry end­point read­out for Clar­i­ty AD is ex­pect­ed in late 2022.
Dis­cus­sions go at least as far back as Au­gust, when Ei­sai R&D chief Ivan Che­ung told an­a­lysts his team had start­ed talk­ing to the FDA and seek­ing its ad­vice on sub­mit­ting lecanemab to the agency. Weeks be­fore that, the drug was grant­ed break­through ther­a­py des­ig­na­tion by the agency.
If lecanemab does fol­low in the path of Aduhelm and nab an ex­pe­dit­ed green light, it would fur­ther test the lim­its of pay­ers and doc­tors, who have al­ready proven much less wel­com­ing to Aduhelm than reg­u­la­tors (or at least the neu­ro di­vi­sion) were. As End­points News first re­port­ed, the VA de­cid­ed against in­clud­ing the drug in its for­mu­la­ry. Cer­tain pri­vate in­sur­ers have re­port­ed­ly de­clined to cov­er the drug, pend­ing the na­tion­al cov­er­age de­ci­sion by CMS; some treat­ment cen­ters say they won't ad­min­is­ter the drug, and more re­cent­ly, one cen­ter in Wash­ing­ton, DC even banned Bio­gen rep­re­sen­ta­tives from the premis­es.
ICER, a drug pric­ing watch­dog, added an­oth­er loud voice to the cho­rus by blast­ing Aduhelm's $56,000 price tag — amid a slate of in­ves­ti­ga­tions where law­mak­ers de­mand­ed an­swers on how the drug was ap­proved.
All of that has trans­lat­ed in­to a painful­ly slow roll­out, which Bio­gen CEO Michel Vounatsos blamed in part on "mis­in­for­ma­tion," con­fu­sion and neg­a­tive me­dia cov­er­age.
Vounatsos said in the lat­est press re­lease: "It is our vi­sion that pa­tients and their fam­i­lies have choice and ac­cess to mul­ti­ple treat­ment op­tions for Alzheimer's dis­ease."
While Aduhelm is de­signed to clear in­sol­u­ble amy­loid plaques, lecanemab most­ly tar­gets sol­u­ble protofib­rils — larg­er oligomers thought to con­tribute to the neu­rode­gen­er­a­tion char­ac­ter­is­tic of Alzheimer's.
So far, it's been po­si­tioned for pa­tients with ear­ly Alzheimer's, mean­ing those with mild cog­ni­tive im­pair­ment due to the dis­ease or mild forms of it.
"We rec­og­nize the strong and ur­gent ex­pec­ta­tions from stake­hold­ers to fur­ther ad­vance a treat­ment sys­tem for this dis­ease," Ei­sai CEO Haruo Naito said.