Strike two: Vi­cal says an­oth­er one of its vac­cines has crashed and burned in PhII
An­oth­er de­vel­op­ment pro­gram has run up on­to the rocks at Vi­cal $VI­CL.
Five months af­ter the San Diego-based biotech was forced to re­struc­ture in the af­ter­math of a crit­i­cal Phase II fail­ure, one of the two clin­i­cal pro­grams it turned to in the wake of that set­back has al­so been scrapped. And the fresh fail drove its shares down 29% be­fore the open.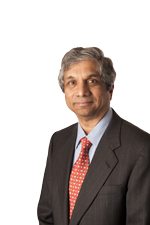 Vi­jay Samant
Re­searchers say that their bi­va­lent vac­cine can­di­date for her­pes sim­plex virus type 2 failed to beat a place­bo on the re­cur­rence of le­sions among 261 pa­tients re­cruit­ed for the study. And like the CMV vac­cine ASP0113, the biotech is opt­ing to wash its hands of the whole ef­fort now.
The com­pa­ny is now rid­ing on the an­ti­fun­gal VL‑2397, which Vi­cal li­censed from Astel­las. CEO Vi­jay Samant says this an­ti­fun­gal "has the po­ten­tial to be the first in a new class of an­ti­fun­gal drugs," but he has dwin­dling cred­i­bil­i­ty on his abil­i­ty to pick win­ners for the clin­ic.
The com­pa­ny's re­search team is al­so fo­cused on a pre­clin­i­cal treat­ment for chron­ic HBV in­fec­tion.
Back in late Jan­u­ary Vi­cal laid off 40 staffers as they cir­cled the wag­ons around the clin­i­cal work. Their mar­ket cap has dwin­dled down to $35 mil­lion, rep­re­sent­ing fad­ing hopes of suc­cess.