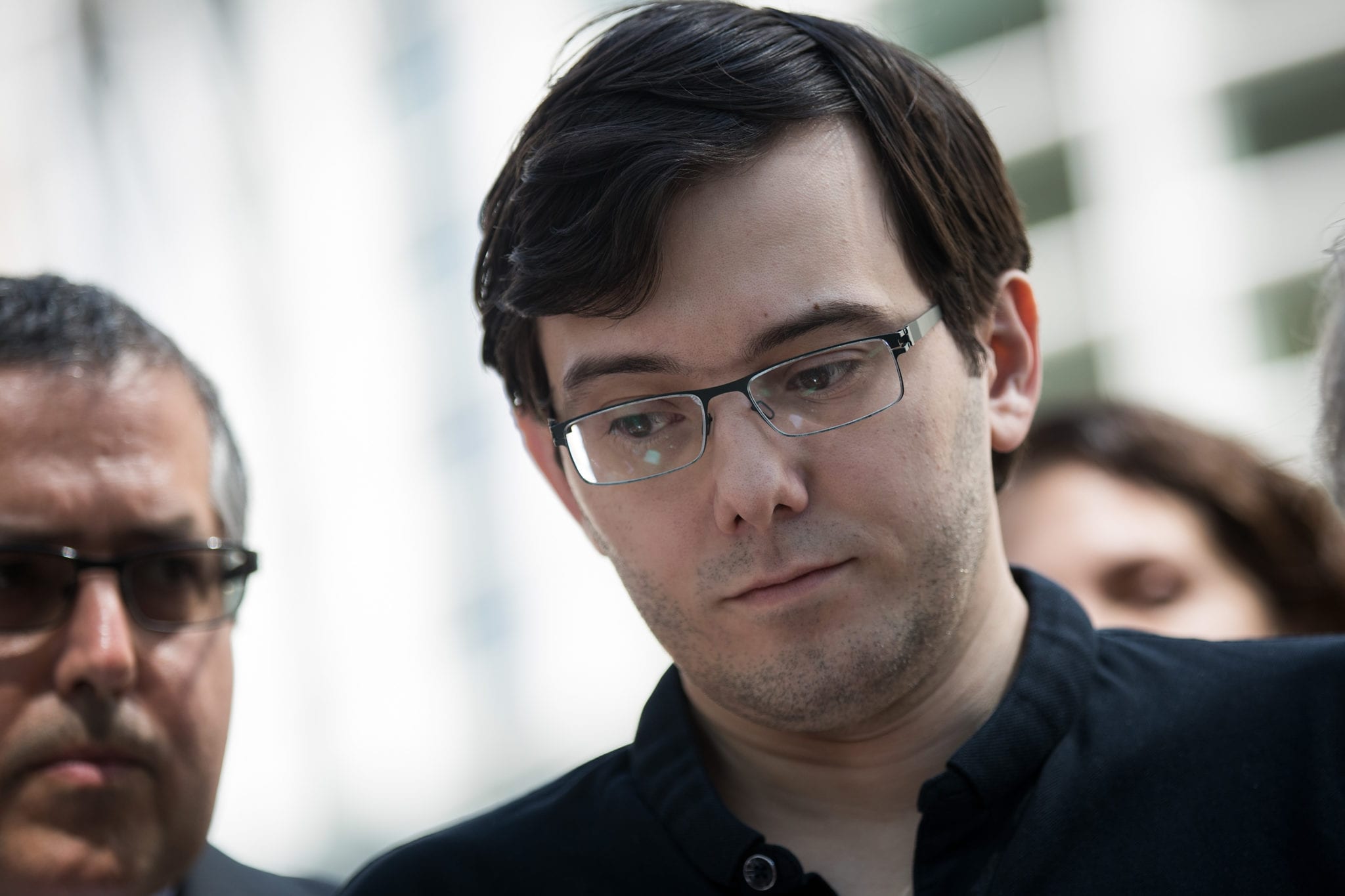 Martin Shkreli [via Getty]
Supreme Court turns down Mar­tin Shkre­li's lat­est ap­peal, leav­ing 'phar­ma bro' to 7-year sen­tence
Mar­tin Shkre­li will con­tin­ue to serve out his sen­tence af­ter the lat­est ap­peal to over­turn his con­vic­tion was re­ject­ed by the Supreme Court.
Bet­ter known out­side biotech cir­cles as "phar­ma bro," Shkre­li was sen­tenced to sev­en years in fed­er­al prison on three felony fraud con­vic­tions re­lat­ing to two hedge funds and one biotech, Retrophin, he found­ed. The Supreme Court jus­tices re­fused to hear his ap­peal, which would have al­so in­volved a $7.36 mil­lion for­fei­ture.
"It was a long shot," Shkre­li's new lawyer Mark Bak­er told Reuters. "We're dis­ap­point­ed, but will move on."
De­spite be­ing locked up, Shkre­li has man­aged to stay in the pub­lic eye by blog­ging and lat­er al­leged­ly run­ning Phoenixus (a re­born Tur­ing Phar­ma­ceu­ti­cals) re­mote­ly us­ing a con­tra­band cell phone. The scheme, de­tailed in a Wall Street Jour­nal ex­posé, was de­signed to ramp up the com­pa­ny's val­ue to $3.7 bil­lion by the time he is freed in 2023. Hav­ing read up on the lat­est phar­ma­ceu­ti­cal re­search, he had his eyes set on more rare dis­ease drugs and an am­bi­tious R&D agen­da.
Tur­ing was where Shkre­li first got in­fa­mous. Af­ter ac­quir­ing an HIV drug, the com­pa­ny raised the cost more than 50-fold from $13.5 to $750 per pill.
Con­tro­ver­sial as it was, all of that was and re­mains com­plete­ly le­gal. Shkre­li's crimes had to do with cheat­ing in­vestors — some­thing that he dis­put­ed as some of them re­ceived prof­its. In the lat­est ap­peal, Shkre­li al­so ar­gued that the ju­ry in­struc­tions about the harm done to them un­der­mined his de­fense that he had act­ed in good faith.
In Ju­ly, three judges in an ap­peals court re­ject­ed those claims and up­held both the sen­tence and the for­fei­ture.
Shkre­li is cur­rent­ly im­pris­oned in Al­len­wood, Penn­syl­va­nia, where he trans­ferred from Fort Dix af­ter of­fi­cials launched a probe in­to his busi­ness deal­ings be­hind bars.