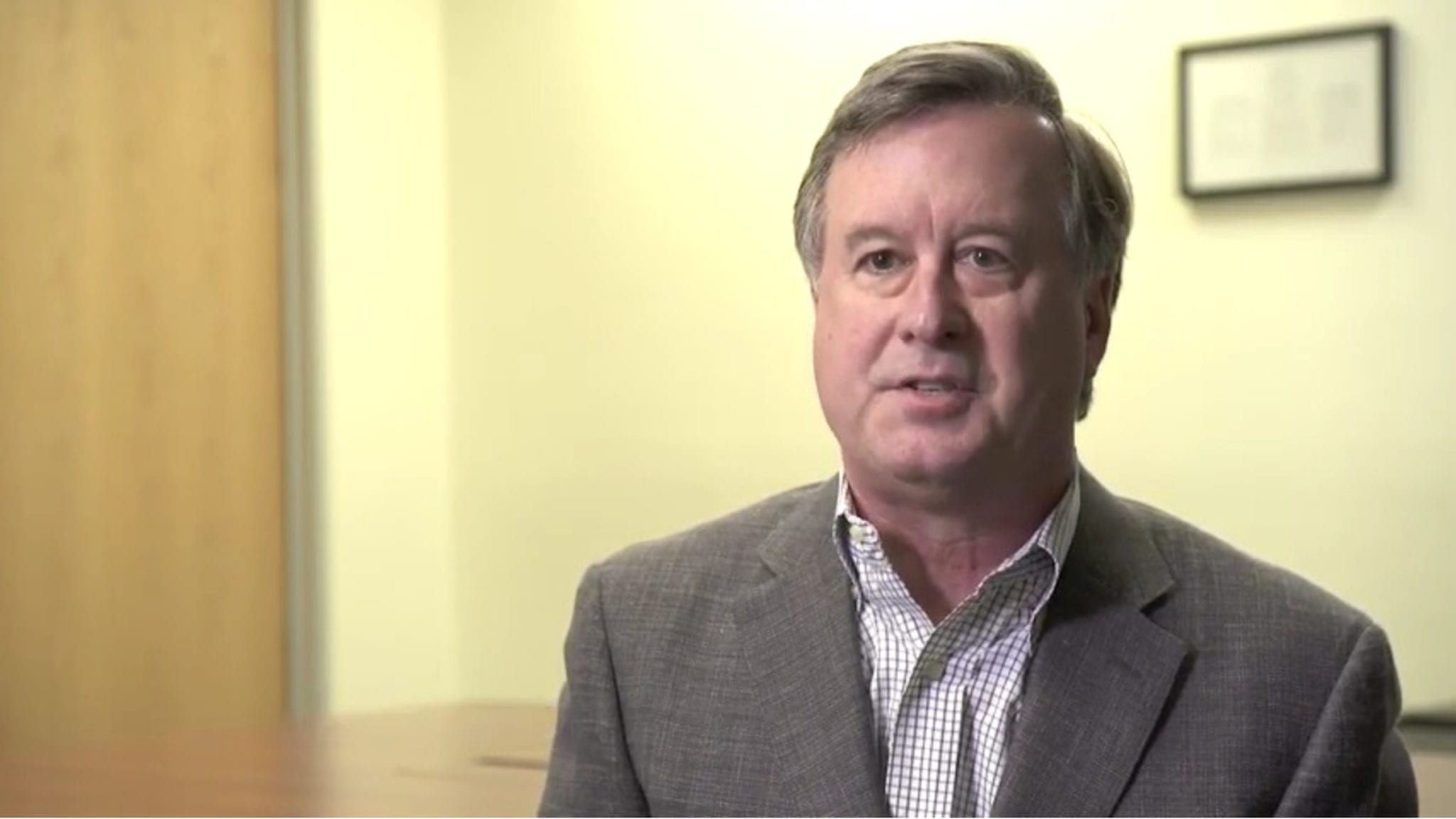 Bill Newell, Sutro Biopharma CEO (Sutro via YouTube)
Sutro's con­tin­ued PhI da­ta read­outs in­di­cate im­prov­ing re­sponse in ovar­i­an can­cer. What's next?
Just a few months af­ter its last in­ter­im read­out, Sutro Bio­phar­ma $STRO is shar­ing more Phase I da­ta in a small, sin­gle-arm tri­al for its ovar­i­an can­cer pro­gram.
The San Fran­cis­co-based biotech an­nounced Thurs­day af­ter­noon that pa­tients with heavy pre­vi­ous treat­ment con­tin­ued to see im­prove­ments as they re­mained on the drug, with one in­di­vid­ual achiev­ing a com­plete re­sponse af­ter more than a year. With the new da­ta in hand, Sutro plans to be­gin a dose-ex­pan­sion co­hort in Jan­u­ary, which could be fol­lowed by an ac­cel­er­at­ed ap­proval ap­pli­ca­tion in the sec­ond half of 2021.
In­vestors greet­ed the news hap­pi­ly, send­ing shares up about 22% af­ter Thurs­day's clos­ing bell.
Sutro's ex­per­i­men­tal drug in ques­tion, called STRO-002, is a fo­late re­cep­tor al­pha (Fol­Rα) tar­get­ing an­ti­body-drug con­ju­gate. The can­di­date was be­ing stud­ied as a monother­a­py in 34 ovar­i­an can­cer pa­tients who col­lec­tive­ly un­der­went a me­di­an of 6 pre­vi­ous ther­a­pies, and of those, 31 met the cri­te­ria to be eval­u­at­ed at the Oct. 30 da­ta cut­off.
Though re­searchers had looked at 33 pa­tients in their last in­ter­im look on Aug. 30, the over­all re­sponse rate and num­ber of pa­tients reg­is­ter­ing a re­sponse in­creased. As of the newest Oc­to­ber read­out, 10 of 31 in­di­vid­u­als achieved at least a par­tial re­sponse, in­clud­ing one whose can­cer dis­ap­peared en­tire­ly. The pro­gram al­so saw 23 of 31 pa­tients achieve dis­ease con­trol af­ter 12 weeks, and 18 of 31 af­ter 16 weeks.
Pa­tients re­mained on the treat­ment for a me­di­an of 19 weeks, and on the read­out date 10 were still tak­ing the treat­ment.
In terms of safe­ty, Sutro said the ther­a­py con­tin­ued to be well-tol­er­at­ed, with 86% of treat­ment-re­lat­ed side ef­fects clock­ing in at Grade 1 or 2. Stifel's Kon­stan­ti­nos Apri­lakis not­ed there was one ad­di­tion­al case of Grade 3 neu­ropa­thy, but saw the safe­ty pro­file as "high­ly con­sis­tent" with the Au­gust up­date.
The con­sen­sus among Apri­lakis and oth­er an­a­lysts sings the prais­es of the con­tin­ued ef­fi­ca­cy of the da­ta, es­pe­cial­ly giv­en the sheer amount of treat­ments pa­tients had un­der­gone in the past. Apri­lakis said the com­plete re­sponse was "a re­mark­able achieve­ment" while Cowen's Boris Peak­er wrote the da­ta "ex­ceed­ed in­vestor ex­pec­ta­tions."
Wed­bush's David Nieren­garten al­so chimed in, say­ing Thurs­day's an­nounce­ment bodes well for fu­ture stud­ies.
"Im­por­tant­ly, re­spons­es ap­pear to deep­en with time," he wrote to in­vestors. "Giv­en the ear­li­er in­ter­ven­tion with STRO-002, we ex­pect STRO to achieve an even more com­pelling ef­fi­ca­cy pro­file than ob­served in the es­ca­la­tion por­tion of the study."
Mov­ing for­ward, Sutro is plan­ning the dose-es­ca­la­tion co­hort to be­gin in Jan­u­ary with a da­ta read­out ex­pect­ed some­time in the first half of next year. If all goes ac­cord­ing to plan, Apri­lakis ex­pects a de­ci­sion on whether to file for ac­cel­er­at­ed ap­proval be­fore 2021 is out.