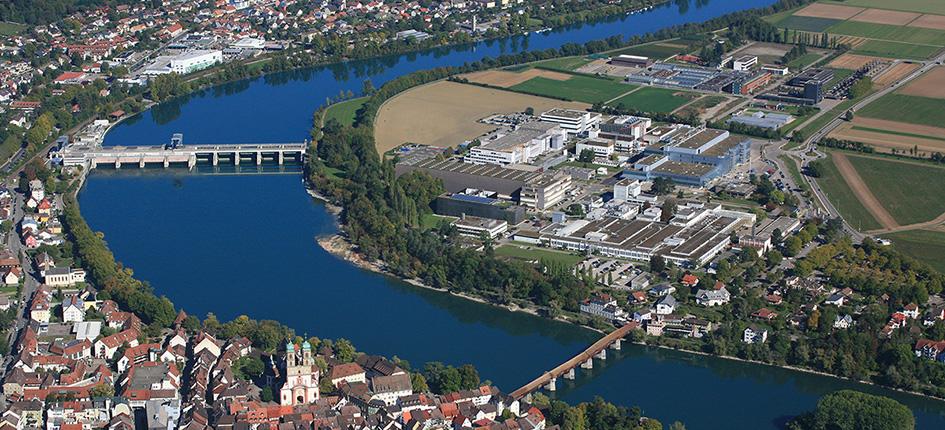 Novartis' manufacturing hub in Stein, Switzerland (Novartis)
UP­DAT­ED: Swiss CD­MO Celonic finds a home at No­var­tis' Stein hub, plans to add 250 new jobs cen­tered on next-gen drugs
The out­sourc­ing mar­ket for cell and gene ther­a­pies has stayed red-hot in re­cent months as some of the biggest CD­MOs — and even ma­jor drug­mak­ers — are div­ing in. Now, a Swiss CD­MO wants a big­ger piece of the ac­tion, and it's look­ing to set up shop in No­var­tis' fledg­ling life sci­ences hub in Stein.
Celonic plans to build a 91,500-square-foot man­u­fac­tur­ing cen­ter fo­cused on cell and gene ther­a­pies, next-gen vac­cines and oth­er "in­no­v­a­tive" drugs as part of a two-part ex­pan­sion at No­var­tis' Rhine Val­ley hub, the CD­MO said last week.
The ex­pan­sion will add rough­ly 250 work­ers at the site, Celonic said, as well as up to 20 man­u­fac­tur­ing clean rooms, and lab and of­fice space. The fa­cil­i­ty is set to open in Q2 2022, Celonic said.
Celonic makes the third drug­mak­er to call No­var­tis' Life Sci­ence Park Rhein­tal in Stein — for­mer­ly just a pro­duc­tion site — home. The area cur­rent­ly hosts both No­var­tis and Lon­za, Celonic said, with as many as 2,000 em­ploy­ees work­ing there.
In news that didn't make much of a wave state­side, No­var­tis an­nounced in mid-Feb­ru­ary that it planned to shift its Stein lo­ca­tion in­to a life sci­ences hub as part of an ef­fort to drum up in­vest­ment in the Rhine Val­ley and es­tab­lish a cen­ter of pro­duc­tion for cell and gene ther­a­pies. No­var­tis it­self has in­vest­ed around $217 mil­lion in ex­pan­sions in Stein and Schweiz­er­halle in 2020 and 2021, adding to its own foot­print in the re­gion.
A No­var­tis spokesper­son said the firm was on the hunt for oth­er com­pa­nies to jump on board.
"We are ba­si­cal­ly open to all types of com­pa­nies for well-known large com­pa­nies as well as for small or medi­um-sized start-ups," the spokesper­son told End­points News. "We are cur­rent­ly in talks with po­ten­tial part­ners whether there is in­ter­est in mov­ing to Stein and ben­e­fit­ing from our wide range of ser­vices. It is im­por­tant to know that this is a process that will take place over the next few years and that the change will be grad­ual."
Of course, cell and gene ther­a­pies are not a new tar­get of in­vest­ment in the con­tract man­u­fac­tur­ing space, with some of the biggest CD­MOs mak­ing mas­sive down pay­ments on the tricky-to-make ther­a­peu­tics.
Late last month, out­sourc­ing gi­ant Catal­ent dove even fur­ther in­to the field with its ac­qui­si­tion of plas­mid DNA spe­cial­ist Del­phi Ge­net­ics and the launch of man­u­fac­tur­ing ser­vices in that space at its Rockville, MD fa­cil­i­ty. Del­phi, found­ed in 2001 and head­quar­tered near Catal­ent's fa­cil­i­ty in Gos­selies, Bel­gium, will add a 17,000 square-foot fa­cil­i­ty to the Catal­ent fold spe­cial­iz­ing in all stages of clin­i­cal plas­mid sup­ply.
Back in Feb­ru­ary 2020, Catal­ent shelled out $315 mil­lion for cell ther­a­py spe­cial­ist MaS­Ther­Cell Glob­al and its 32,000 square-foot fa­cil­i­ty in Hous­ton along with a 25,000 square-foot fa­cil­i­ty in Gos­selies. MaS­Ther­Cell al­so plot­ted a 60,000 square-foot ad­di­tion in Bel­gium that's set to open in fall 2021.
In Oc­to­ber of last year, Catal­ent ac­quired an­oth­er Gos­selies cell and gene ther­a­py play­er, Bone Ther­a­peu­tics, and its 31,000-square-foot site for a mea­ger $14 mil­lion. A month ear­li­er, Catal­ent out­lined its plans to in­fuse $130 mil­lion in­to its cell and gene ther­a­py man­u­fac­tur­ing fa­cil­i­ty in Har­mans, MD, specif­i­cal­ly tar­get­ing late clin­i­cal-stage sup­ply.
Mean­while, even the big drug­mak­ers are writ­ing checks to dou­ble down in the space. In Feb­ru­ary, Bris­tol My­ers Squibb said it will add a 244,000 square-foot cell ther­a­py man­u­fac­tur­ing fa­cil­i­ty at its De­vens, MA site as it looks to grow its pro­duc­tion ca­pac­i­ty around new­ly ap­proved liso-cel and, po­ten­tial­ly, ide-cel in the com­ing weeks.
The 89-acre De­vens site in the Boston area will hold the fourth in-house cell ther­a­py man­u­fac­tur­ing site for Bris­tol, along­side fa­cil­i­ties in Both­ell, WA; and War­ren and Sum­mit, NJ. Bris­tol al­so counts con­tract part­ners in the EU and Japan as part of its cell ther­a­py net­work.