Syn­cona dives deep in­to dry AMD R&D, up­ping Gy­ro­scope bet to $100M
The ex­plo­sion of gene ther­a­pies in the clin­ic promis­es to trans­form the treat­ment of eye dis­eases. And Syn­cona thinks one of their port­fo­lio com­pa­nies may have found the an­swer to dry AMD.
The life sci­ences in­vest­ment group sunk an ad­di­tion­al $57.7 mil­lion in Se­ries B fund­ing in­to the reti­nal gene ther­a­py group Gy­ro­scope Ther­a­peu­tics, bring­ing their to­tal in­vest­ment to just un­der $100 mil­lion. Syn­cona main­tains an 80% stake in the UK-based out­fit. An ad­di­tion­al $2.9 mil­lion will be pro­vid­ed by Cam­bridge In­no­va­tion Cap­i­tal.
A host of gene ther­a­pies have been re­leased or are in de­vel­op­ment for rare eye dis­or­ders – most promi­nent­ly Spark's cost­ly Lux­tur­na, the first gene ther­a­py for in­her­it­ed blind­ness. But no ef­fec­tive treat­ment ex­ists for dry, age-re­lat­ed mac­u­lar de­gen­er­a­tion (AMD) — the most com­mon cause of blind­ness in the in­dus­tri­al world. AMD af­fects 170 mil­lion peo­ple glob­al­ly, 85-90% of whom have the dry type.
The new dol­lars will al­low Gy­ro­scope to com­plete its Phase I/II study of its GT005 ther­a­py, which works by in­ject­ing a virus-em­bed­ded so­lu­tion be­neath the reti­na to de­liv­er a gene se­quence cod­ing a pro­tein that pre­vents "com­ple­ment" cells from at­tack­ing healthy reti­nal cells. The mon­ey will al­so al­low it to start Phase II and ex­pand its sur­gi­cal plat­form to en­sure safe de­liv­ery of the gene to the reti­na.
In Feb­ru­ary, Gy­ro­scope dosed its first pa­tient, an 80-year-old Ox­ford woman, with the ther­a­py.
Two forms of AMD ex­ist: "dry" and "wet." Sev­er­al drugs for the wet type ex­ist and more are un­der de­vel­op­ment, but be­cause the dry form re­mains un­treat­able by con­ven­tion­al means, it presents a ma­jor op­por­tu­ni­ty for de­vel­op­ers. A Ju­ly re­port from mar­ket in­tel­li­gence firm In­fini­ti Re­search es­ti­mates that "huge un­met med­ical need" for dry-AMD will dri­ve the mar­ket by 8% CA­GR.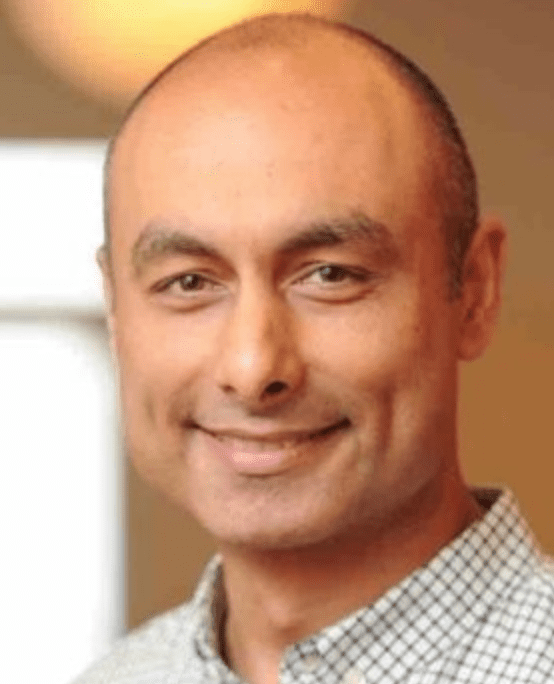 Khurem Fa­rooq
The mar­ket's first big dry-AMD hope, Roche's lam­pal­izum­ab was dropped af­ter fail­ing both Phase III tri­als in 2017. Gy­ro­scope is com­pet­ing against J&J, Parisian biotech Bio­phytis and Ken­tucky-based biotech Apel­lis, among oth­ers, to be the first to in­tro­duce a dry–AMD ther­a­py. Re­searchers at NIH and in Chi­na are al­so test­ing stem-cell-based mod­els, while in Ju­ly the bio­elec­tron­ics com­pa­ny Pix­i­um Vi­sion an­nounced suc­cess in the 12-month fea­si­bil­i­ty study for their reti­nal im­plant.
Gy­ro­scope ac­quired US-based de­vice mak­er Or­bital Bio­medic in April. It is run by for­mer Genen­tech ex­ec­u­tive Khurem Fa­rooq, who over­saw com­mer­cial ac­tiv­i­ties for the wet-AMD drug Lu­cen­tis and pre-launch work for Roche's lam­pal­izum­ab.