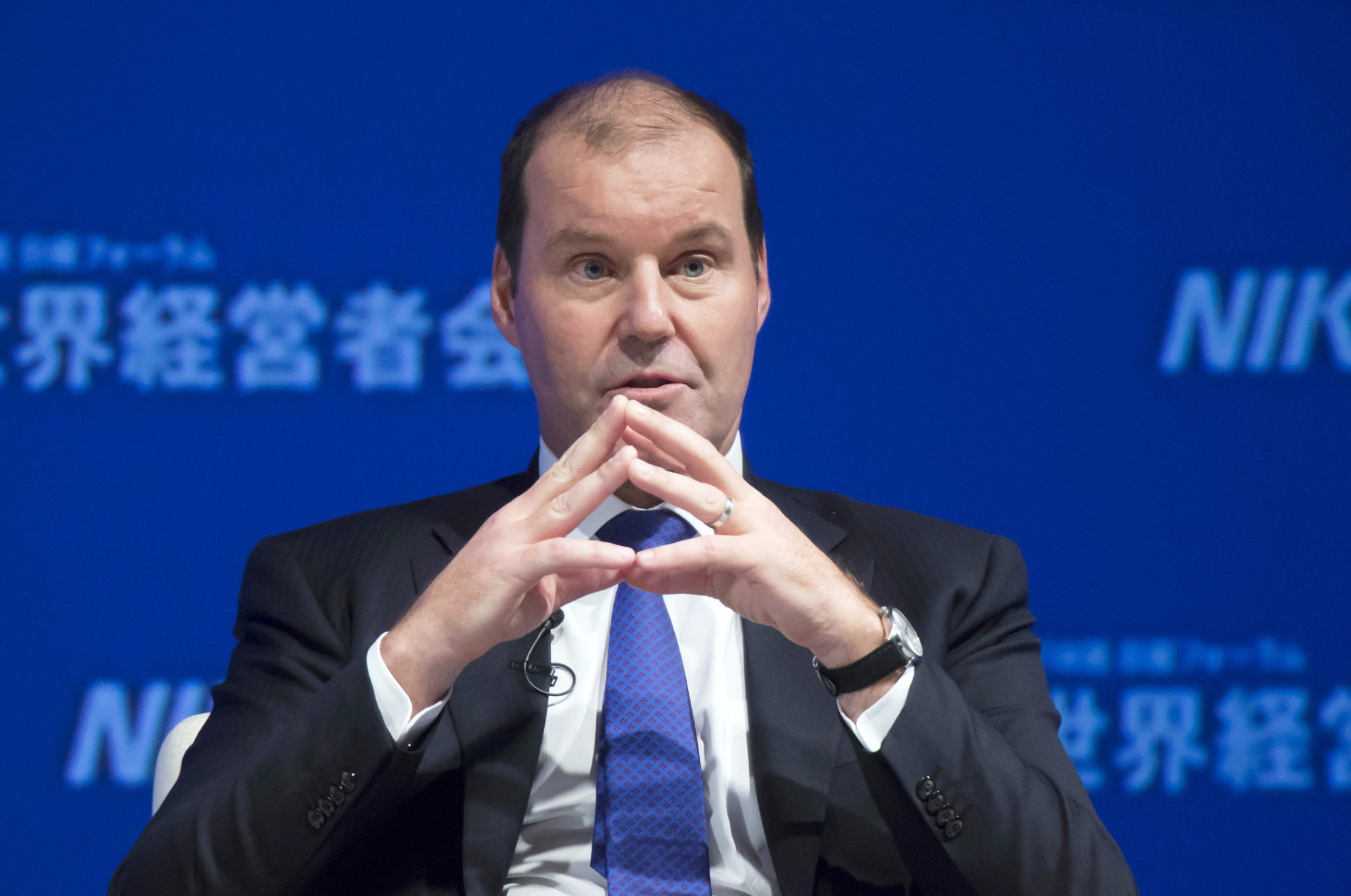 Take­da chops in­to Ari­ad staff, hand­ing out about 180 pink slips as it re­vamps Boston ops
Christophe We­ber, pres­i­dent and chief ex­ec­u­tive of­fi­cer of Take­da Phar­ma­ceu­ti­cal Co., speaks dur­ing the 18th Nikkei Glob­al Man­age­ment Fo­rum in Tokyo, Japan (CRED­IT: To­mo­hi­ro Ohsu­mi/Bloomberg via Get­ty Im­ages)
---
Take­da start­ed the year with a $5.2 bil­lion buy­out of Ari­ad, pay­ing out a huge 74% pre­mi­um to do a deal that raised more than a few eye­brows in the in­dus­try. And now it's chop­ping up the com­pa­ny it bought in search of the ef­fi­cien­cies it needs to make the num­bers work.
Take­da's big Boston hub, which Take­da CEO Christophe We­ber has des­ig­nat­ed as a cen­tral ax­is in its new glob­al struc­ture, is ab­sorb­ing much of the old Ari­ad staff. But more than half of the ap­prox­i­mate­ly 300 em­ploy­ees at Ari­ad's US head­quar­ters are be­ing laid off.
A com­pa­ny spokesper­son says that about 180 staffers were laid off at the end of Feb­ru­ary, with 120 find­ing jobs in Take­da's grow­ing Boston ops, where the com­pa­ny has about 2,150 staffers. Of the 180 los­ing their jobs, about 50 might find new jobs at PRA, Take­da's CRO, says a Take­da spokesper­son for the Boston area. And Take­da will give the re­main­ing staffers top pri­or­i­ty on any oth­er jobs that are open in the com­pa­ny glob­al­ly.
"We took some time to make sure we were mak­ing thought­ful strate­gic de­ci­sions," says the spokesper­son.
Ari­ad had al­ready been down­siz­ing sig­nif­i­cant­ly. Ac­cord­ing to its 10-K for 2015, the com­pa­ny end­ed the year with 459 staffers, with 135 in Eu­rope. The Eu­ro­pean staff was cut though, with the work be­ing out­sourced.
The Boston Busi­ness Jour­nal was the first to re­port these cuts.
Ari­ad had been mak­ing progress since long­time CEO Har­vey Berg­er was forced out in the spring of 2015, a move trig­gered by a brew­ing share­hold­er re­volt that broke out af­ter Iclusig was briefly jerked out of the mar­ket and then al­lowed back on with a more lim­it­ed reach. The com­pa­ny fin­ished its rolling sub­mis­sion for briga­tinib last sum­mer, look­ing to get an OK to sell the ALK in­hibitor to pa­tients who no longer re­spond to Pfiz­er's Xalko­ri.